Inflatable awnings are on the rise! Here's our round-up…
Whatever size of motorhome you have, there'll always be a time when you want some extra space – be it for storage, adding sleeping accommodation, or just for sitting under – when you're away on your travels.
That's where an awning can come in handy. Better still if it's an inflatable drive-away awning!
A recent innovation has been the use of inflatable poles rather than traditional metal (steel or aluminium alloy) or glass-fibre. Inflatable poles make these awnings easier to put up, with no likelihood of damage being caused to your motorhome or surroundings because of a wayward pole.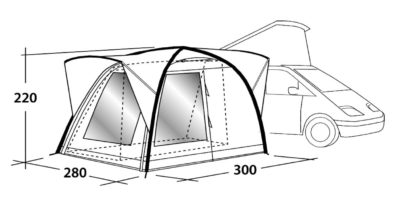 What is an inflatable drive-away awning?
As the title suggests, these are awning units that attach to your motorhome or campervan. We're talking drive-away awnings, of course, rather than the wind-out canopy-style awnings that are fixed to the side of your vehicle. The drive-away feature does literally allow you to move off in your vehicle, leaving your awning free-standing – it's also an ideal way of reserving your pitch!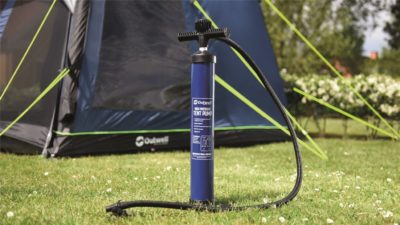 Inflation is easy!
These awnings are always supplied with a manual pump, although electric pumps are also available as cost options. You can inflate some air awnings at a single point (thanks to a series of pipes with shut-off valves interconnecting all the tubes), others via a series of attachments. In either scenario, it takes just a few minutes of pumping before the awning is up (having initially fixed it to your vehicle). There's no danger of over-inflation, because the pump supplied will override this.
It's best not to inflate your awning fully before pegging it out and making sure it's aligned properly with your vehicle. Once you're happy with that, then is the time to do the final few air pumps.
Inflatable awnings are incredibly weather-resistant, too. The poles will bend in windy conditions, and then spring back instantly.
Do note, though, that the pressure in the poles can change slightly depending on weather conditions. Also, extra condensation is a by-product of inflatable awnings – so make sure you keep up a good level of ventilation.
The only other downside to consider is because an inflatable awning is pretty much an all-in-one unit, it can be bulky to carry – both personally and when it comes to where you want to store it in your vehicle for travel.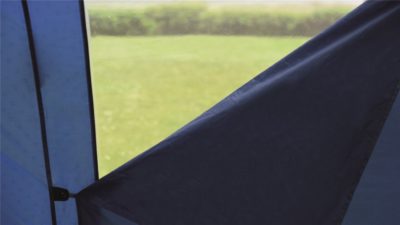 Top tips
Get the height right. Most drive-away awnings come in a choice of fitting heights (often the terms "low" and "tall" are used). Note this relates to the height of an awning rail or guttering from the ground. This is the measurement you need to know to make sure you buy the right awning for your vehicle.
Most drive-away awnings offers a choice of ways of fitting to your vehicle. Check which works best for you. You should also ask about connector kits at the time of purchase.
As well as overall size, key features to look out for include ventilation, location of doors and windows – and whether they're removable.
If you do have trouble putting up your air awning, try taking out any removable panels first. It makes the unit less heavy and easier to handle.
Consider what you want to use your awning for – sitting in, sleeping in etc. And from there, what options might be desirable, such as bedroom inners, canopies, storage pockets etc.
Have a good look around. There are plenty of specialist awning retailers out there where you can see products in situ, as well as getting good advice before you commit to buy.
Note, also, we've shown manufacturer's suggested retail prices for the examples below. Shop around and you'll pay less, plus you'll get an even better bargain if you look out for bundles including optional extras.
Will it affect my insurance?
Any kind of awning can usually be covered by your specialist motorhome insurance – our policy automatically includes £5,000 of equipment cover, which includes awnings.
Caravan Guard's motorhome insurance also covers damage caused to your motorhome or awning should they be caught in a storm. However, inflatable awnings are less likely to be damaged in stormy conditions as they flex, compared to the damage caused by a wayward metal awning pole.
Here we take a look at three drive-away motorhome air awnings,


Outwell Milestone Pro Air
A dome-styled drive-away awning from Outwell's Air Cruising collection, the Milestone Pro Air comes in two versions – the standard model has an attachment height range of 180cm to 205cm, while the "tall" variant attaches at 240cm-290cm, so is typically more suited to coachbuilt motorhomes, including A-class's.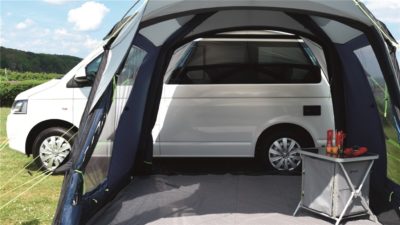 An integral groundsheet, as here, is ideal for keeping out the bugs and reducing draughts. Such is the nature of motorhome use, you're unlikely to be in the same location for lengthy periods where the ground underneath could deteriorate – but, it's always worth checking with the campsite operator.
There's also Outwell's Link Access Zine system – that's the section between the main awning and your vehicle. It's wide enough to offer easy access via your vehicle's habitation door and comes with its own groundsheet, side doors and draught excluder skirting.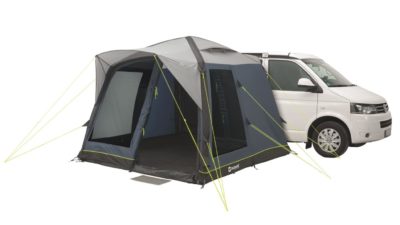 Among many other smart features here are Outwell's signature luminous guylines, which should prevent folk tripping accidentally.
And their pre-angled air tubes work to provide easy erection and wind beating performance.
Dimensions 280cm W x 300cm D x 220cm H
Pack size 35cm x 85cm
Weight 16kg
Features also include Large windows, taped seams, reinforced stress points, adjustable pegging points, heavy duty zips, sealed groundsheet
Expect to pay £649.99/£679.99 (Tall)


Vango Hexaway Tall
It's fair to say Vango has been something of a pioneer of inflatable awnings for motorhomes, but this is something different. It's more like an attachable gazebo, with removable panels, skylight windows along the roofline and large windows. Vango quotes a pitching time of just 10 minutes!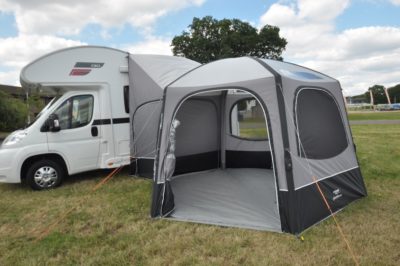 It's made from a 420 denier polyester fabric with double ripstop threads and a PU (polyurethane) coating for superior protection from the elements.
Handy features include SkyTrack, a flexible hanging system that allows you to attach hanging pockets and/or lighting; and the facility to flatten the groundsheet for easier entrance for bikes, pushchairs etc.
It's also available in a "low" version, for campervans etc, typically at some £50 less.
Dimensions 390cm W x 410cm D x 240cm H
Pack size 70cm x 42cm x 43cm
Weight 20.55kg
Features also include High and low-level ventilation panels, taped seams, detachable groundsheet, orange guylines, zipped curtains
Expect to pay £800


Kampa Motor Ace Air Pro 400 L
Also available in S, XL, XXL and XXXL formats – all with a depth of 300cm – Motor Aces use Kampa's Weathershield Pro fabric and with large windows (with curtains) plus distinctive rooflights.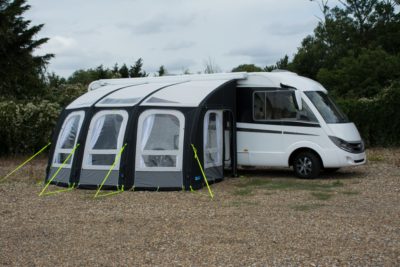 Apart from the usual annexe and conservatory options, other extras range from a Sun Wing to Limpet fixings to Sabrelink LED lighting to mesh panels – the latter include a set of three designed to replace each of the front sections, in any configuration you wish.
No-see-um mesh already features on each side. All five main panel sections are removable, for those balmy sunny days.
Dimensions 400cm W x 300cm D x 250-265cm H
Pack size 95cm x 38cm x 38cm
Weight 25.5kg
Features also include Double-coated 300D fabric, single-point inflation, mud flaps
Expect to pay £1,325
Other key contacts
*OlPro: www.olproshop.com
*Outdoor Revolution: www.outdoor-revolution.com
*SunnCamp@ www.sunncamp.co.uk
*Westfield: www.westfieldoutdoors.eu
Over to you…
Would you like the convenience of a drive-away awning? Does an air awning appeal to you? Feel free to share your comments about drive-away air awnings in the box below.
Search our blog
---