Energy crisis? Keep cosy this winter in your campervan, caravan or motorhome. Here are some warming words for adding extra heating…
The heat is on!
Getting ready for some winter touring? Determined not to let the cold get to you? Even if your caravan or motorhome has a heating system, you might feel you need more.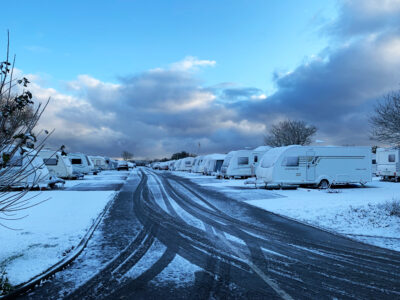 Alternatively, if you don't have any permanent on-board heating, yet still want to get out even when outdoor temperatures are chilling down, there are plenty of interior heating options you could consider.
Top tips for keeping warm in your leisure vehicle
There are plenty of other ways you can make the heating in your leisure vehicle as efficient as possible and to keep warm in your caravan, campervan or motorhome when the temperatures drop outside.
Add a rug. Or some extra carpet. It's amazing the difference it makes when you have some extra carpeting or similar underfoot
Fill your lockers, especially the space underneath beds. Cutting out any potential cold spots can help the rest of the interior stay cosier for longer.
You could also consider adding extra insulation wherever possible. Don't be tempted to block any vent holes associated with your gas supply though
A hot water bottle, or even a heated blanket (they're usually low Wattage, so won't take up too much of your electricity supply) makes for a great, focused heat source
It might sound obvious, but the clothing you wear can make all the difference, too, so don't forget to pack those winter woollies and thermals!
Never cover any kind of heater. Always use on a steady surface away from pets and little hands.
Also, don't leave a working heater unattended in your leisure vehicle. Always allow the heater to fully cool before packing away
Make sure there's plenty of space around a portable heater too, to allow hot air to circulate
Ventilation is important. At least some upper and lower level venting will help prevent any build-up of condensation, or worse.
Never be tempted to use your cooker for heating (although preparing a meal on-board will generate some extra warmth).
Consider the supply of campsite hookup. Many offer 10 or 16 Amps.  A 1kw (or 1000 watt) fan heater or radiator uses 4 amps, so running a 2kw fan (using 8 amps) might not allow for much else to be switched on in caravan at the same time without tripping the system.
Here we take a look at eight portable heaters to add some extra warmth to your campervan, caravan or motorhome this autumn and winter.
Star Player #1
Outwell Katla
A 230V heater with a three-speed fan and automatic oscillating function, this is a neat, compact size but can push out anything from 1kW to 1.8kW in terms of heat, but can also be used for cooling.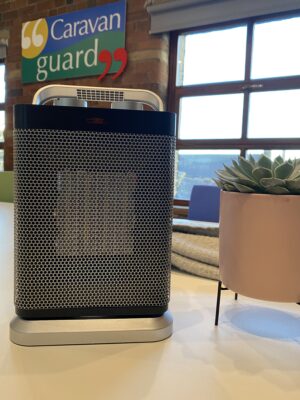 Outwell points out that this portable heater is only for occasional use and in well insulated areas.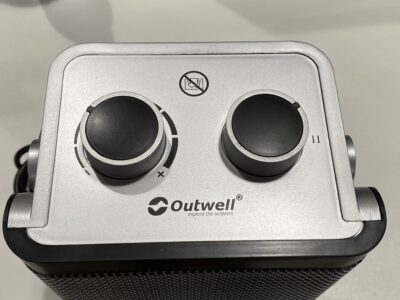 It weighs 1.5kg and dimensions are 18cm x 14cm x 27cm high.
Key features Plastic/metal casing, maximum output 1.8kiloWatts,  overheating protector, tip-over safety switch, folding handle, 3m cable
Expect to pay £50.99
Star Player #2
Quest Barbuda
Mains-powered ceramic heaters like this typically draw less power than other electric heater styles. An example like this is smaller and lighter too – it weighs 500g and measures 12.5cm x 11.7cm x 18.5cm.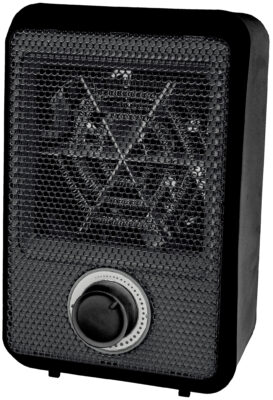 Yet it can still provide up to 500Watts of heat instantly, thanks to what Quest calls a PTC (that's Positive Temperature Coefficient) heating element. The cut-off switch in the base means this unit turns off instantly should it ever fall over.
This is ideal for smaller spaces where storage is also a priority.
Key features Variable thermostat control, safety cut-out switch, overheat cut-off, power indicator,
Expect to pay £24.99
Star Player #3
Kampa Diddy
Dimensions of 17cm x 9cm and a height of 22cm for this diminutive electric fan heater with two power settings – 750W and 1,500W. Its all-plastic casing helps keep weight down, too, at just over 1kg. Ideal for providing instant heat when you get back to your leisure vehicle.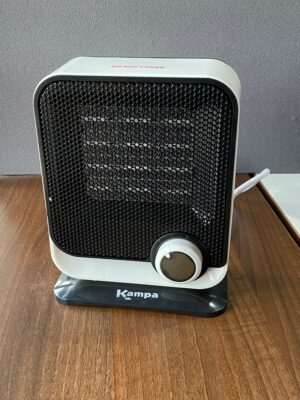 Key features Overheat protection device, tip-over cut-out, cool plastic housing, instant heat
Expect to pay £27.75
Star Player #4
Swiss Lux Swivel Ceramic Fan Heater
750Watt or 1,500Watt? The choice is yours with this unit that also offers a generous spread of warmth thanks to its oscillating function. It also comes with an infinitely variable thermostatic temperature control as well as three fan speeds (including cool).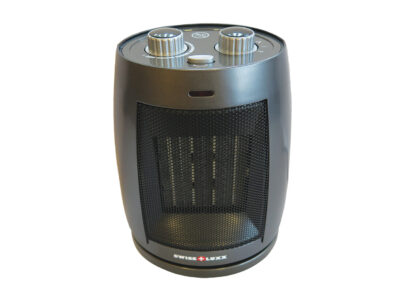 It sits some 26cm high, 19.5cm long and 16.5cm wide and looks pretty stylish too.
Key features PTC (Positive Temperature Coefficient) ceramic heating disc, automatic cut-off, oscillator switch
Expect to pay £39.99
Star Player #5
Vango Radiate Heated Cushion
Here's a clever alternative if you don't want a full heater unit – it's literally a heated cushion. It uses a power bank (buy your own, but you're looking for a 5V/2.1amp rating) for its electric source, which gives it true portability (indoors as well as out).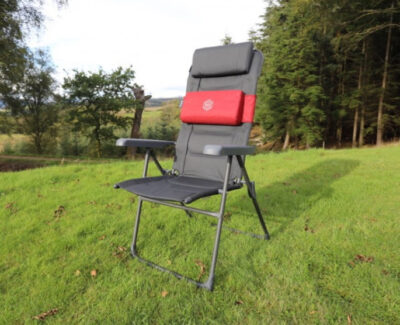 You can place it anywhere on your body, even sit on it (maximum load 140kg), for a warming effect – great if others are feeling too warm and you're too cold! Hook-and-loop strapping means it can be fastened to furniture etc, as appropriate.
It weighs less than a third of a kilogram. Cushion size is 22cm x 42cm and it's some 9cm deep.
Key features Graphene heating element, four heat settings, pocket for stowing power bank, three-year warranty
Expect to pay £56
Star Player #6
Outdoor Revolution portable gas heater
Working from 220g gas cartridges, this heater can push out up to 1.2kW of heat.
Safety features include an ODS valve – Oxygen Depletion Sensor – that turns off the heater when gas levels go too low. Plus there's a tilt switch that again automatically turns off the heater if it gets knocked over.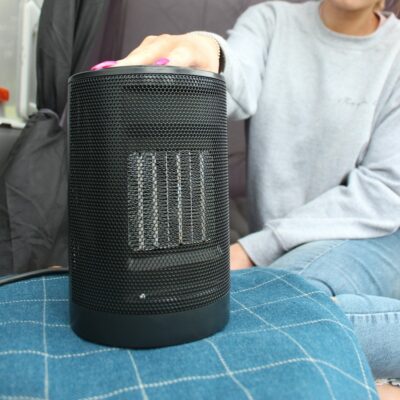 Always be careful where you place a gas heater.
Weight is 1.5kg, dimensions are 30cm x 13cm x 26cm.
Key features Enamelled steel construction, piezo ignition, ceramic plate, maximum output 1,200Watts, variable temperature control
Expect to pay £46.99
www.outdoor-revolution.com
Star Player #7
Quest Maui oil filled radiator
You'll need a bit of extra floor space for this portable heater.  Unsurprisingly, it's relatively hefty, too, at over 4kg. Yet, as a lone room heater – or even a supplement to any existing system – it can work wonders.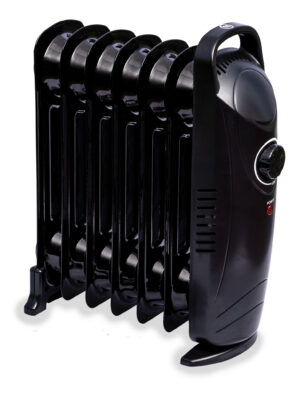 Its seven fins help disperse heat effectively, while Quest says it draws less electricity compared to a standard radiator. Could be one for the awning?
Key features Carry handle, 1.4m cord with storage, thermostatic temperature control, 500Watt rating, overheat protection, stability feet, 33cm x 39cm x 10 cm dimensions
Expect to pay £36.99
Star Player #8
Lakeland Fairisle Pattern heated throw
From a range of electric throws, blankets and even ponchos, how about this from Lakeland?
Like most electric blankets, it's low wattage – 160W in this case – so won't take a large portion of your mains electric supply. Just plug in to your nearest socket, though, and the fleecy lining and choice of nine heat settings, will soon have you cosy. You can also set a timer for when to come on or off.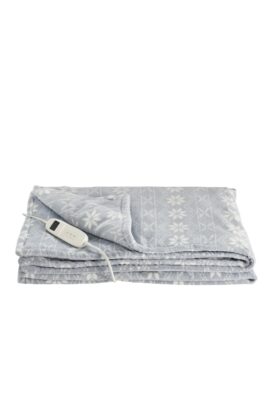 It's machine washable, too, as long as you remember to unplug the control.
It measures a cosy 160cm x 120cm.
Key features Nine heat settings, timer settings, machine washable, 180cm cable, overheat protection, three-year guarantee
Expect to pay £79.99
Over to you…
Got any advice on portable heaters for caravanning or motorhoming or any other tips for keeping warm in your leisure vehicle this autumn and winter. Please feel free to add a comment below.
Cost to insure: *
---
factfile
| | |
| --- | --- |
| Model | |
| Base vehicle | |
| Axle type | |
| Dimensions | |
| Shipping length | |
| RRP | |
---
Search our blog
---