The best in towbars
For caravanners and sometimes motorhomers a towbar is an essential item of kit, subject to a lot of stress in its lifetime. So what do you need to know?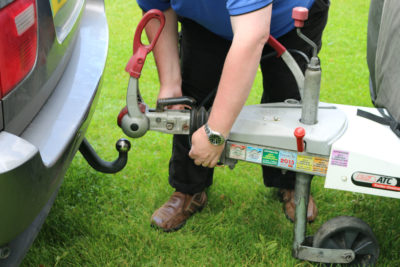 Considering it's the only thing (apart from a breakaway cable) that keeps what you're towing attached to what you're towing it with, a towbar is both relatively straightforward and essential. There's a good choice available and, luckily, maintenance is routine. Here are the main types of towbar available in the leisure market.
Fixed Flange towbar
The most common type of towbar in the caravan and motorhome market, and usually the most cost-effective. Typically, Fixed Flange towbars are supplied with a 50mm towball that's bolted to a two or four-hole plate, which also allows the fitting of a 25mm spacer, so that such units can also accept items such as cycle carriers, stabiliser and bumper protectors. With a four-hole plate, the towing height can be adjusted.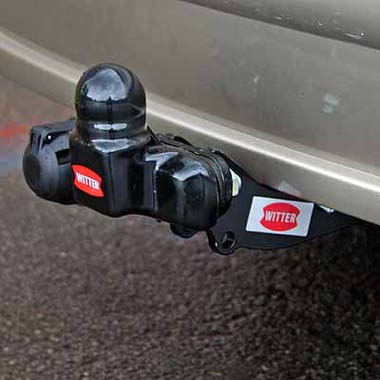 On the downside, they can look bulky. They also need a special towball for caravans or trailers fitted with Al-Ko hitch stabilisers.
Detachable Flange towbar
As per the above, but removable, so could be better suited to those who don't tow much and want to keep the original appearance of their vehicle.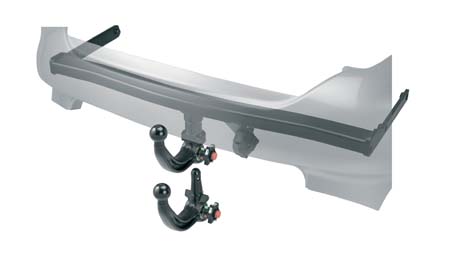 These require a little more maintenance, than the fixed flange variety.
Fixed Swan Neck towbar
More popular in the rest of Europe compared to the UK, mainly because the design doesn't allow for the fitting of accessories at the same time as using for towing.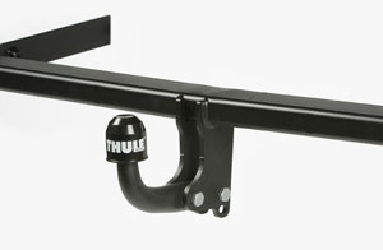 Usually more expensive than flange towbars, swan necks can't be fitted with bumper shields.
Detachable Swan Neck towbar
The first towbar to offer such a facility, it's as per the sawn neck above, but removable.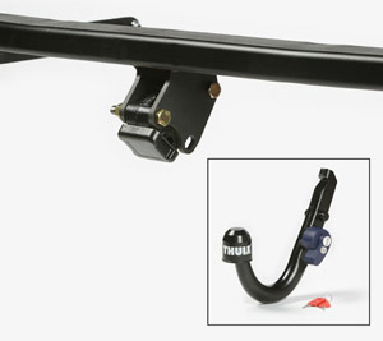 Retractable towbar
A more recent design that's often available for more upmarket cars, rather than its total removal, such a unit allows you to simply retract the towball. One big advantage here is there's no risk of losing the towball, including theft.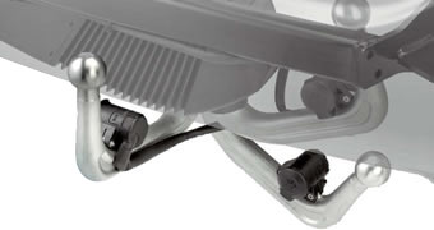 MoT testing

As of April 2009, towbar and related fittings are part of the MoT test for private vehicles, i.e. cars and motorhomes. From 2012, there were updates to include testing the electrical aspects, including sockets, dashboard warning lights, etc. As part of the MOT assessment, inspectors will:
Visually assess the towbar for wear and pull on the towbar and/or its mountings to check for security, corrosion, fractures or damage
Check the towbar assembly is attached to the vehicle structure using mountings, supports and fixings of an appropriate size and type
Check the presence and security of:
a. retaining devices, eg nuts and bolts.
b. locking devices, eg split pins, 'R' pins.
On detachable tow balls:
a. check for play between the tow ball arm and its receiver socket
b. visually assess the condition of any quick release mechanism.
On height adjustable or swivelling towbars, check:
a. for presence, and security of locating or swivel pins
b. locating or swivel pins and brackets for excessive play or wear
c. locating or swivel pin retaining devices for presence and security.
Check the condition of the body and chassis in the vicinity of the towbar mountings.
Meet the NTTA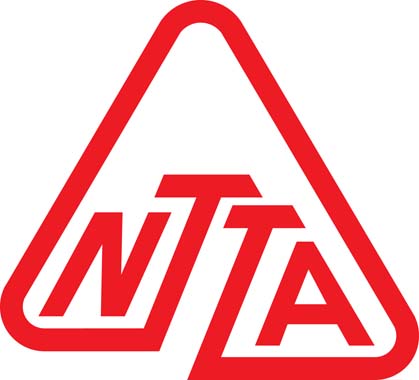 The National Trailer and Towing Association is the trade body for the towing industry here in the UK. It was founded in 1975. 2015 sees it celebrating the 15th year of its Quality Secured scheme promoting excellence in towbar installation and trailer maintenance.
It reckons, since the year 2000, some four million towbars have been fitted in the UK, add its QS scheme is recognised by over a million members of the towing public, and recommended and endorsed by the Automobile Association (The AA) amongst others.
It also published a free guide to towing law, The NTTA Guide to Safe and Legal Towing.
Towbar maintenance
Fortunately, towbars require minimal maintenance. However, it is always worth checking everything is OK each and every time you hitch up.
Regular inspection and maintenance will help maximise the performance and life of your towbar. Keep the towball clean with thinners, white spirit or brake cleaner to remove grease or other residue. The surface of the towball must be free of grooves, rust or seizing marks.
Check all levers, flexible joints and parts for tightness, correct operation and integrity. Replace any worn parts or have the bar serviced at your local towbar specialist.
Keep any housings free of dirt and corrosion, especially on the points of contact.
Any surfaces should only require cleaning with a cloth. Grease or other lubricants should never be used.
For detachables, if the ball is not used, it should be removed – the dummy should then be inserted for protection and to prevent dirt. Store the ball in a case.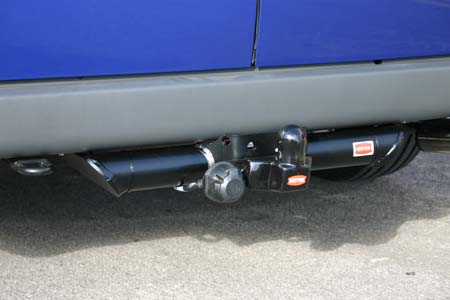 Key contacts
Cost to insure: *
---
factfile
| | |
| --- | --- |
| Model | |
| Base vehicle | |
| Axle type | |
| Dimensions | |
| Shipping length | |
| RRP | |
---
Search our blog
---