Off caravanning this winter? You'll want to take an awning with you.
Here's some handy advice, along with a selection of the latest caravan porch awnings.
Just before you decide not to lug an awning along with you on your winter travels, think again of the advantages. As well as the usual extra space benefits, in cooler weather a caravan porch awning can provide a great barrier between the warm and cosy interior of your 'van and the somewhat colder elements outside.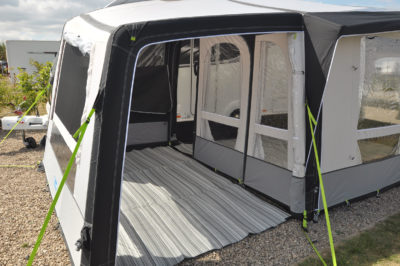 A porch awning is also the ideal place to keep any clothing or footwear that's got muddy and you really don't want coming into your caravan. Not forgetting wet and muddy dogs!
Do be careful with any awning in severe weather conditions, of course, and make sure you take it down if stormy weather is forecast. Rest assured, though, with a Caravan Guard caravan insurance policy you're covered for any storm damage.
Options such as carpets and footprints are well worth specifying for colder weather use, too – offering protective insulating barriers at ground levels. Indeed, a footprint is also great protection for putting your awning on before erecting it, keeping the main unit off potentially muddy ground etc.
Don't be tempted to shut off all ventilation, however. Inflatable awnings such as these rely on a bit of airflow to prevent a build-up of condensation, in particular.
Star Player #1
Vango Sonoma II 250
A smaller awning with a large porch canopy area for sitting in when the weather gets warmer. There's reassurance for use any time of the year, however, thanks to independent wind tunnel testing this unit has undergone.
A double-action pump means it's as easy to take down as it is to put up (getting the air out of an inflatable awning can be trickier than putting it in). The main fabric has a double ripstop feature – threads that prevent tears developing – as well as a polyurethane coating for waterproofness and taped seams for watertight sealing. Pre-angled main beams mean optimal standing room throughout as well as greater wind stability. It also comes with additional bracer beams should you want greater rigidity in inclement weather. Storm straps are also included.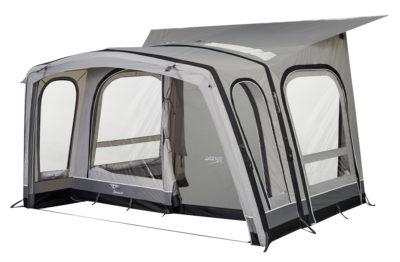 Also supplied are foam draught pads that help form a seal between the awning and your caravan walls.
Key features 420D Sentinel Pro fabric, supplied with PVC draught skirt and two-wheel arch covers, PVC mud strip, zipped curtains, two-year warranty
Weight 24.3kg
Dimensions 280cm W x 250cm D
Fixing height 236cm-250cm
Pack size 78cm x 37cm x 42cm
Expect to pay £600
www.vango.co.uk
Star Player #2
Outwell Ripple 380SA
Updated for the 2020 season, Ripple models – also available in 320 and 440 depth variants, are part of Outwell's Nordic Shore line-up of inflatable caravan porch awnings (there's also a Nordic Coast collection).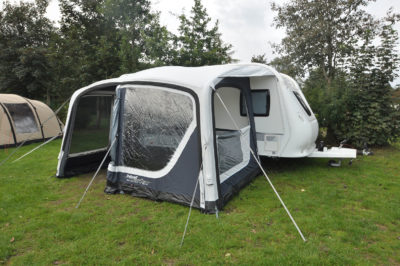 There are loads of user-friendly features here. Tinted windows help keep sun glare minimal (lower sun angles in the winter can be a particular problem), the draught skirt includes two handy storage sections (ideal for mucky footwear etc), and the main fabric is a dense-weave polyester boasting particularly rain-resistant qualities (a 6000mm hydrostatic head, to be technical).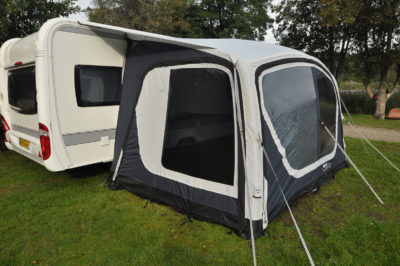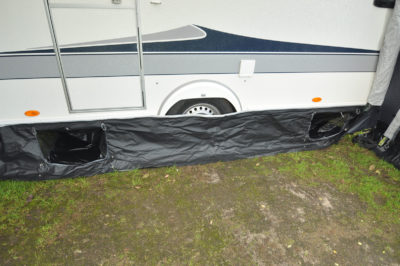 Other features you'll be particularly happy with if you're using a porch awning in the winter include the Pole-free Seal System, where the awning fits tight against the caravan sides; side door rain protection; and Height Adjustment System, to help level things up when pitching on uneven ground.
Key features Single-point inflation, Outtex HD Taslan polyester fabric with taped seams, tinted windows with zipped curtains, built-in storm straps, draught skirt, clip-on storm straps, two upper vents with velcro'd internal covers, insect-proof mesh panels
Weight 28.5kg
Dimensions 380cm W x 250cm D
Fixing height 240cm-255cm
Pack size 90cm x 43cm
Expect to pay £1,199.99
Star Player #3
Isabella Air Cirrus North 400
No new awning caused such a stir as this, the Isabella Air Cirrus North 400 when it was introduced at the end of 2019. That's because it's the first-ever inflatable porch awning from Isabella, previously a stalwart of premium traditional poled models.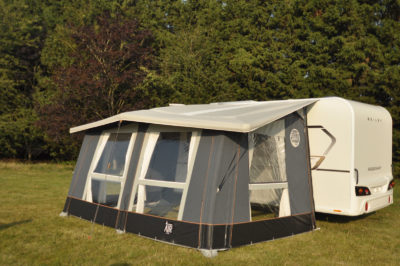 You'll appreciate the quality of an awning like this, especially when the weather takes a turn for the worse. It's made in Denmark (whereas most awnings tend to come from the Far East) and Isabella makes a point that it was designed from the outset for seasonal pitching – with breathable fabric as used in the company's top poled awnings and a UV-resistant polyester roof.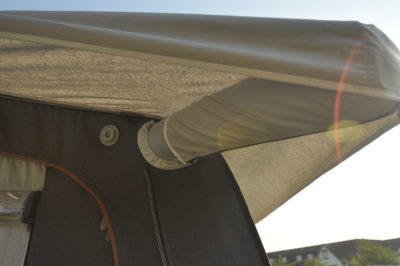 Single-point inflation means you can have the whole unit up by pumping air via just the one connection – while interconnecting tubes and valves are clearly marked and have a straightforward twist-action to engage/disengage.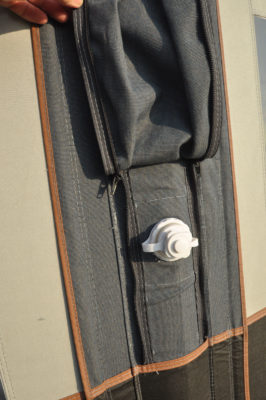 It comes with both plastic and metal pegs, to make sure you can pitch on any ground. Other details extend to removable front panels, two side doors, heavy-duty zips, light roof panels, mesh vents over each door and pop-on ties for the curtains.
Key features Isacryl fabric, dual beading (for attachment to different size awning rails), front canopy section, light roof sections, side windows with mosquito nets, draught skirt, wheel arch cover, plastic and stainless steel pegs, large double-action pump
Weight 35.5kg
Dimensions 400cm W x 275cm D
Fixing height 242cm-255cm
Pack size 110cm x 40cm x 40cm
Expect to pay £1,990
Star Player #4
Kampa Club Air Pro 390 Plus
Clever design here, but the clue is in the Plus name – referring to an extension section that comes as standard and can be ordered on the left or the right.  Because this extension doesn't use the awning rail, it means you could have this awning on pretty much any size of caravan – indeed, any unit that can offer 390cm of attachment rail.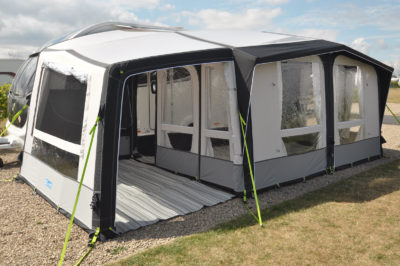 So, not only does the Plus section provide valuable storage space or a bedroom (an inner is among the optional extras), you could also remove the side panel for a huge total living area (although smaller rooms tend to be cosier in the winter).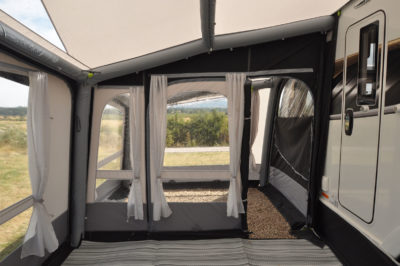 The main fabric is a polycotton mix, and the distinctive look is down to pre-shaped roof beams resulting in a dual-pitch roofline. Access is via two side doors or a front section of two panels, either or both of which can be rolled back.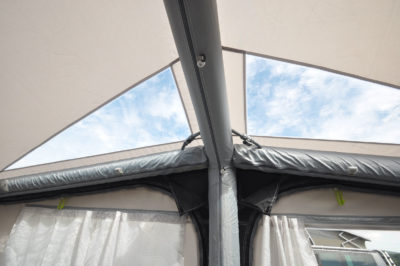 Key features 300D Weathershield Pro fabric with 6000mm hydrostatic head, dual-pitch roof, front central permanent vents, 2.75m depth, zip-open back wall with window, pre-shaped roof beams
Weight 41kg
Dimensions 580cm W x 275cm D
Fixing height 235cm-250cm
Pack size 97cm x 48.5cm
Expect to pay £1,750
Over to you…
Got any advice on caravan porch awnings you'd like to pass on to fellow caravanners? Please feel free to add a comment below.
Cost to insure: *
---
factfile
| | |
| --- | --- |
| Model | |
| Base vehicle | |
| Axle type | |
| Dimensions | |
| Shipping length | |
| RRP | |
---
Search our blog
---