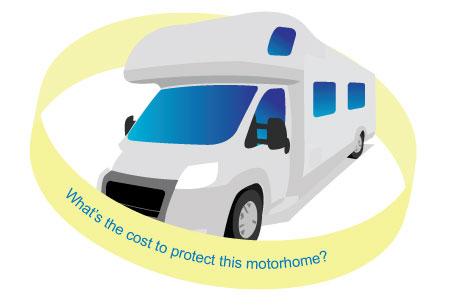 The price of your motorhome is a major rating factor when calculating the price of your insurance, but there are lots of other criteria which can also greatly affect the price of your annual motorhome insurance policy some of which you can influence to result in a lower premium.
This article is split into two parts, the first part explains how your motorhome insurance premium is worked out and the second part explains ways that you can reduce your premium. Click here to jump to section 2.
Section 1: Calculating a motorhome premium
Claims history
One important factor is driver claims history. Caravan Guard offer up to 67.5% discount for drivers with a good no claims record so that can have a huge impact on the price of insuring a motorhome.
To achieve 67.5% discount an existing motorhome owner, or a new motorhome owner who has bonus to transfer from another motor policy which has expired in the last 2 years or is due to expire, needs to have been insured and claim free for 5 years or more.
Of course there are varying discounts dependent on the motorhome drivers' experience and claims history.
We do offer what's called an introductory no claims discount of up to 65% for new motorhome owners who don't have a no claims bonus entitlement from another insurance policy to transfer to their new motorhome policy – this is dependent on claims history from other current motor insurance policies, driving convictions and experience of driving similar sized vehicles or towing a caravan.
Convictions, occupations and type of use

Driving convictions do get taken into account. Certain occupations can rate a little higher than others. Also how you intend to use your motorhome is a factor with cover including commuting to and from a single place of work costing more than simple social, domestic and pleasure use.
Number of drivers
The number of drivers you have named on your policy does of course make a difference. So if you choose to add family or friends their driving claims history and convictions are factored in too.
Storage postcode
The storage location postcode is also an important factor in all motor insurances. Some postcodes rate higher or lower dependent on crime and traffic levels. So rural areas tend to attract lower premiums than inner city areas.
Storage Security
The security at the storage location is important too. If you are storing at home then doing so on a driveway behind padlocked gates or locking drivepost rates better than storing on an open driveway or even at the side of the road. If using a storage site facility away from home then those with security features such as 24 hour access control, CCTV and perimeter fencing will rate favourably.
Body Type
Whether your motorhome is a coachbuilt, A-class, campervan, or an American RV model will influence your premium.

Section 2: What you can do to drive down your premium
There are a lot of things you can do in order to reduce the cost of your insurance premium.
Cover requirements
Firstly it's important that you consider exactly what you'll be using your motorhome for and then ensure you are only paying for the cover you need. Caravan Guard let you pick and choose elements of cover such as European cover and European breakdown, emergency motorhome hire, or let you adjust the annual mileage limit, all of which will affect your insurance premium.
Setting these factors correctly at the start or renewal of a policy can help to make sure you aren't paying for cover you don't need or won't use. Extra cover can be added on during the policy term if required (limits apply).
Voluntary Excess
If you're willing to, you can add a voluntary excess amount onto your policy – it just means in the event of the claim such as for accidental damage you will have a little bit more to pay. Caravan Guard offer up to 15.5% discount for voluntary excesses so it can have a significant impact on your premium
Security
Adding extra security to a motorhome is also a great way to drive insurance costs down. Monitored motorhome Tracking devices earn the biggest discount but Thatcham Category 1 approved alarm security systems also make a difference. Even electronic immobilisers fitted to most new motorhome base vehicles these days get a discount.
Reversing aids
As reversing mishaps are common with long vehicles such as motorhomes; you can get a discount for a reversing camera or sensor.
For more information on saving money with Caravan Guard visit our motorhome policy discounts page.
Cost to insure: *
---
factfile
| | |
| --- | --- |
| Model | |
| Base vehicle | |
| Axle type | |
| Dimensions | |
| Shipping length | |
| RRP | |
---
Search our blog
---