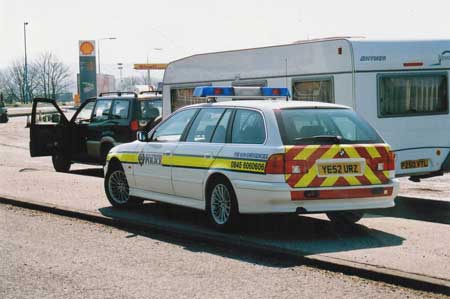 We've written before about the importance of securing your caravan, but there are also some practical precautions which you can take to massively reduce the risk of your caravan being stolen.
Remember though these are precautions which you can take on top of fitting good caravan security devices, and choosing a secure storage location. They are not offered as an alternative!
Reduce the risk of theft when your caravan is in storage
If your caravan is being stored at home on a driveway then position your caravan so that the hitch is up against a wall or garage rather than facing outwards, as this makes manoeuvring it much more difficult for any would be thief. Fitting a motor mover makes this much easier.
When your caravan is not in use a good way to deter thieves is to remove all of the caravan seat cushions and store these inside your house or garage, leaving the curtains open so that anybody looking through the caravan window can see the cushions have been removed. A caravan which needs to be completely reupholstered is not a very attractive prospect for a thief.
If you are going away from home for a few days without your caravan then why not let your neighbours know, that way they can question anybody who is snooping around your 'van while you're not there.
Reduce the risk of theft when on a touring caravan site
When you first arrive on site it is very tempting to kick your feet up and put the kettle on, and whilst we're not against a bit of relaxation, we think it feels all the more satisfying when you know you're all set up. As well as the normal setup jobs such as your water and electric we'd recommend fitting your caravan security devices such as wheelclamp and hitchlock straight away too.
An awning can also be an effective deterrent to thieves as it makes stealing your caravan much trickier; they either have to cut the awning off, or take the time to dismantle it, both of which will draw attention to them and slow them down.
If you are on a campsite near to other fellow caravanners then it might be a good idea to say a quick hello and introduce yourself. That way if you are going to be away for the day you could ask them to keep an eye out.
Reduce the risk of theft when towing
When pulling your caravan into a motorway service station or picnic area it's important that you take precautions to protect your caravan from any would be thieves. The first step you can take to avoid theft is to choose a caravan hitchlock which allows you to lock the caravan to the car in transit (but doesn't affect the stabiliser) as this means you can safely lock your car and leave the car and caravan locked together.
If you are leaving the caravan for a longer length of time, or have a hithclock which only works when unhitched, then you may also want to consider fitting your wheelclamp or axle lock. Also bear in mind that some insurers will insist on the fitting of security even when the caravan is attached to the tow vehicle (Caravan Guard don't).
Another sensible precaution is to leave somebody with the caravan while the other person pops into the services to make sure it doesn't get stolen.
For advice on insuring your caravan and information on the types of caravan security devices available and the discounts they'll earn you, visit our touring caravan policy page.
Cost to insure: *
---
factfile
| | |
| --- | --- |
| Model | |
| Base vehicle | |
| Axle type | |
| Dimensions | |
| Shipping length | |
| RRP | |
---
Search our blog
---