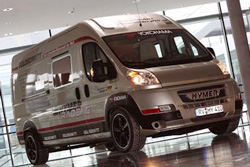 Record breaking Hymer Car
A motorhome has been named the fastest in the world after reaching more than 200km/h.
In a record-breaking run, the Hymer Car tuned by Goldschmitt powered by an economical 2.3-litre Multijet engine with innovative gas-diesel drive clearly smashed the standing record of 191km/h.
In a first attempt on an airfield, the record-making vehicle even topped the 200km/h mark – the speed it had to reach to earn the title of the world's fastest motorhome according to the Guinness Book of Records. The measured speed was 207km/h.
It was reached thanks primarily to aerodynamic measures taken (for instance by using under-floor fairings or by flattening the window panes), by slight engine tuning, and mainly due to the additional power generated by adding gas to conventional diesel fuel.
Heinrich Bloemer, the Goldschmitt employee responsible for inventing the revolutionary gas-diesel engine and formerly an active racing driver, took on the challenge of making the 2.3-litre Hymer Car into a sprint champion.
He said: "It would have been far simpler if we had taken the 3-litre version of the Fiat Ducato. But we wanted to show that the Ducato engine of lower cubic capacity has an enormous power reserve and is still very economical, despite the present high output of about 200bhp."
But that's not the end of the story as Hymer and Goldschmitt have obtained approval for a record attempt in the spring on the test track in Papenburg, Northern Germany.
They then want to make it into the Book of Records with a symbolic speed of 230km/h from standstill within exactly 1000 metres.
Why is the bar set at 230 km/h of all speeds? Guinness calls for 200km/h for the title of the fastest motorhome, and then 30km/h is an extra one for every year of the Goldschmitt company.
Here at Caravan Guard, we obviously wouldn't encourage our customers to travel at such speeds just to get the best pitch on the campsite. However, if you're looking at improving the performance and economy of your motorhome through professionally installed engine remapping or chipping, we can provide insurance cover without any additional motorhome insurance premium providing engine BHP is not increased by more than 30%. That said it is still important to make us aware of any such modifications.
Source: Outandaboutlive.co.uk
Cost to insure: *
---
factfile
| | |
| --- | --- |
| Model | |
| Base vehicle | |
| Axle type | |
| Dimensions | |
| Shipping length | |
| RRP | |
---
Search our blog
---