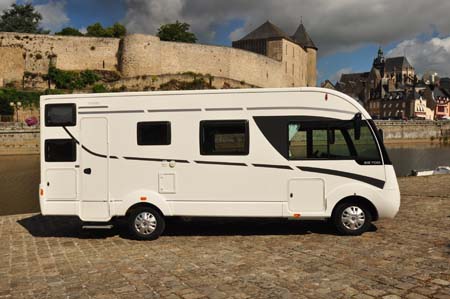 A multi-berth A-class motorhome at an absolute bargain price?
Until now, it would be tempting to dismiss such a proposition. However, the latest line-up from Itineo, totalling 12 models, could be well worth seeking out on price alone.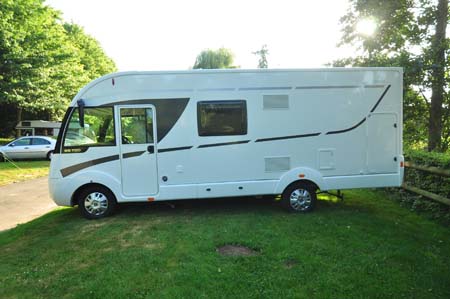 And there will certainly be some seeking out to be done. Despite being part of France's Rapido Group, Itineos are sold via just two dealers here in the UK – long-term Rapido agents Wokingham Motorhomes in Surrey; and a new appointment, Dicksons of Perth, in Scotland.
It's hardly an external look that shouts budget either. Mirrors are the coach-style type you'd associate with premium products, and there are day-running LED lights at the front. That bodywork is GRP-clad, too. The windowless habitation door and manual step are the biggest indicators that there's been some cost-watching.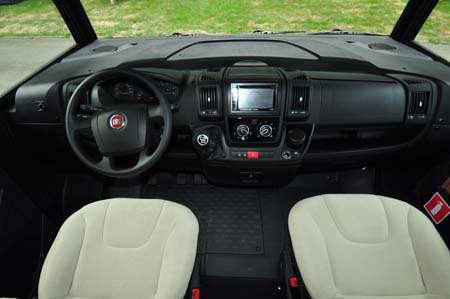 Okay, so it can sleep up to six, but there's no reason why smaller groups, right down to couples, shouldn't be taking a closer look here. It has a fantastically large lounge – ideal for sprawling out in, or entertaining guests. You can change the seating configurations – settees, single seats, or any mix – and the pedestal table offers a range of movement to suit.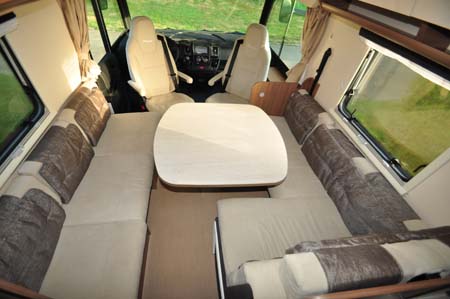 In comparison, the kitchen aft of this is somewhat cramped – and that's before the de rigueur UK oven/grill is added. It's expected to go in the large locker over the fridge/freezer – a Thetford 150-litre capacity unit – while the main kitchen area is L-shaped, with a Dometic, three-in-a-line gas hob and separate sink, but minimal worktop.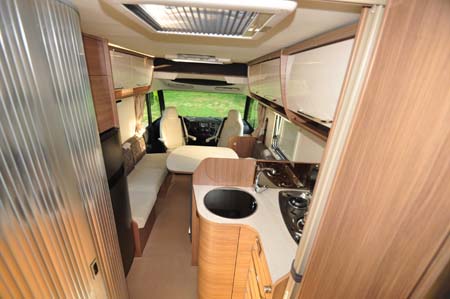 Automatic energy selection for the fridge is one of a number of items you wouldn't necessarily expect to find in a motorhome, so determined to keep its price down. Other such features include a proper metal mixer tap for the kitchen sink, Bultex closed-cell bed mattresses, additional padded sections for the rear seating, locker doors with curved fronts and a high-gloss finish, plus a generous mix of direct and ambient LED interior lighting.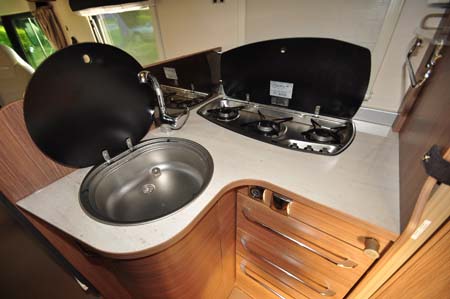 Equally, you could point to just curtains for the cab windows, basic rear seat bases with plastic hinges, lots of Velcro for keeping cushions in place – all aspects where costs have been minimalised.
There's also just a single mains socket as standard. You might want to budget for your supplying dealer to fit more (or see how it goes. You can always add these later).
The washroom is clever, though, in that its tambour door can be slid back to provide a full dressing area at the back of the vehicle. There's an upmarket Dometic ceramic-bowl toilet, plus a shower cubicle with rigid bi-fold door, and a rather lightweight corner sink.
The main bed, as with any A-class, is the drop-down double over the cab. Manually operated, it's a generous 1.90m x 1.40m, but comes with just a single reading light.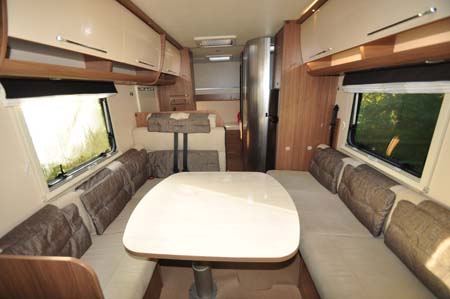 As for the rear bunks, if they're not to be used you can always adapt the lower one to create a small garage area accessible from outside (it's just about large enough for a bike), also leaving the upper bed as a great shelved area for bulkier items. As beds, dimensions are 2.17m x 0.73m.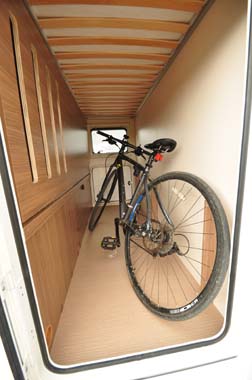 Also fitted here, cab bed roof light (£156), fly screen door (£210), external drawer in skirt (£506), extra door for garage (£351). Other options and prices are still to be confirmed but, amongst these, underfloor heating sounds interesting, plus latest Itineos are pre-wired for a reversing camera.
It's all underpinned by a chassis that is still rated at a driving licence-friendly 3,500kg, with the option for weights and engine upgrades also including Comfort-Matic semi-automatic transmission.
Fiat's Ducato is certainly a more than capable base here, even in standard 130bhp engine format.
If you think it looks intimidating, just note it's actually no wider than a typical coachbuilt motorhome – indeed, it soon becomes even easier to judge the leading front edges of such a vehicle.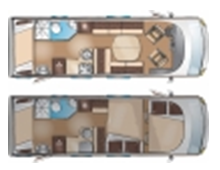 Verdict: Competitive pricing could mean an excuse to move on up
Plus: Amazing price, multi-berths, huge lounge
Minus: Some of the rear travel seating doesn't inspire, crowded kitchen
In-a-nutshell: Cost-conscious A-class
Cost to insure: £330
In summary
Itineo SB700
Fiat Ducato, 2.3-litre, 130bhp Euro V
Dimensions 6.99m L x 2.35m W x 2.89m H
Maximum weight 3500kg
Payload 545kg
Key options: Itineo Pack – cab air conditioning, passenger airbag, cruise control, heated mirrors, central locking, wheel trims, upholstered cab seats to match lounge, height-adjustable cab seats, day-running LED lights, radio pre-fittings (£399), Truma upgrades (Combi 4 to Combi 6 £163, C4 to C6EH £506), habitation door window (£405), roof rack and ladder (£467), towbar and electrics (£1,117), insulated waste water tank (£218), floor heating (£389), cab bed roof light (£156), fly screen door (£210), external drawer in skirt (£506), additional door for garage (£351).
Security and Safety Electronic immobiliser, ABS and EBD, EBA (emergency brake assist), twin airbags, smoke and carbon monoxide alarms.
MPG estimate 24-28
Recommended retail price from £49,600 (estimated)
There's more information on the Itineo range on the Itineo website. To find out more about our low-cost premiums visit the motorhome insurance discounts page.
Alternatives: Adria Sonic Axess, Bürstner Viseo
*Motorhome insurance cost based on 2016 Itineo SB700 retailing at £49,600 fitted with standard fit equipment plus Thatcham Category 1 alarm system. UK travel only. UK travel only. Kept on driveway at home at TD9 8ED. Motorhome owners – professionals over 50 years old with no claims, convictions or health conditions in last 3 years. 4 years no claims bonus mirrored from car policy and 2 years motorhome driving experience. Members of motorhome club doing less than 5000 miles annually. £300 excess applies. Premium includes insurance premium tax at 6% and is correct at 29th October 2015.
Cost to insure: *
---
factfile
| | |
| --- | --- |
| Model | |
| Base vehicle | |
| Axle type | |
| Dimensions | |
| Shipping length | |
| RRP | |
---
Search our blog
---