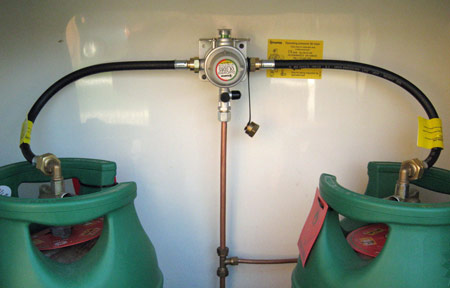 In a nutshell, without going into a frenzy of physics and chemistry, liquid gases like propane or butane contain a number of oily "evaporation" residues. These get into the liquid gas during the manufacture and distribution and can get trapped in the gas flow during use and clog up the valves and gas pressure regulator – which will cause a loss of gas pressure or even a failure of the gas regulator (as the diaphragm fails).
That doesn't sound like too big a deal, but imagine the scene: It's 8pm at night, cold and wet, you're not hooked up to mains electrics and her indoors is fretting about having a cold shower in the morning when the gas stops working. You haven't got a spare regulator tucked away in your locker (who has) so what do you do?
Could this scenario be avoided?
Yes it can, by fitting a gas filter which uses a replaceable filter cartridge in a metal housing that removes 99% of the oily residues before they clog up the pressure regulator. Usefully, there is a built-in "saturation" indicator which indicates when it needs replacing. The filter comes complete with a dedicated multi-tool which unscrews the cartridge housing and is used to install or remove the filter from the system. You need one filter for one regulator or if you have an auto-changeover system, you need two filters. (As pictured in the finished setup below).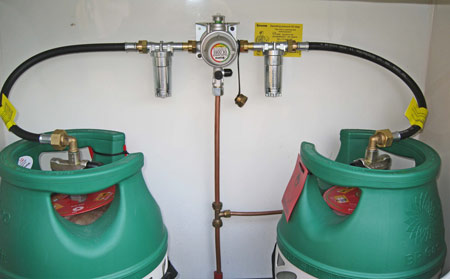 This simple procedure can be done by your dealer, perhaps when you have your unit serviced, he'll do a gas test upon completion too, or it can be done as a DIY project; you can do this is about 15 minutes, but you should then have it gas tested by a person qualified to do so, preferably at a dealer.
TOP TIP. Do not smoke or use a naked flame when installing this gas filter.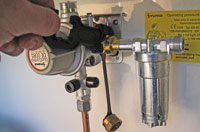 To install the gas filter:
1) Turn off the gas on the cylinder(s)
2) Remove the gas tail from the gas bottle
3) Disconnect the tail(s) from the regulator
4) Connect the filter to the regulator, mating the female connector to the male connector.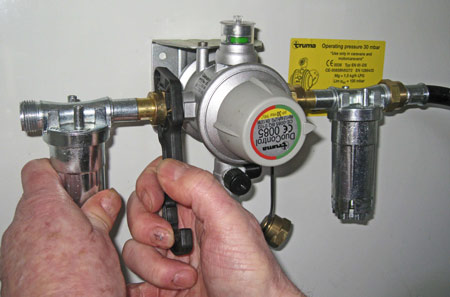 5) Connect the gas tail(s) to the filter.
6) Connect back to cylinder and turn on the gas.
The filter will need changing from time to time, depending upon your gas usage. This is a simple and quick procedure too; just unscrew the filter housing, wipe out any residue with kitchen roll, then unscrew the cartridge using the glove provided. Pull the glove off your hand using it to envelope the used cartridge. Install the new cartridge and tighten it by hand only, then screw the outer housing into place. Dispose of the glove and its contents in accordance with your local authorities' environmental regulations.
We have found just one manufacturer of this filter unit, Truma, and you can buy it from your dealer or on the internet (do a price comparison as prices do vary widely) but I consider it to be good value and the sort of thing that earns a chap a few brownie points. "There's plenty of water for a hot shower and a hair wash too darling. Would you like your back washed?"
For more information; www.trumauk.com
Cost to insure: *
---
factfile
| | |
| --- | --- |
| Model | |
| Base vehicle | |
| Axle type | |
| Dimensions | |
| Shipping length | |
| RRP | |
---
Search our blog
---