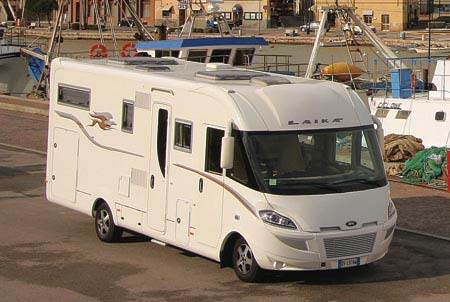 The Laika Kreos 7009 is the sort of motorhome that encourages you to travel further, for longer.
Even with grey skies, freezing temperatures and much of Italy closed for winter, life on board during our test was so comfortable that five days was nowhere near enough.
Much of that is down to the optional Alde heating, which maintained a constant 20 degrees or so, whatever it was doing outside. Just set your desired temperature on the Alde touchscreen and you'll be toasty.
The motorhome's cab chairs are superb Agutis with height and tilt adjustment and luxuriously soft, suede-like Lucca trim. There are five other fabric options, plus two leather choices, but this pale colour appeared surprisingly practical and entirely complementary to the Kreos' dark woodwork.
The lounge isn't big, but then this isn't a humungous motorhome, merely a big one.
And it has a proper twin bedroom out back. Up front, you get an L-settee and a single inward-facing seat on the British offside. You also get a continental-style fixed table.
The soft-closing upper locker door in the kitchen – with its scratch-resistant mother of pearl finish – is an altogether classier fitting. It's standard too, and properly glides shut, unlike some soft-close fittings in rival vehicles.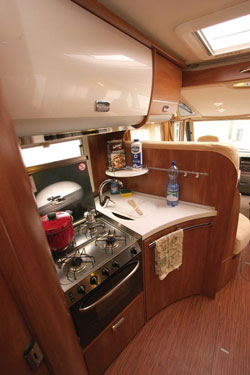 And it's not just about style here; the gallivanting gourmet in you will welcome the four-burner Smev cooker with integrated oven/grill, as well as the extractor hood over, and the 160-litre automatic energy selection fridge/freezer over the other side of the vehicle. There's a huge slide-out storage unit alongside the cooker too, with room for cutlery and utensils on the top layer and pans and plates below.
Like all the furniture it feels beautifully made and the chrome and satin positive locking metal cupboard handles (complete with Laika logo) only serve to enhance the quality image. Then there's the neat slot-in shelf that adds to your worktop space, if only for condiments and spices, rather than chopping and slicing.
The Kreos' shower cubicle is on the UK nearside, with the toilet compartment opposite. Open the toilet door and you can shut both loo and shower off from the lounge/kitchen in front, while sliding doors close off the ablutions area from the bedroom.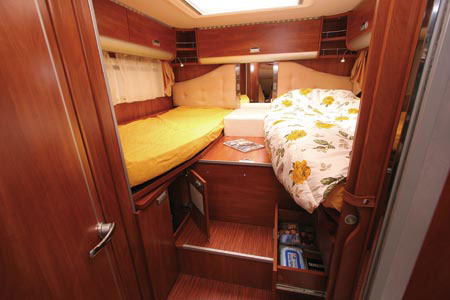 You'll have no complaints about sleeping comfort in this Kreos – even if you're up to almost 6ft 6in tall (standing room is equally generous for the lanky). Two easy steps take you up to the rear bedroom where twin singles are not a matching pair – the longer bed is on the offside.
But if it's a double bed you want, why not sleep up front. The drop-down bed actually whirrs down electrically here (another option) to a commendable 1.15m above the floor, leaving over 800mm between mattress and roof vent (another plus over many A-classes which leave out this summer essential).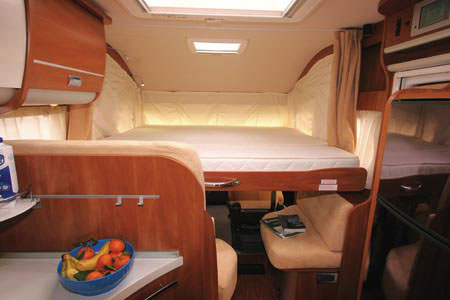 Verdict
Laika have taken a popular A-class layout and added innovative ideas, some of them admittedly gimmicky, others – like the lighting, the twin cab doors, the shower and the best A-class bed in the business – simply very desirable. Due to the value of over £70,000 owners would need to invest in additional security. For the motorhome insurance quote provided below we have fitted an approved motorhome tracking device.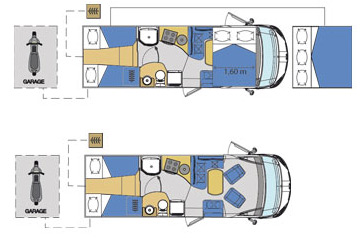 Fact-file
Price from: £76,100
Cost to insure: £444.50*
Berths: 4
Travel seats (inc driver): 4
Dimensions 7.50m L, 2.31 W, 2.99 H
Interior height: 2.00m
Beds: Rear fixed single beds – nearside 1.84m x 0.76m, offside 1.99m x 0.76m; drop down cab bed 1.88m x 1.56m or with extension 1.96m x 1.88m
*Motorhome insurance based on 2012 Laika Kreos. Fitted with Manufacturer's Immobiliser system and approved tracking device. Kept on driveway at home at TD9 8ED. Insured & spouse, 50 years old, professionals, with no claims, convictions or health conditions in last 5 years. 5 years transferred protected NCD, 5 years motorhome driving experience. Members of motorhome club doing less than 5000 miles annually. £300 excess applies. European Breakdown is £43 extra. Premium includes Insurance Premium Tax (IPT) at 6% and is correct as of 17.04.12.
Cost to insure: *
---
factfile
| | |
| --- | --- |
| Model | |
| Base vehicle | |
| Axle type | |
| Dimensions | |
| Shipping length | |
| RRP | |
---
Search our blog
---