Your motorhome will have two batteries – a starter battery in the engine and a leisure battery to provide power to the 12-volt appliances in your leisure vehicle.
In this video, we visit RoadPro and talk to their resident motorhome battery expert, Andy Harris, about the different types of batteries in a motorhome. Plus, he has some top tips for choosing, understanding and looking after your motorhome's batteries.
What are the different types of battery in a motorhome?
Leisure batteries operate very differently to the similar-looking battery that is used to start your motorhome's engine, which needs to supply power in an instant burst.
A starter battery is used to start your motorhome engine and will power the radio and probably any hard wired alarm or tracking device you have fitted.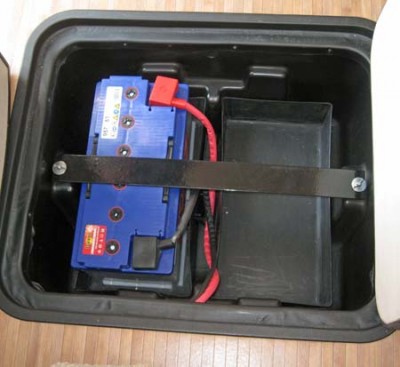 A motorhome leisure battery provides power to all the systems in the habitation area, such as the lighting, water pump, 12V sockets etc. Deep-cycle leisure batteries provide their power over long periods, so the cycle of discharging/charging is longer, too.
A typical leisure battery is the lead-acid type and, as such, will self-discharge, to a greater or lesser extent depending on make, age etc. You need to be able to keep an eye on electrolyte levels, and top up as necessary.
When a motorhome leisure battery is discharged, it will start to deteriorate. So, it should always be kept warm, comfortable and well-fed…with electricity.
Other leisure battery types include AGM (for Absorbent Glass Mat, a form of matting between the plates that filters the sulphuric acid inside a battery, making it more resilient in use) or Gel – a format that means no free-flowing liquid and less gassing.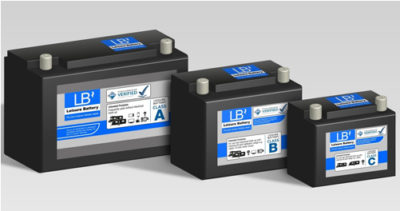 More recently, lithium batteries have come to the fore. Ideally suited to owners who use their vehicles "off-grid" (i.e. away from campsites and other sources of mains charging), these don't self-discharge, are truly maintenance-free, and work particularly well in conjunction with an inverter.

The capacity of a leisure battery is measured in amp hours (Ah) – that's the amount of power that is stored in the battery. Any quoted figure will be at an ambient temperature of 25degC. As a guide, for every one degree below this, the battery's Ah capacity will fall by one percent.
The most common leisure battery capacity is around 100 Ah but they do go up to 200Ah and more, depending on how much power you need.
What kind of leisure battery do I need?
It depends on the type of touring you're going to be doing in your motorhome. If you rely almost solely on mains hook-up whilst you're touring, you don't actually need a top-quality leisure battery.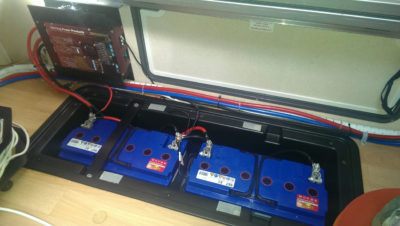 If you're going to be off-grid a lot in your motorhome and have a lot of appliances that use a lot of energy, such as a drop-down bed or levelling system then you're going to have to take that into consideration when choosing your leisure battery and the capacity that you'll need.
Make sure any new battery you buy will fit in the dedicated space your existing battery or batteries live.
Do I have to charge my motorhome leisure battery?
Yes, always keep your battery fully charged, even when not in use.
A leisure battery receives a charge when driving your motorhome, when hooked up and a campsite and if you have a solar panel fitted and the sun is out.
Get an intelligent charge
One consideration is to fit an intelligent charger. Such a fitting works effectively all year round, and make sure you get an efficient and safe charge to your leisure battery.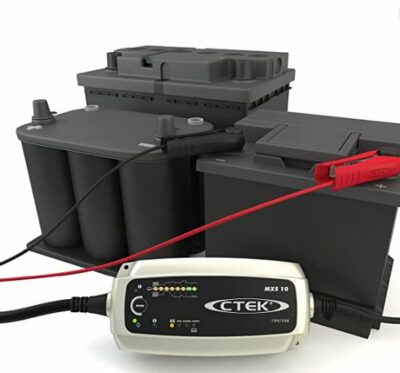 How do I check the charge in my motorhome battery?
Check the control panel in your motorhome – some will display the current voltage and others will have an LED display of red to green, where green is good and red is bad! If the voltage is shown in numerical form, 12.7v or more is considered fully charged. 12.4v is considered 50% charged and anything less than 12v is considered discharged.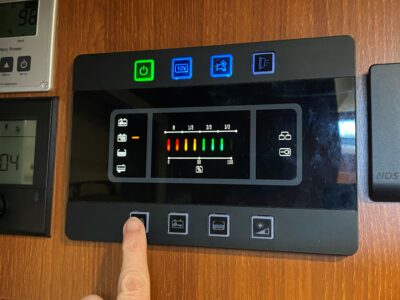 If you're not sure about the condition of your motorhome battery take it to a specialist to have a look – and of course, your annual habitation check will check the condition of your battery and provide a health report.
What if a leisure battery is dead?
The first thing to do is to try to revive it using an intelligent smart charger as it will determine the best way of bringing it back to life. If it's still not holding its charge it will need to be replaced.
How do I look after a motorhome battery in winter?
Winter can be a trying time for your motorhome's leisure battery (or batteries).
Here's how to cope…
If you're planning a bit of a rest from your motorhome in winter and you want to go back to a healthy leisure battery, it's time to start looking after it. Right now!
One of the key factors is making sure your battery doesn't get too cold, because that's when performance really can deteriorate. Location can be key – most professionally converted motorhomes have in-board locations for their leisure batteries, where it's hardest for the extremes of cold to get at them – it's those with external access battery boxes than can be most vulnerable.
That's just one reason why the best advice for anyone not using their motorhome in the winter is to disconnect the leisure battery and store it somewhere dry indoors (note, also, it's a myth that you shouldn't keep a leisure battery on a concrete floor – there is nothing to prove such a location speeds up the rate of discharge). Then connecting it to an intelligent, mains battery charger, as mentioned above, will help to keep your battery healthy.
Through winter, you can keep your leisure battery connected and, because intelligent chargers are constantly monitoring, it means there's no chance of over-charging. For many, this is the ideal scenario. Key names to look for include Automate, CTEK, NDS and Sterling.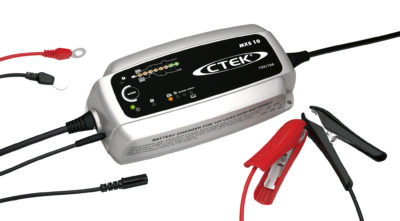 Only do this however, if removing the battery doesn't affect the performance of any essential electronics such as tracking devices or alarm systems. That depends if these devices power from the leisure battery or not. If the devices are powered by the starter battery then keep an eye on the voltage by checking your motorhome's control panel, starting the engine or your tracking device or alarm might have an app which alerts you when the battery levels are low.
Motorhome leisure battery top tips
Make sure your motorhome batteries are wired and installed in the correct manner
Charge your battery after purchase and before each use
Check the electrical status of your motorhome leisure battery regularly and don't let it go into the red zone
Keep an eye on the physical condition of the battery. If it's a wet lead acid battery keep it topped up with distilled water. Check the base and tray to make sure there's no liquid in there, and if there are any bulges or cracks replace the battery immediately
Keep the terminals and posts free from corrosion. Lightly coat them with petroleum jelly to prevent them from sulphating
If you can, always use an intelligent battery charger to keep your motorhome's leisure battery fully charged, even when not in use. They will extend the life of your battery and the way that it works
Always keep the battery upright, firmly secured, and vented to the outside
Make sure any new batteries will fit in the available space in your motorhome and that it has sufficient amp-hour capacity to power the devices you use in your motorhome
If you're laying up your vehicle for the winter, charge the battery at the end of the season and remove it from the motorhome, or use a permanently connected intelligent charger
Check your motorhome for appliances that draw a constant charge from the leisure battery, e.g. a tracking system that may be connected to your leisure battery in some cases, as you will need to counter this draw with a constant recharge to maintain the battery and you won't be able to remove your leisure battery
If at any time you can smell rotten eggs around your battery then get rid of it as this suggests it is damaged or seriously degraded
Take your motorhome for an annual service as this will include a check of the status and condition of your batteries.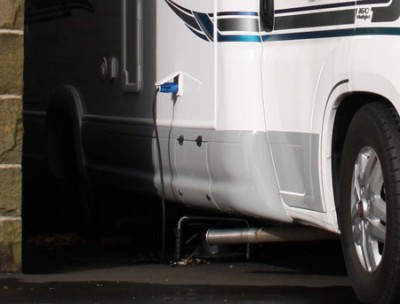 Motorhome battery don'ts
Never over-charge your battery and leave it permanently connected to a hook-up. Once disconnected from the charger and, after 24 hours, a fully charged 12V battery should have a voltage of 12.7V or more. This can be checked on your motorhome's display panel or with a multimeter
Never over-discharge your battery. A battery is fully discharged when the load voltage is 11.70V – this means charge immediately!
Never leave your battery in a discharged state for a prolonged period of time
Never reverse the polarity on your battery charging leads as this may damage the battery and charger
Never rely on an automotive alternator only – it may reduce battery life. Worth knowing, also, is these days some base vehicles have "smart" alternators, which may not fully charge a leisure battery.
Motorhome leisure battery top tips summary
As long as your motorhome has access to daylight through the winter, a solar panel can keep your leisure battery charged. Beware of over-charging, however, particularly if your panel has a cheap regulator. Also keep your solar panel clean for optimum performance
Overcharging can be just as bad for your leisure battery as undercharging
As a general rule, never allow your leisure battery to discharge below 50 percent of its capacity
Battery performance will deteriorate with age. A typical leisure battery can last as little as five years. Winter is often the time when you find out how good your leisure battery actually is
Ideally, use a leisure battery charger rather than a standard vehicle unit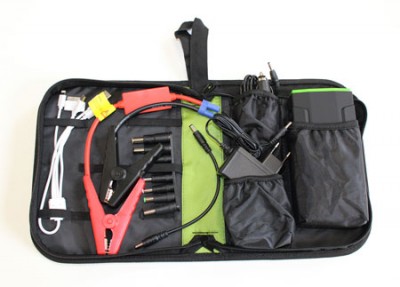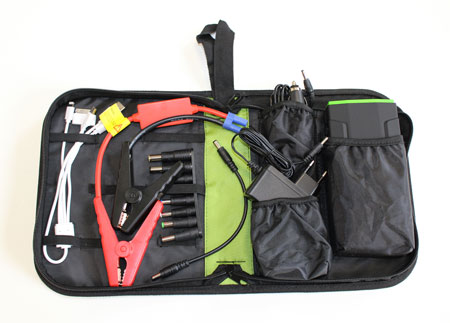 Get the right motorhome leisure battery
In response to concerns that too many suppliers were suggesting their batteries were suitable for leisure vehicle use, trade body the National Caravan Council introduced a Verified Leisure Battery Scheme.
It categorises leisure batteries as: A, for frequent use away from a mains charging source (e.g. camping off grid without a mains hook-up); B, for frequent users, who also have access to mains hook-ups; or C, lower-capacity batteries whose main use is for short periods.

You can find out more here: http://www.thencc.org.uk/our_schemes/ncc_verified_leisure_battery_scheme.aspx.
Also, the following download lists batteries it deems acceptable:  http://www.thencc.org.uk/downloads/Verified_Battery_Register_October_2017.pdf
Key motorhome battery contacts
Regular servicing of the habitational aspects of your motorhome will include assessments of the leisure battery (or batteries, if you have more than one).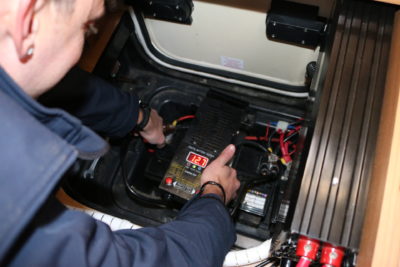 Independent suppliers who can recommend which leisure batteries and related accessories are best for you include:
RoadPro www.roadpro.co.uk
Manbat www.manbat.co.uk
Tayna Batteries www.tayna.co.uk
Over to you…
Got any advice on looking after your motorhome's leisure battery to pass on to others? Feel free to add your comments below.
Cost to insure: *
---
factfile
| | |
| --- | --- |
| Model | |
| Base vehicle | |
| Axle type | |
| Dimensions | |
| Shipping length | |
| RRP | |
---
Search our blog
---