If you're looking to get a 2016 touring caravan this autumn or simply browsing at the NEC this month then you'll see there's a new improved theft deterrent and identification system.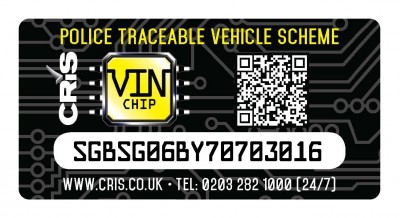 VIN Chip was launched this summer as a more visible deterrent to thieves looking to steal touring caravans, as well as helping to identify and recover any that are stolen.
VIN Chip uses both visible and invisible markings containing a touring caravan's unique 17 digit Vehicle Identification Number (also commonly known as the CRiS number) and has been developed in conjunction with the Police and other agencies to make the task of identification more straightforward
All 2016 UK touring caravan models will carry this new secure VIN Chip marking, with tamper evident stickers displayed on windows and gas bottle lockers. The stickers, which are applied on the inside of caravan windows, replace window etching seen on caravans between 1988 and 2015.

These stickers will also include a QR code allowing anyone to quickly confirm a caravan's identity on their smartphone.
By scanning the code it will reveal the caravan's make, model and range – with data pulled directly from the National Caravan Council's (NCC) Central Registration and Identification Scheme (CRiS) database. 
Electronic radio-frequency identification (RFID) chips will also be hidden throughout the caravan, and these will also contain the VIN when scanned by an appropriate RFID reader.
Pre-2016 caravans…
Pre-2016 touring caravans will be able to have VIN Chip retrofitted.
A VIN Chip pack can be bought from CriS for £24.99 which includes all you need to retro fit you caravan with the new VIN Chip labels and lozenges. The pack includes:
Master window label
Gas bottle locker warning label
Additional RFID Chip
10 x tamper evident window lozenges
Vin Chip Plus
For added identification VIN Chip Plus offers unique VIN marking for internal and removable items and is the only scheme that embeds the VIN or CRiS number in these elements. In the unfortunate event a caravan is stolen, thieves may attempt to remove all signs of the original identification number but with VIN Chip Plus it is almost impossible to detect and remove all the additional markings. Cost = £39.99
Sean Bailey, managing director of NCC CRiS, said: "As NCC CRiS continues its work to reduce caravan crime VIN Chip has been launched to make revealing a caravan's true identity easier, and better deter criminals. We've made use of modern technology, such as QR codes, to make VIN Chip the leader in its field.
Sean added: "The VIN Chip scheme is part of the already established NCC CRiS and the only security deterrent to carry unique 17 digit identification numbers so can reveal a touring caravan's true identity."
Tim Booth, Leisure Vehicles Officer at the National Vehicle Crime Intelligence Service, said the first thing Police Officers look for when seeking to identify any vehicle is the VIN identification.
"It's the same with caravans and trailers, so using the VIN as a base seemed the obvious route to pursue. With this new initiative Law Enforcement officers not only in the UK, but worldwide, will be able to access the data held by CRiS 24/7 and confirm that the caravan they are looking at is what it says it is," said Tim. "This new technology will also help manufacturers and dealers to manage stock. The RFID technology has been developed in such a way that in the future it could be used to manage access control systems at caravan parks and sites.'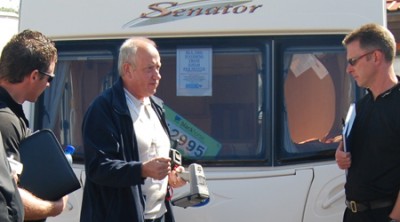 You'll be able to see the new 2016 touring caravan models upgraded with VIN Chip at The Motorhome & Caravan Show 2015, with more details available on the NCC stand (7-12).
For more information on VIN Chip CRiS.co.uk.
Cost to insure: *
---
factfile
| | |
| --- | --- |
| Model | |
| Base vehicle | |
| Axle type | |
| Dimensions | |
| Shipping length | |
| RRP | |
---
Search our blog
---