You've no doubt paid thousands of pounds (if not tens of thousands) for your motorhome so you'll want to keep it looking its best. And our latest poll shows that motorhome owners do like to keep their vehicle nice and clean throughout the year.
In last month's community poll we asked how often you clean your pride and joy as we shared our guide to cleaning your motorhome.
Here are the results….
With nearly 300 votes, it's clear that those who voted like to keep their motorhome spick and span all through the season, with a third saying they clean their motorhome monthly and 31% grabbing the shampoo quarterly.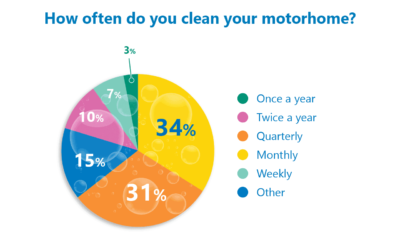 Seven per cent of voters cleaned their motorhome weekly and just three per cent only did it once in a year.
But many commented to tell us they usually give the motorhome a clean after every trip away or whenever it's looking dirty. Spring and Autumn can often mean lots of insects and mud on the motorhome, so many will give the underside a good spray, particularly  if they've been on a muddy campsite.
And for those who use their motorhome in winter, they like to give their vehicle an thorough clean to remove any salt residue and the after effects of bad weather and dirty road conditions.
But some will leave task of cleaning to the professionals and call in a motorhome valeter!
Here's what some of you had to say….
Maryann Plumbley, clean and waxes her motorhome before putting it away for winter and whenever it gets dirty.
"I like mine to be looking good as I do my car," she added. "Always clean inside after and during use on a trip – it's second nature – why wouldn't you. Particularly as you're in such a confined space. I do a deep clean after a long trip and at the end of the season."
Over to you…
Cost to insure: *
---
factfile
| | |
| --- | --- |
| Model | |
| Base vehicle | |
| Axle type | |
| Dimensions | |
| Shipping length | |
| RRP | |
---
Search our blog
---