You've paid tens of thousands of pounds for your motorhome, complete with a fully equipped washroom – but how much do motorhomers use their onboard washing and toilet facilities?
In last month's community poll, we asked owners if they fully used their vehicle's washroom.
It was one of our most popular polls yet, with almost 1,000 votes and it was great to see so many motorhomers taking full advantage of their onboard washroom.
The motorhome washroom results…
With 934 votes, almost half (45 per cent) told us that they used the shower, toilet and handbasin inside their motorhome, and many commented that they wouldn't have it any other way. After all, why have a washroom fitted if you're not going to use it?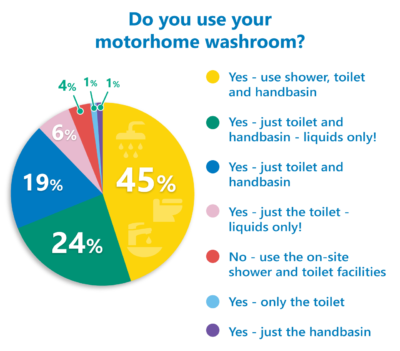 Almost a quarter of voters just used the toilet and handbasin for liquids only. It certainly makes cleaning and emptying the toilet cassette a bit more pleasant!
To save using all the water in the tank and to take advantage of the site fees you've paid for, 19 per cent just used the toilet and handbasin.
Only six per cent of voters only used the toilet and just four per cent didn't use their motorhome bathroom but used the on-site shower and toilet facilities instead.
Your comments
There was a mixed reaction when it came to commenting about the use of your motorhome washroom vs the campsite facilities.
Elaine Clements and Clive questioned why would you have your own facilities and not use them?
"Much nicer having a shower and getting dressed in the comfort of your own motorhome," said Elaine.
"Why spend a considerable amount on a motorhome, then only use part of the facilities you got with your purchase?" said Clive. "Surely the intention of the motorhome is the freedom it provides along with the ability to be self-contained. No sites for us thanks. The freedom of just being able to stop wherever your fancy takes you is what it's all about."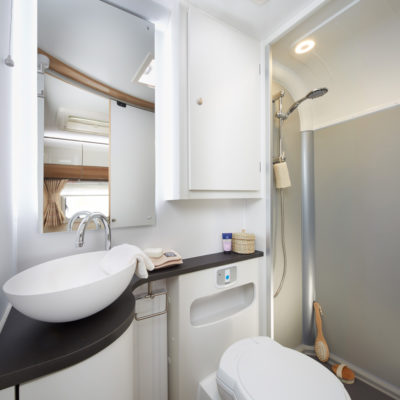 Tom McGowran agreed: "In the 30 years we have owned motorhomes I have only used a campsite facility a couple of times," he said. "I don't think my wife has even ventured into a toilet block! The facilities in our moho are superb. Good shower with proper door (no curtain), loo is good too, and hand basin is as good as you will find in any hotel."
Janice Patterson also prefers to use their own washroom, even if they're on a site with all the showering and toilet facilities and Janice Alger said she "wouldn't dream of using a "shared" facility".
But some motorhomers think if they've paid for site facilities then why not use them?
Denise Thurlby and John Carrick often use the campsite showers.
"My Roller Team T-Line 590 has all the modern bathroom and toilet facilities however to date we have not used the shower as most of the time we use the site showers which are normally excellent," commented John. "Again most sites have excellent toilet facilities and as I have paid for these then why not use them and save water. Use wash hand basin all the time in the motorhome. To date have not used this motorhome for wild camping but when I do I will use all the toilet facilities in the motorhome."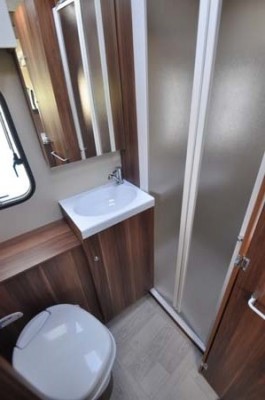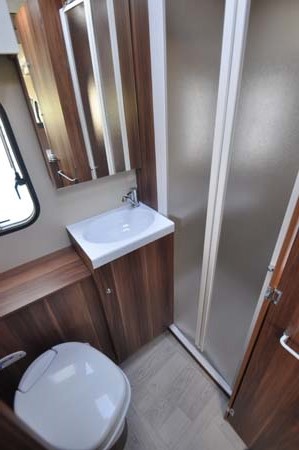 Barry Carter also uses campsite facilities extensively.
"We have also found talking to motorhome and caravan users over 15 years of touring that most of their damp problems emanated from the use of the shower especially in the spring, autumn and winter periods," he said. "And can I say the least number of visits I have to make filling and emptying the water tanks the better, as I do like my leisure time camping and touring."
Graham James said it very much depended on the washroom.
"With my current motorhome the bathroom is spacious and the shower properly separate from the rest; accordingly, I hardly ever use on-site facilities," said Graham. "My previous motorhome the washroom was nothing like as spacious and, if you used the shower, water ended up everywhere that would not drain easily. Consequently, I used it less."
However, Mike and Elizabeth Hansen, both told us they use their motorhome shower for storage and hanging clothes!
"If we had no alternatives to the shower we would use it," added Elizabeth.
Thanks to everyone who commented and voted. Feel free to let us know what you make of the results!
Cost to insure: *
---
factfile
| | |
| --- | --- |
| Model | |
| Base vehicle | |
| Axle type | |
| Dimensions | |
| Shipping length | |
| RRP | |
---
Search our blog
---