Exceeding the maximum weight limits of your motorhome can make your vehicle unsafe on the road.
In last month's community poll, we asked motorhomers if they weighed their leisure vehicle before every trip.
With more than 300 votes, the majority said they didn't weigh their motorhome before every trip – a huge 70 per cent of the votes. However, many commented that they had weighted their motorhome before their first trip away so were aware of their payload and weight limits.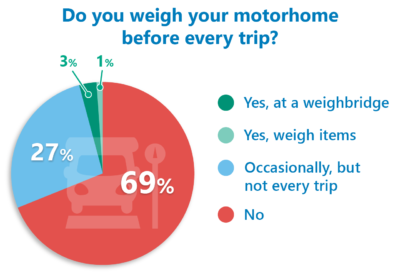 Twenty seven per cent of voters said the occasionally weighed their motorhome, but not before every trip.
In our recent video on motorhome loading, we took a motorhome to a weighbridge to get an accurate reading of the axle weights and weight of the vehicle. But only three per cent of voters said they took their motorhome to a weighbridge.
And only one per cent weigh the items they put into their motorhome before setting off on their travels.
Your comments
Andrew weighed his motorhome once – not before every trip.
"I half filled the water tank, half filled the fuel tank and loaded it with everything we would normally take on holiday. I went to a weighbridge, and with me in the driving seat it was 350kg under the max weight," he said. "I haven't seen any need to weigh it since. Even my great big fat motorbike (which wouldn't fit in the back anyway) only weighs 200kg, so there is no way that I will ever add the equivalent of two of those motorbikes to our going-away all-up weight."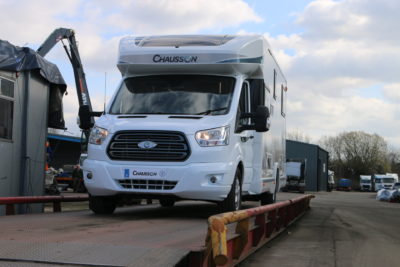 M Lawrence also weighed his once at a weighbridge.
"Would not weigh again unless added a significant weight item to the van," he commented.
Bob Butler said he would normally weigh his campervan when they were going away on big trips abroad.
"That's when we have the maximum loading so we know when we camp in England we carry less," he added.
Dean Wood told us that he doesn't weigh his motorhome before every trip – but gets it weighed before every MOT, with full fuel and water tank.
Ed shared some good advice: "We weigh a motorhome when we first get it and pack it with what we would like. Depending on what we learn we then adjust accordingly or we know what will add or subtract from the overall weight. If we are adding items we weigh them and mark it against a tally sheet we keep so we KNOW that we are within the max 3500kg of our van."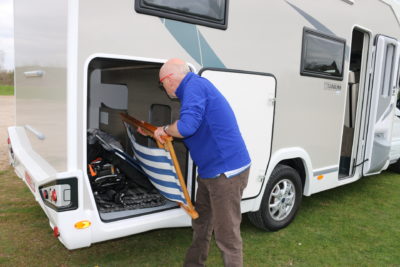 If you take a similar amount of gear away with you on your motorhome holidays, then it's probably not necessary to weigh everything, including your motorhome, every time you're going away. But it certainly is when you first take ownership of your vehicle and pack it up for your first trip away to make sure you're safe and legal on the road.
If you're unsure about how to load your motorhome then check out our new video on safely loading your motorhome and read more about how to calculate its safe weight limits.
Cost to insure: *
---
factfile
| | |
| --- | --- |
| Model | |
| Base vehicle | |
| Axle type | |
| Dimensions | |
| Shipping length | |
| RRP | |
---
Search our blog
---