In our last poll we asked for your stories of whether you'd been stuck in the mud. Here are the results…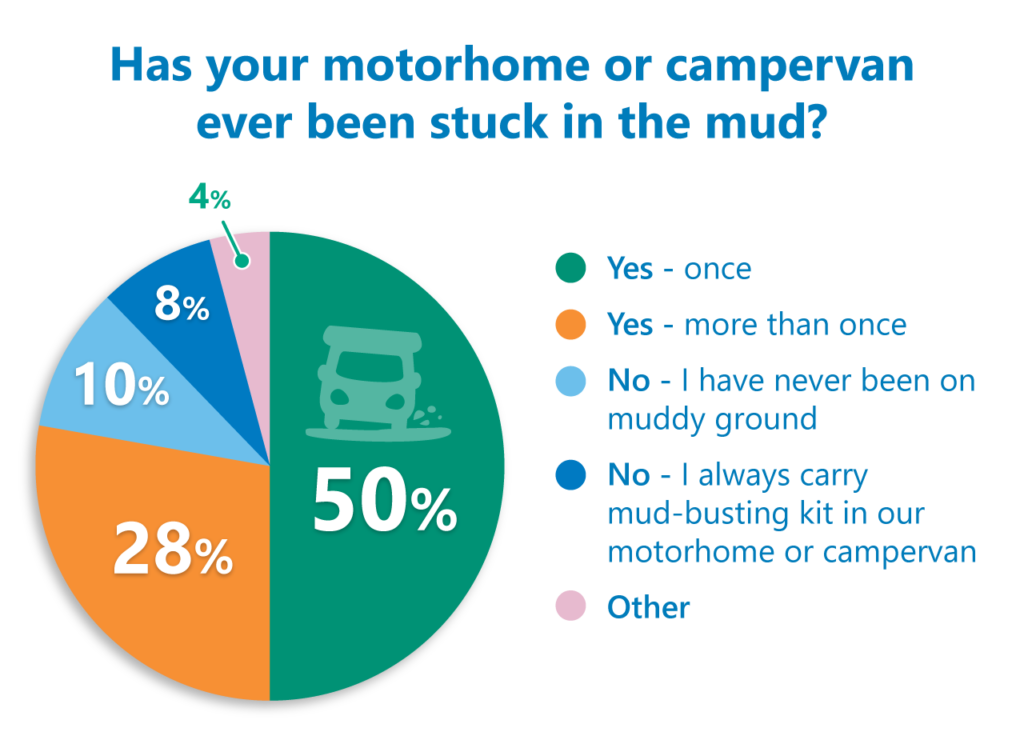 The majority of motorhome owners have been stuck in the mud at least once. Half only having got stuck once but another 28% on multiple occasions.
Only 10 per cent said no, because the have never taken their motorhome on to muddy ground and eight per cent because they always carry mud-busting kit in their motorhome or campervan.
Remember our motorhome insurance automatically comes with UK breakdown which will recover you if you get stuck in mud on a UK campsite, helping you get back on the road.
And at some point in the future we'll take a look at the ways to avoid getting stuck in the mud in your motorhome.
Your stuck in the mud adventures!
Many of your told us about your sticky and muddy situations.
Tony said, "The very first time out in our very first motorhome we got stuck in mud in a hilltop campsite near Bakewell: it was in the depth of winter, close to New Year's Day and we were the only campers on the site! Fortunately a passing farmer in her Land-Rover spotted us and our predicament and towed us out."
He added, "I now have a set of Milenco grip mats which I fasten to my Fiamma levelling ramps. This not only prevents the ramps skidding away as I try to drive up them, they provide a very small but useful support for the wheels as I come down off the ramps and gather a little speed – but of course, this only helps if it is the front wheels on the ramps! If I'm really worried, I carry four 18″ square pieces of plywood to go under each wheel. Many of my age will remember the wheel winches fitted to military Land Rover wheels – it's a pity similar have not been produced as attachments for motorhome wheels."
Barry Carter told us about a couple of times his motorhomes got stuck in the mud, "I've been a Motorhomer for some 15 yrs into our third Motorhome, the first one funny enough which was lightest around 2800 Kg got stuck in a field attending Elddis Motorhome rally, still enough friendly members there and with some straw under the wheels and a light tow got out ok. Second time Swift Bessacarr MH 3500+ Kg mortohome, arrived C&CC Site in heavy rain, had been for days, was down for hard standing (HS) their HS was a mat hidden under grass, went too far forward and literally went down to axles trying to get out, sites mini tractor eased us out, no harm done and yes I carried mud mats always do now and check out pitch beforehand. Ahh that's the wonderful world of Motorhoming."
Gill Oakfield got stuck whilst maneuvering onto a hard standing pitch at a CL site in February, "We needed to turn round so that we didn't need to reverse a very long way when we left the site. This entailed using the grass. I checked that the ground was hard. My husband checked that it was hard. We jumped up and down on the ground to make sure it was solid. We decided we could do it. We drove on – all was fine. Put the van in reverse and the front wheels sank. So we got our grip mats out and positioned them. These didn't help. They got shot out in front by the spinning wheels! To cut a long (20 minutes or so) story short – with my husband pushing and me using 2nd gear and low revs we managed to move inch by painful inch onto the hard-standing. We're never going to trust apparently solid ground in February again!"
Richard Braithwaite offered some wise words, "If the ground looks soft, do not attempt (to drive on), have a walk along the path first and do not take the word of strangers that the ground is right."
Thanks to all who shared their stuck in mud memoirs. See many more stories on the stuck in mud poll page.
Cost to insure: *
---
factfile
| | |
| --- | --- |
| Model | |
| Base vehicle | |
| Axle type | |
| Dimensions | |
| Shipping length | |
| RRP | |
---
Search our blog
---