You own a motorhome, so why not use it to its full potential by getting away from the crowds and enjoying the freedom your home on wheels can give you?
Not only are there lots of health benefits to be gained from the peace and tranquility of wild camping, but you can also save money, to then invest into more travels.
In last month's community poll, we asked our motorhome readers if they go camping off grid in their leisure vehicle.
Here's the results…
With more than 460 votes, wild camping was a huge success with motorhome owners, taking a massive 79 per cent of the votes. Of these 22 per cent went off grid regularly and 24 per cent occasionally. Europe was a popular destination for free overnight stays, particularly France, Spain and Germany, gaining 11 per cent of the yes vote.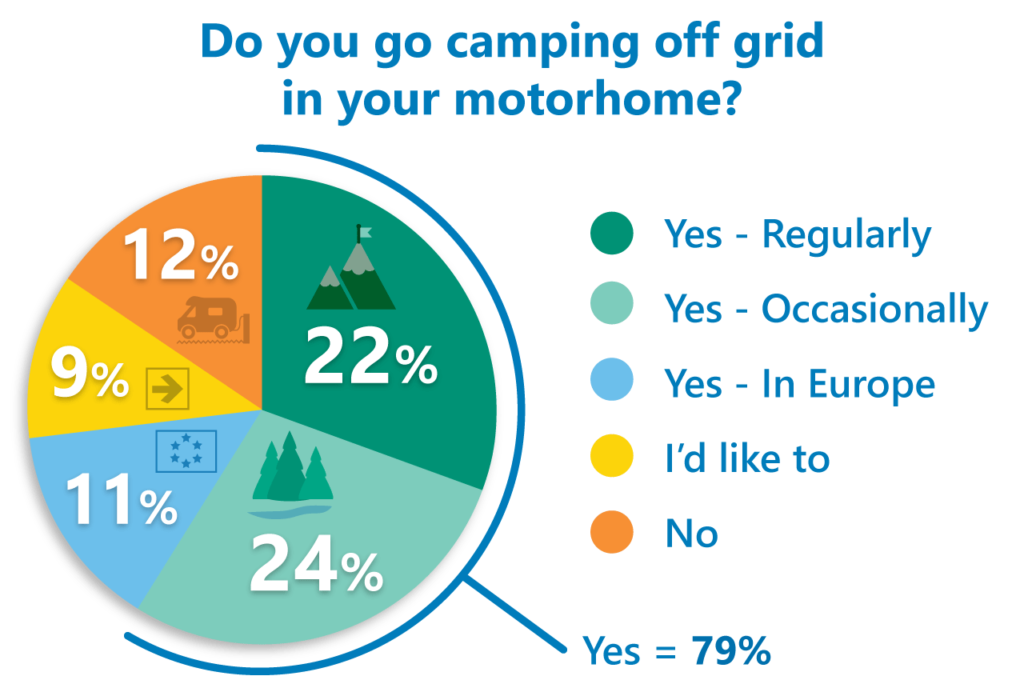 And nine per cent of wild campers said they do it for the freedom, to get away from the crowds and to save money.
Only 12 per cent of voters said they don't go wild camping. And of these, five per cent said it was because they were worried about safety and security.
Nine per cent of voters said they would like to give camping off grid in their motorhome a try.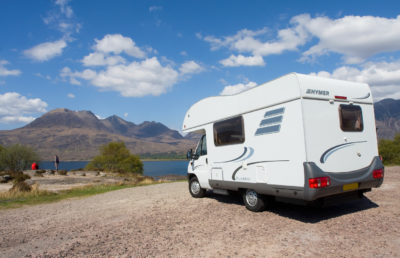 Your comments….
Many of you shared your comments of wild camping in Europe, as well as tips for those first-timers.
Jim Stafford wild camps whenever he can, especially in France.
"They have a good distribution of 'Aires' with services," he said. "In England it's more difficult but not impossible. Scotland is a lot easier and if you follow the advice I was given, 25 years ago, when first trying it – if you see a German camper follow it, they appear to have a network of where the best wild camp areas are. Though remember the most basic of rules; no dumping whatsoever, that includes waste water, toilet waste as well as rubbish and meal leftovers. Leave the area as it was when you arrived."
Barry Trameseur also enjoys going off grid in France and shared his comments from an Aire overlooking the sea on the Ile of Ré in western France!
"For the last few years we've taken our holidays abroad where we've been welcomed on Aires and campsites," said Barry. "The Beau villages of France are a joy to visit, where we are welcomed."
John Barton loves the peace and quiet and the freedom to escape his busy life.
"To wake in the morning and hear nature, undisturbed – and very often with a view from one's bed that you would never get in a five star hotel," he added.
K. Jones also loves wild camping for being able to keep moving about without the hassle of booking sites and Peter Hollis said it's great if you go away a lot, as you can save a fortune on campsite costs. But he finds it difficult to find safe, remote, and legal places to wild camp in the UK.
Colin Weightman wild camps in his campervan as often as possible: "We prefer the freedom it offers," he said. "You just have to be sensible about it and leave the area as clean and tidy as you found it. It also means we can use our van more often as we find some sites very expensive – £20 to park in a field with no facilities per night is, I think, a bit steep!"
But it's not for everyone, with safety being one concern.
Barry Carter also likes the camaraderie of the people they meet on the many campsites they've visited on their travels.
Charly agrees: "Have to feel secure having people around us. We get a better nights sleep and I like people."
Thanks to everyone who voted and for those wild campers out there – you might be interested in our gear guide on solar panels to keep those battery levels up whilst camping off grid.  Also check out our article on small sites and overnights.
Cost to insure: *
---
factfile
| | |
| --- | --- |
| Model | |
| Base vehicle | |
| Axle type | |
| Dimensions | |
| Shipping length | |
| RRP | |
---
Search our blog
---