It's always worth having some help when you're reversing your motorhome to avoid a nasty (and costly) bump or scrape. Plus you want to look good in front of all the spectators when arriving on site!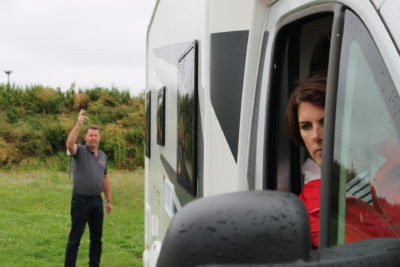 In last month's community poll we asked motorhome owners if they used a bit of help when backing up or if they simply go solo and take it steady.
Here are the motorhome reversing aid results…
It was pleasing to see that the vast majority of motorhomers who voted do have a reversing camera fitted on their pride and joy. This came in at number one with 71 per cent of the votes!
But the comments reveal that these are often not used in isolation as they don't always cover all angles. Mirrors, parking sensors and guidance from a passenger all help when backing up and to protect your motorhome from damage.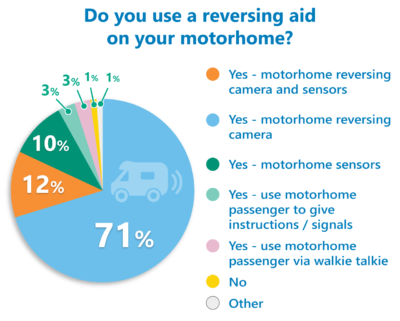 In second place, 12 per cent of the voters told us that they have both a reversing camera and sensors fitted to their motorhome. Great for not only seeing what's going on but also audibly alerting you to any obstacles that might be in the way.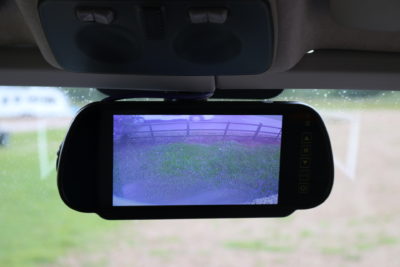 Ten per cent of voters just had motorhome sensors fitted, which can be invaluable when backing up into a tight spot to warn you that you're getting close to another vehicle or other barriers.
All these voters will be pleased to know that we offer a small discount on our motorhome insurance policy if you have a reversing camera or parking sensor fitted to your leisure vehicle.
Only three per cent of motorhomers who voted said they used their passenger to give instructions or signals.
Your comments…
So many of you shared the motorhome reversing aids you use and why.
Dylan Thomas has two reversing cameras on his motorhome – one for reversing and one when travelling.
"I use this one to monitor the tow car is still travelling behind safely and checking it's clear to regain the nearside lane after overtaking," said Dylan. " I also use passenger for fine-tuning when reversing when pitching up as camera angle doesn't pick up overhanging trees, bushes and some kerbs."
Barry Carter uses his motorhome reversing camera in conjunction with his motorhome mirrors and they proved invaluable when he had to reverse out of a sticky situation!
"Once I drove half a mile down a road to a bridge that was closed due to flooding, and due to cars blocking one side of the road I had to reverse half a mile back," he commented. "I won't say it was easy but you very quickly learnt how to reverse." Well done Barry!
Carl Egginton relies on a reversing camera in conjunction with the wing mirrors: "The camera removes any stress for us which means we can still enjoy our motorhome," said Carl.
Mrs Shorthouse told us that her motorhome has a reversing camera, but they also use walkie talkies.
"The camera gives you a reasonable view but should only be used as an aid," she said. "We do not rely on it after reversing onto a pitch that was backed by a sloping grass bank, not a good result!"
George Kemp has a reversing camera with one-way microphones so he can hear a friend's directions, as the camera doesn't show the outer corners of the motorhome.
John Carrick agreed that as well as a reversing camera and your motorhome mirrors, the best option is passenger guidance.
Thanks to everyone who voted and commented. And don't forget to check out our latest video with some top tips on reversing your motorhome.
Cost to insure: *
---
factfile
| | |
| --- | --- |
| Model | |
| Base vehicle | |
| Axle type | |
| Dimensions | |
| Shipping length | |
| RRP | |
---
Search our blog
---