If you're planning on taking your motorhome abroad this winter in search of sunnier climes, or perhaps planning ahead for next season, but you're new to motorhoming on the continent, read on for our helpful advice and preparation tips.
Planning your first trip may seem like a daunting task, but providing you do your homework before you go, your trip should be an enjoyable experience.
Plan where you want to visit, then research that country's requirements in terms of driving. You may find that the rules of the road vary from country to country as you travel. For example, a requirement in Spain is for any driver who wears glasses to drive to keep a spare pair in the vehicle at all times!
Once you've mastered driving on the right hand side of the road, you'll need to know what to expect when you arrive at your campsite. Some sites may require adapters for electric hook-ups so ask the owner when you book. Your local camping accessory shop or motorhome dealer should be able to provide you with the adapters you need – these could also include adapters for European gas bottles.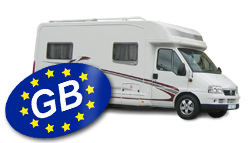 Holidaying in the EU with your motorhome
Safety equipment, such as warning triangles, must be carried when driving through Austria, Belgium, Spain, Italy, and Switzerland and are recommended in most EU countries.
When driving through Austria, Croatia, Italy, Spain or Portugal, you must have in your motorhome, a reflective jacket or waistcoat that conforms to EU standard BS EN 471:1994 Class 1 or 2 in case you have to stop and get out of your motorhome at the side of the road at night. Other countries may also require this so always check before you travel.
Driving on the opposite side of the road means your headlights will need a conversion kit fitted to deflect the beam from the oncoming traffic. If you're unsure about doing this, take your motorhome to your local dealer, especially if you have High Intensity Discharge (HID) bulbs fitted as these need specialist equipment to remove.
Your local dealer should also be able to give your motorhome the 'once over' before setting off on your journey.
Once abroad, you may prefer the security of using your credit card rather than carrying cash. Just check with your credit card provider that your card is all right to use in the country you are travelling to.
If your motorhome runs on LPG, you will find that crossing the English Channel must be done by ferry as LPG vehicles are not permitted to travel through the Channel Tunnel.
As you plan your trip, it's a good idea to make a list of the documents you will need to take with you. On your list should be:
Insurance documents (including motorhome insurance documents)
Ensure you have the correct cover for driving abroad – just one call to us and we can add this to your policy at any time if you don't already have this cover in place. EU cover and EU breakdown are available for up to 8 months per year.
Don't forget your personal travel and health insurance documents too.
EHIC (European Health Insurance Card)
This replaces the old E111 and is available from your nearest Post Office.
Vehicle registration documents – the original V5 document for your motorhome.
GB sticker – for the back of your motorhome, unless already fitted with GB Euro registration plates.
Passport and full driving licence (including paper counterpart for new style licences). The campsite owners may ask for proof of ID on arrival.
Above all, remember to have a fantastic time. Thorough planning should ensure you avoid all the pitfalls of camping abroad and have an enjoyable experience.
Search our blog
---