Looking to get some great new gear for your caravan, campervan or motorhome this year?
Here's a starter, with 12 new products looking to hit the headlines…
Even if your 2021 travel plans have been put on temporary hold, you can still comfort yourself with some new caravanning or motorhome gear, or even a bit of extra security.
Here's our quick run-down of 12 super new products hitting the leisure vehicle market this year.
Star Player #1
For caravans: SmarTrack Caravan – S7 Vehicle Tracking System
For motorhomes: SmarTrack 5 – S5 Vehicle Tracking System
The ideal way to keep tabs on your caravan or motorhome, literally. Using multi-tracking technologies for accurate and reliable locating in the event of theft, even if GPS is compromised, the Thatcham-certified SmarTrack Caravan or SmarTrack 5 can monitor your 'van constantly via the Global Telemetrics Secure Control Centre. Plus, the Android/Apple app means you can remotely monitor your vehicle status including location, battery voltage and more. The S5 system for motorhomes also has a choice of Driver Recognition System (D-iD or Driver Detection Cards, more at https://gtpdid.com/ and https://gtpdriverdetection.com/ respectively). The driver recognition system means that if someone is able to to start and drive away in your motorhome, it will alert the SmarTrack monitoring centre if neither a bluetooth identification tag nor activated smart phone app are detected inside the vehicle. This sort of technology is particularly at stopping theives who steal your motorhome keys.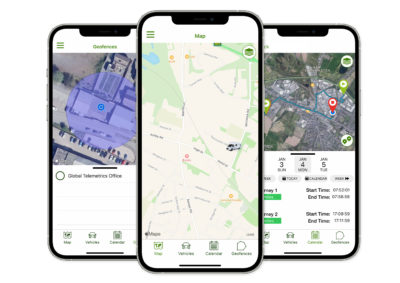 Both systems also covers alerts for battery disconnection, low battery level, tampering, and movement/towaway.
An internal back-up battery keeps the device active when there's no other power supply. There's also the option to integrate an alarm. A further option on the S5 is the Remote Immobilisation Function (S5+, but at Police request only).
There's full UK, Europe and beyond coverage, plus the system is transferable and is backed by a three-year warranty.
And both systems will attract healthy discounts on your caravan or motorhome insurance premium.
Expect to pay:
For the SmarTrack Caravan: £12.49 (monthly direct debit) or £149 (annual) or £399 (duration of vehicle ownership)
For the SmarTrack 5: £13.49 (monthly direct debit) or £159 (annual) or £499 (duration of vehicle ownership)
Plus there's an exclusive installation price for Caravan Guard blog readers. Quote CaravanGuard21 at the checkout or when calling.
Star Player #2
Vango Radiate heated chairs
Something tells us heated camping chairs could prove very popular this year… whatever the season!
Vango has a quartet of designs under the Radiate name – all featuring a Graphene heating element that links to your choice of powerbank.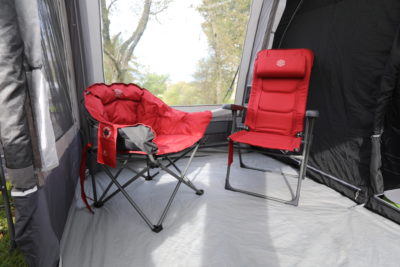 The most basic model is the Tall, with seven seating options, padded seat and backrest and, like its sister models, a striking red Heather fabric and steel frame, plus four heat settings.
Top-of-the-range Grande DLX has extra comfort thanks to an adjustable cushion that can be used as a headrest or for lumbar support – and a 180kg weight limit.
Expect to pay: £115 (Grande DLX), £110 (DLX), £105 (Embrace), £95 (Tall)
Star Player #3
Tern Vektron Q9
If you're thinking of an electric bike, go for quality. You'll pay more initially, but you'll reap rewards in the longer run.
Something like this easily fits the bill for use in conjunction with your leisure vehicle travels. It's easy to fold, has a Bosch motor system with lots of power and a generous range (30-80 miles), and quite simply is great to ride.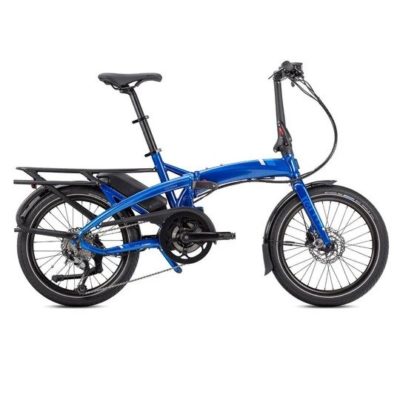 Also, it can be resized almost instantly, to suit riders ranging from 147cm to 195cm (4ft 10in to 6ft 5in), making it ideal for sharing
Other features include hydraulic disc brakes, 20in wheels, a rear rack for your shopping etc, Valo Direct lighting, and more.
Expect to pay: £3,000
www.elctrc.co.uk
Star Player #4
Keela ViralOFF Neck Tube
Here's a whole range of garments, including trousers and tops, that offer protection against coronavirus, 'flu and more, thanks to its polygiene technology. The treatment reduces viruses on the fabric by 99% after two hours. Plus it's anti-bacterial.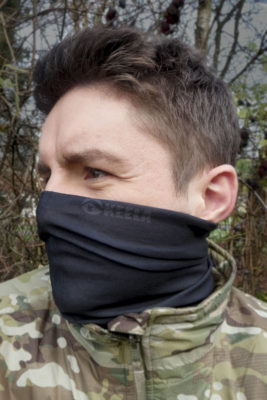 The Neck Tube is a one-size-fits-all product in a choice of three colours – Red, Covert Green or Black. As well as the properties above, it also offers great protection from extreme weather and can be worn around the neck or even on your head. Plus it will fit the bill if you forget your face mask when shopping!
Expect to pay: £9.95
Star Player #5
Purple Line Gemini or Nemesis Plus wheel locks
For caravans: An alternative solution to a wheel clamp on a twin axle? It's here now, thanks to Purple Line. The Gemini features locks for each wheel that fit into adjustable titanium receiver bolts.
It's a patented design that protects against wheel rotation and removal, yet can be fitted in half a minute. For alloy or steel wheels.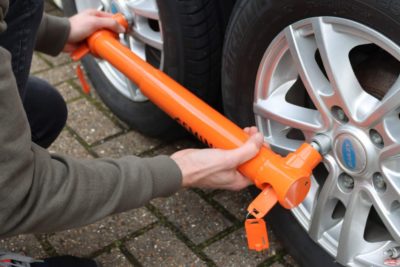 Weight is 6.5kg and it comes with six keys, a storage bag, plus there's a five-year warranty.
For motorhomes and campervans: There's the Nemesis Plus wheel clamp, with a patented design that again helps prevent wheel rotation and removal. Fitted in seconds, it weighs 6.5kg.
Expect to pay: £219.95 (Gemini and Nemesis Plus)
Star Player #6
Dometic Freshjet 3000
Air conditioners could well be among the "big things" to have in the times ahead. The 3000 is the latest addition to the Freshjet range of rooftop units from Dometic.
It's for leisure vehicles over 7m in body length, and uses a patented dual-cylinder inverter compressor design with remote control as well as operation via a touch panel on the unit itself, which also houses LED lights.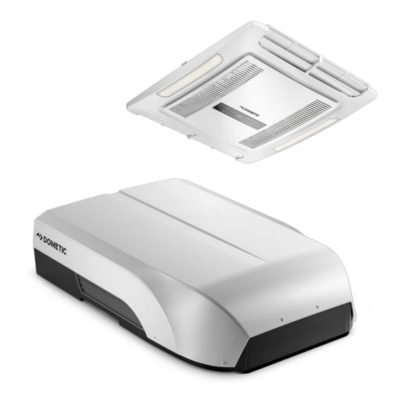 As well as cooling, it can provide warm air or act as a dehumidifier.
Dimensions are compact – 997mm deep x 240mm high x 665mm high and, at 34kg, it's relatively lightweight.
Expect to pay: £3,069.99
Star Player #7
Quest Screen Shield
Here's a different take on the traditional windbreak, from Quest. It's some 180cm high, for a start.
Available in two sizes – single- and three-panel – it has a unique structure that also means it can be put up easily by one person. Once out of its storage bag, it simply unfolds and all you need to do is push each panel into position, ready to peg out. Guylines are included, should you want optimum stability; likewise, you can add aluminium poles if you wish.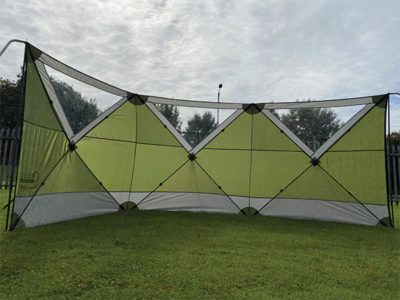 You can also zip Screen Shields together, or add to other Quest products such as its Screen House Pro.
It uses Quest's proven Tec210 fabric with extra coating to give it a UV50-plus sun protection rating.
Expect to pay: £184.99 (three-panel)/£81.99 (single panel)
Star Player #8
Kelty Trash Pack
A backpack… for your vehicle! Car or motorhome, you might just find this fits the bill for a bit of extra storage capacity as well as a place to carry stuff you otherwise don't want "indoors".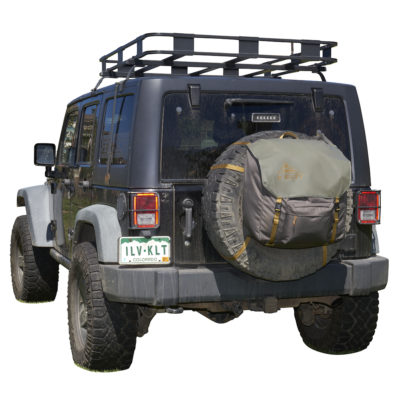 It's akin to a daysack that you attach to your vehicle – it comes with a "semi-universal" mounting system that means it can also fit to van doors and tailgates with spare tyres; even so, do check it's applicable to yours – it's made from tough, waterproof materials that will cope with any extreme of weather.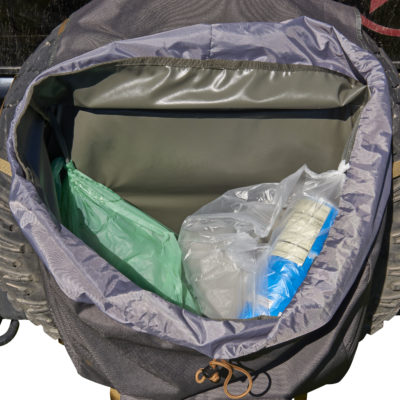 There's also a coated interior with two hanging loops, zipped front pocket and six streel accessories hooks. Foam backing should prevent any damage to the back of your vehicle.
Expect to pay: £90
Star Player #9
Laser 9-in-1 Multi-tool
Why lump around a bulky box of tools when many of your smaller DIY tasks, including emergencies, can be covered off by a multi-tool like this?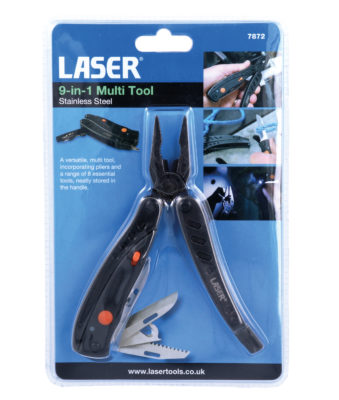 Weighing in at just 321g and with closed dimensions of 10.6cm x 4.4cm, this stainless steel multi-tool includes pliers, magnetic bits screwdriver, saw, knife, wire stripper, rope cutter and more.
Plus, the detachable handle houses an LED light with Li-ion battery that recharges via a micro-USB port (cable not supplied). It also comes with a nylon pouch and belt loop.
Expect to pay: £57.91
Star Player #10
Outwell Hillcrest Tarp
Do you really need a full-scale awning for your caravan or motorhome? If it's just a bit of extra shelter you need – and don't want the stowage and transportation – and, indeed, cost challenges of a bulkier item, why not consider something like the Hillcrest Tarp from Outwell?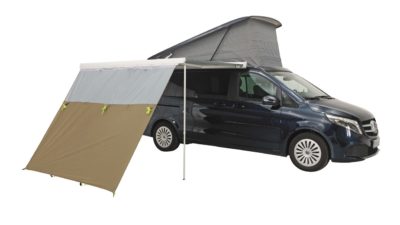 It's especially ideal for campervans, where storage really is an issue. It slides easily enough onto an existing rail (or wind-out awning cassette), or can be pegged out independently via its own guylines. You can adjust the angle of the flysheet or just roll it up when not needed instantly. Check out the £100 Fallcrest Side Panel Set, too, if you want all-round protection.
Expect to pay: £88
Star Player #11
Milenco Aero Platinum towing mirrors
Milenco's Aero products have long been highly regarded, but now comes another range-topper, the Platinum. It's available in standard Aero as well as Grand formats and the company describes them as "the finest mirrors we've ever made".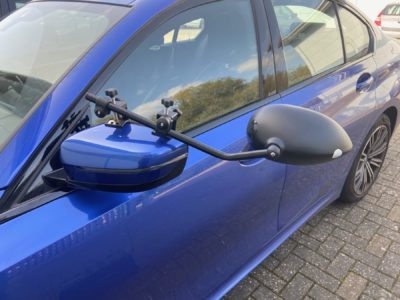 Designed to fit the tapered bezels of the very latest cars, a key feature of these latest towing mirrors is the re-formulated gripper plates – they're larger than previously, with rubber-faced stainless steel and spring loading, which means great grip and stability. There's a larger diameter arm, too. Again offering greater overall stability.
Expect to pay: £79.99 (Aero)/£94.99 (Grand)
Star Player #12
OlPro Universal motorhome blinds
Use these for night-time blackout in your motorhome cab. Also, their insulation properties mean you can put them on to keep the heat out in the summer – or the warmth in during winter. Or if you just want a bit of extra privacy.
The three-piece set is designed to fit the majority of motorhome chassis-cabs – Fiat Ducato, Peugeot Boxer, Ford Transit, Mercedes Sprinter etc. There's a large windscreen section plus separate pieces for the side windows. All boast thermal properties and a reflective outer layer. Fixing is via suction cups. A bag is supplied to storing when not in use.
These were.
Expect to pay: £55 but reduced to £30 at the time of writing
Over to you…
Any great new caravanning or motorhome gadgets and gear news you'd like to pass on to fellow Caravan Guard policyholders? We'd love to hear your comments below.
Cost to insure: *
---
factfile
| | |
| --- | --- |
| Model | |
| Base vehicle | |
| Axle type | |
| Dimensions | |
| Shipping length | |
| RRP | |
---
Search our blog
---