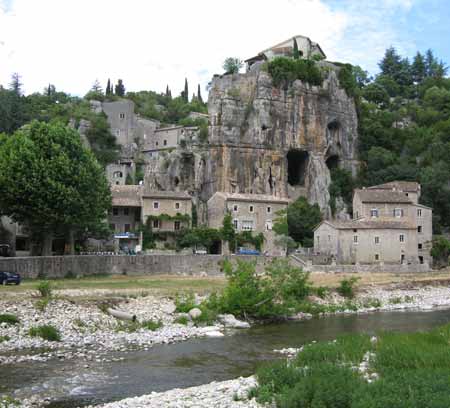 The Ardèche départment of southern France was the setting for the Channel 4 TV series "A Place in France: An Indian Summer" produced by a journalist and television producer Nigel Farrell, who wanted to open an Indian restaurant despite his fundamental lack of knowledge about Indian food and being short of French vocabulary. A book of the same name followed, one that I have read many times.
I persuaded my husband that he'd like the area, and after some careful map-reading we arrived in this part of France that is not well-known, yet turned out to be breathtakingly beautiful.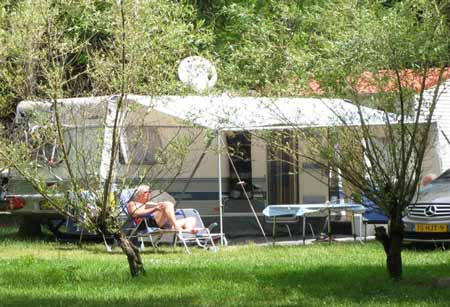 Philippe, the campsite owner told us that it's an interesting area known for growing chestnuts which are used in purée, jam and marrons glacés; he introduced us to chestnut liqueur mixed with sparkling white wine as a pre-dinner apéro. It was a drink we took to rather readily.
The old town of Montélimar, he told us, is famous for nougat, made with nuts and local honey. We'd driven by it en-route but didn't stop other than for fuel. We went to an olive oil mill in an seventeenth century mill at Brès, just a few kilometres from the campsite; which was such a pretty drive through olive groves.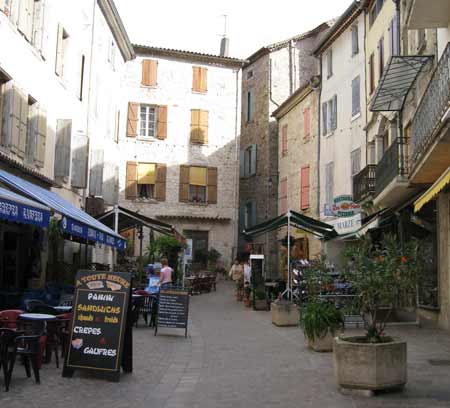 It didn't take us long to drive from the campsite down into the village of Largentière to find the Château de Montréal nor to find several of the restaurants that Nigel Farrell considered for his self-set culinary challenge.
There is a fabulous tourist office tucked away in this medieval town and a weekly market too. We drove to Antraïgues where the streets are so narrow that there was barely room for two cars to pass; we parked near the church and walked the narrow streets.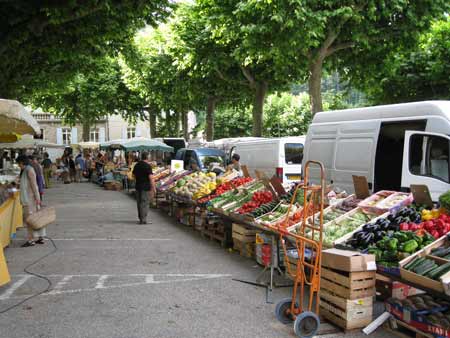 Joyeuse, mentioned in the book, is where an elephant called Baby was paraded through the cobbled old city as part of the marketing plan for the restaurant; so even as we walked past the tall houses with shutters at the windows and sounds of family life from inside we had mental pictures of Baby and couldn't help giggling at the success of such an incongruous marketing plan.
We visited the pretty village of Labeaume on the river Beaume, where the hapless Nigel had tried to woo the fickle Céline, and with the river at its lowest we were able to follow in their footsteps along the bridge and on the dry river bed.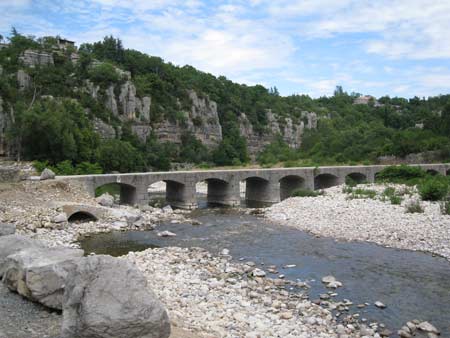 Then we found what we were really looking for; Le Relais Fleurie in Rue d' externat in Laurac-en-Vivarias, a small village not far from the campsite. It was the small, yet very fine, restaurant that well-known chef Christiane Touchou had run for twenty five years and signed over to Nigel. It became known as L'Eté Indien but as you may have guessed the story has an unexpected conclusion, which we'll let you find out for yourself from the book. Reservations are advised at Le Relais Fleurie and at the time of our visit €24 was what you paid for a 3 course set menu, no credit cards accepted.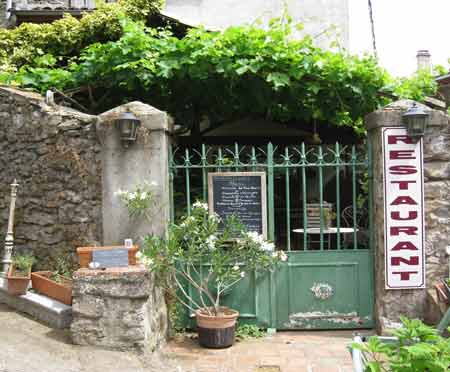 Where we stayed
We stayed with our touring caravan at Kawan Village Domaine Les Ranchisses, a family owned and run 5 star campsite at Largentière in the south of the Ardèche region. Here you can expect hotel style standards, set in acres of countryside, even with its own vineyard, from Philippe, Véronique and their team.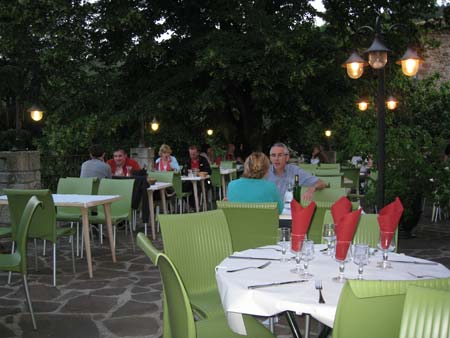 It also has a lovely tree lined dining terrace, as you can see in the photo above.
Cost to insure: *
---
factfile
| | |
| --- | --- |
| Model | |
| Base vehicle | |
| Axle type | |
| Dimensions | |
| Shipping length | |
| RRP | |
---
Search our blog
---