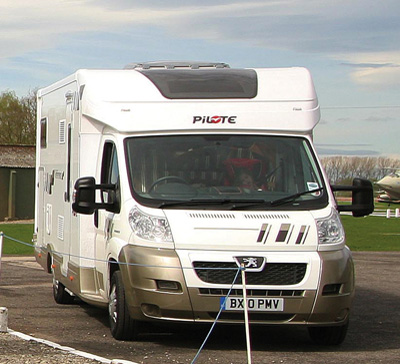 Practicality has always been a Pilote strength but this Référence low-profile is rather stylish too.
Dominant features inside include the stripey brown and cream upholstery (one of seven possibilities), the big fixed double-glazed overcab sunroof, the light wood-effect yacht-style flooring (a shame to cover it with the optional carpets) and duo-tone cabinets that are not as dark as is the fashion with some brands currently.
There's a mix of plastic mouldings, woodwork and silver tambour doors to the cupboards, but the finish is not only a good deal more attractive than most rivals but much more solid too.
But it's not just about looking good. All Référence models have what Pilote call a 'technical double floor', so gas, water and electrical systems are under your feet in a heated and insulated compartment that also allows Pilote to provide a flat floor between the cab and the lounge.
There are high-level cupboards throughout (all with positive locking cupboard handles) and placing the water tanks in the double floor frees up a bit of under-seat space.
Overcab stowage is, of course, compromised by the sunroof but that's a price worth paying for the feeling of space it provides in the lounge.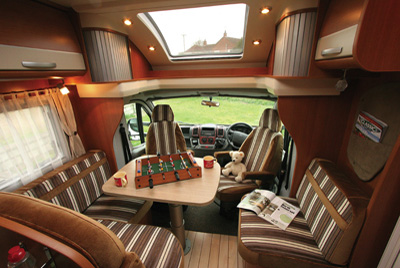 Unlike a number of its continental compatriots, the Pilote has an L-shaped lounge, rather than a half-dinette, though by swivelling a wooden panel and removing a squab cushion you can create the latter for two seatbelted rear passengers to travel safely.
Despite the generous table, the Référence's lounge layout feels inviting on site, with plenty of room for four (possibly five) to sit around that permanent dining platform.
With a wind-up Heki sunroof as well as the glazed overcab, and a deep window in the door, the lounge feels light and bright too. That's continued with excellent artificial (mainly halogen) lighting once you've pulled the high-quality Horrex blinds.
The kitchen has an almost S-shaped effect. And the hob places its triple burners in a line to free up worktop space.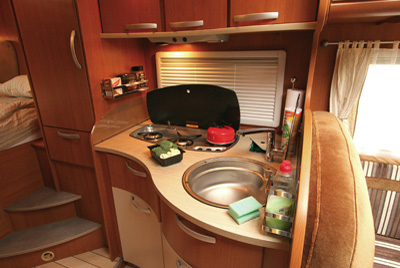 The galley is a joy to use, with its fitted bin (sunk into the worktop) and well-planned storage (including a slide-out unit with recesses for tins, bottles etc, as well a giant SES fridge/freezer).
Opposite, in the washroom, again the space has been allocated by a designer who really knows about motorhomes.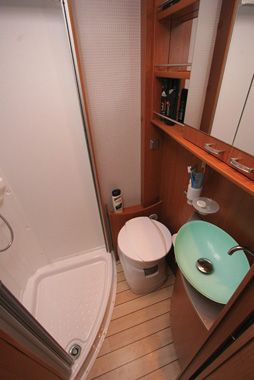 There's a healthy dose of Gallic chic here as well; the mint-coloured basin is a bit daring, and the big separate shower (with triple fold door) utterly practical (and backed up by a 130-litre water tank).
There's masses of storage, and Pilote have fitted a clothes drying rack and a ceramic bowl Dometic toilet. Pity that it has such a pathetic dribble for a flush.
Pilote practicality shines through in the bedroom. With two wide steps, access is easy (especially with the bed in its lowest position) and when snuggled under the duvet you'll notice the individual reading lights and the shelves for your cup of cocoa.
A headboard allows you to sit up comfortably, while an opening window and roof vent ensure that the area isn't stuffy. Best of all, the Bultex mattress is superbly sleep-inducing.
This motorhome is priced at a little over £54,000, which means you'll want to invest in some extra security. Fitting a Thatcham Category 1 alarm system will give you peace of mind and also give you 20% off your motorhome insurance premium.
Verdict:
This is a well-made, stylish and practical motorhome which, both inside and out, makes a very strong impression.

Fact-file:
Berths: 3
Travel seats (inc driver): 4
Dimensions: 6.82m L, 2.30m W, 2.92m H
Interior height: 2.00m
Maximum weight: 3500kg
Beds: Over garage double 2.08m x 1.36m/1.26m, front lounge transverse single 2.05m x 0.59m
Price from: £54,300
Insurance cost: £293.50 *
* Motorhome insurance cost based on 2011 Pilote Reference P680LGR valued at £54,300. Fitted with Cat 1 alarm/immobiliser, kept on driveway at home at TD9 8ED. Motorhome owners – professionals over 50 years old with no claims, convictions or health conditions in last 3 years. 4 years no claims bonus mirrored from car policy and 2 years motorhome driving experience. Members of motorhome club doing less than 7000 miles annually. £250 excess applies. European cover £25 extra, European Breakdown £43 extra. Premium includes Insurance Premium Tax (IPT) at 6% and is correct as of 15.07.11
Source: www.outandaboutlive.co.uk
Cost to insure: *
---
factfile
| | |
| --- | --- |
| Model | |
| Base vehicle | |
| Axle type | |
| Dimensions | |
| Shipping length | |
| RRP | |
---
Search our blog
---