With almost a thousand votes, personalising those motorhome or caravan wheels certainly got you talking…
And we can now reveal that a huge 77% of our readers have a personalised registration plate!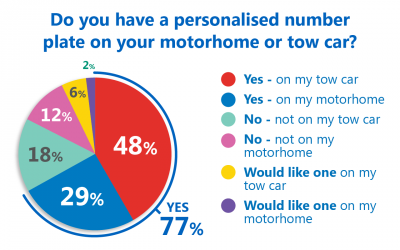 In our latest poll, 48% said they had a private number plate on their caravan and tow car and nearly a third of voters had a personalised plate on their motorhome.
And once again you shared some wonderful stories, which included registration plates showing a union of marriage, initials of family members, combined with birth dates or the year you bought your vehicle and some plates reflecting the name of your prized motorhome or caravan.
Many of you not only find that it's a way of personalising your wheels, but that they are incredibly easy to remember when setting up your car or motorhome insurance, or parking or pitching up.
One reader went to the extreme of changing her name by deed poll so it matched her £33 number plate ZD01 PGY. She's now called Zeda Doreen Oliver Imogen Paula Gina Yasmin!
The rest of the results revealed that 30% of voters didn't have a personalised plate on their caravan or motorhome. Six per cent said they would like one on their motorhome and two per cent said they would like one on their tow car.
Here's some of your stories and comments….
George Mitchell bought this plate for his car and caravan when he retired – G15 OAP. His wife Gillian says it stands for "One Amazing Person" when she drives the car!
It's a family affair for Steven with S40 LRJ. The S for Stephen, L for his wife Lynn, R for his son Ross and J for his daughter Jennifer!
And these tourers keep it close to their name: David Duggins has DL12 DUG on his motorhome, Al has AL51 VAN and Rodney gets strangers calling him by his name after his wife bought him this number plate – R40 DNY.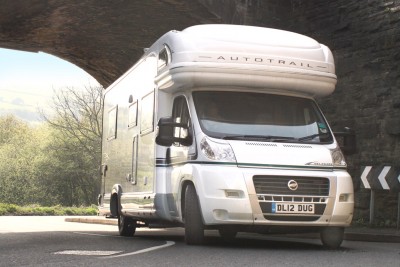 Tim explains his TK11 BUS plate: "We always called our VW T5 the bus and a "tiki" being a spirit of freedom we have TK11 BUS," he said. "My initials are also TK and to be honest we needed something easy as we could never remember the bland registration number it came with!"
Elaine and Gary bought E4 GMB for their 30th wedding anniversary and Campbell has H11 CGF on the motorhome – which stands for Hi to Campbell and Gwen Foster.
Steve Bonar's shows affection for his wife with his initials and his wife's name – SB04 KYM and  former police officer Andy Culley has his old collar number on his plate – TIL 1345.
Ron Carthy bought his reg – RC60 RON near his 60th birthday, and it also includes his initials and name.
Ray Jones has RJ02 ETJ. "My initials and my wife's initials," said Ray. "Easy way to remember the registration number, particularly with the common systems in public carparks."
Julie Tanner has T44 NER on their caravan named Mini Tanner Manor. "Like having it on the tow car and the caravan – makes us happy and that's all that matters!" she said.
John D Sheil searched the DVLA for a bargain personalised number plate for his motorhome and three cylinder car and manged to find P300 JDS & P600 JDS. "Poseur 300, my initials for my three cylinder car and 600 for my six geared vans." he added.
John Helliwell's number plate combines his name and birthday – 855 JON and Dave has R777 RNR fitted to his Autocruise Renoir to "spice" it up a little!
But, personalised plates aren't for everyone.
Dave thinks it's a waste of money and Colin Charlett says he has better things to spend his money on.
"I spend my money on food and beer a lot more fun than a number plate that means nothing to anyone," commented Dave.
Cost to insure: *
---
factfile
| | |
| --- | --- |
| Model | |
| Base vehicle | |
| Axle type | |
| Dimensions | |
| Shipping length | |
| RRP | |
---
Search our blog
---