We often talk about tyre safety and the importance of checking tyre pressures, as well as their age, condition and torque regularly. So in last month's community poll, we asked caravan and motorhome owners if they checked their tyres before every trip.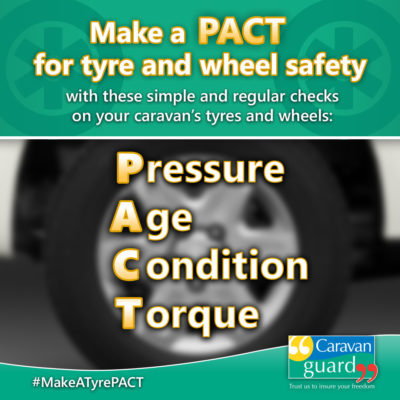 It was pleasing to see so many owners do take tyre safety seriously, with more than three quarters of voters – 77 per cent – saying they did carry out tyre checks before each trip away in their leisure vehicle.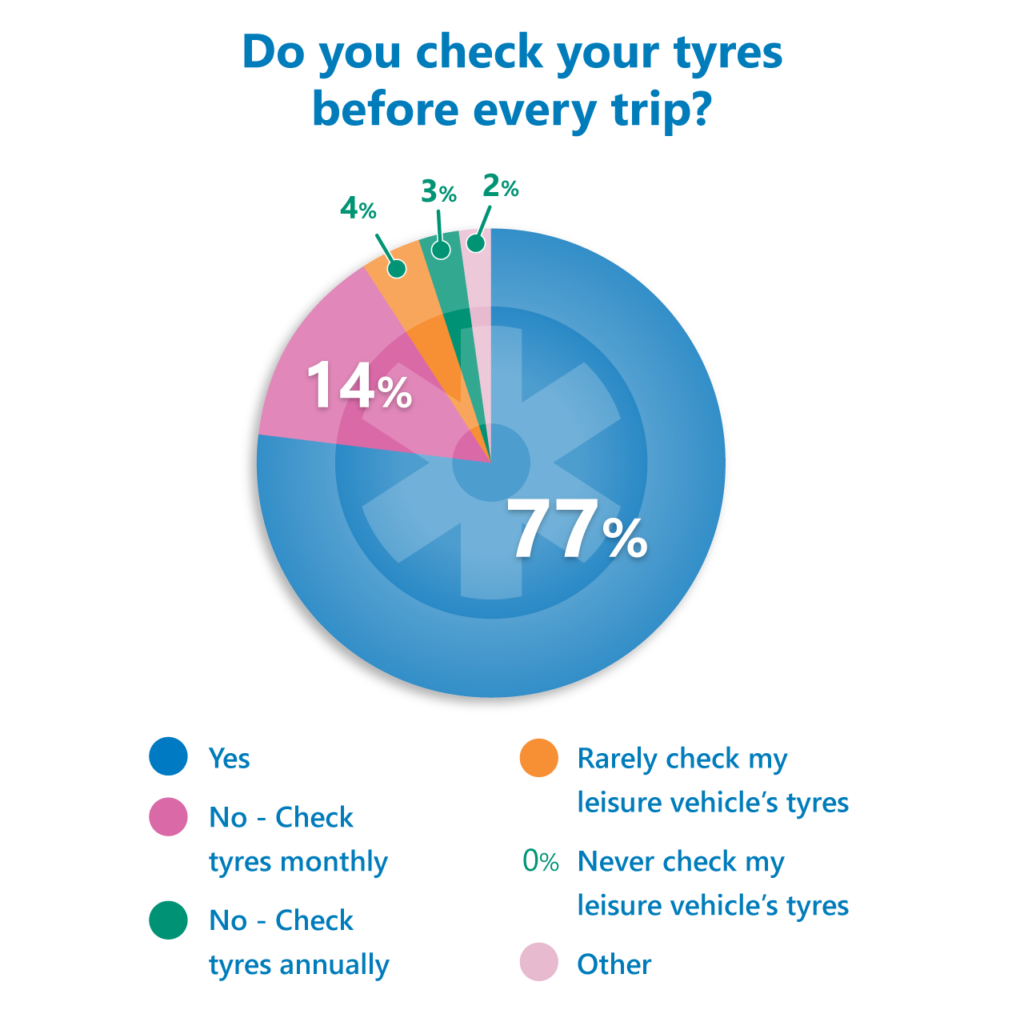 And well done to the 14 per cent of voters who said they checked their tyres monthly – which is recommended by tyre safety charity TyreSafe.
Just three per cent said they checked their tyres annually and four per cent admitted to rarely checking their leisure vehicle's tyres. Plus, only one person out of the 437 who voted said they never checked their tyres.
Your comments….
In the comments it was clear that some owners carried out regular checks because of past experience of a puncture or blow out.
Motorhomer Mike Rollison was one of those:  "I use monitors on my motorhome tyres," he said. "Since a puncture a couple of years ago I find it comforting to be able to see the pressure and temperature of each tyre on the dashboard display."
Gordon Smith had a blow out on his caravan, so as well as checking the tyres he also checks the caravan noseweight.
"Check tyre pressure and condition every time and always use a nose weight gauge," he said. "Had a blowout in the seventies so it's now a habit."
M Tankielun said he checked the tyres regularly for signs of damage, wear and tyre pressures: "On our last trip out the tyre pressures were checked. On one of the nights we had quite a severe frost and as soon as we moved off, the dashboard tyre warning light came on. I stopped, checked the tyres and they appeared okay. Stopped at the next garage and found that each of the four tyres were 6psi down. The on board system obviously works well, but, I will still regularly check the pressures manually."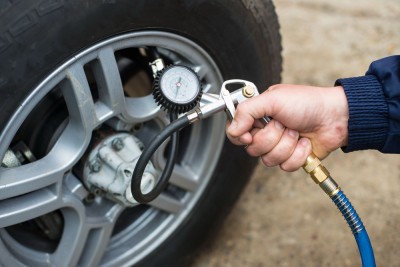 Tony Ash told us how he carried a toolbox for all kinds of emergencies, as well as being able to check his tyres.
"I check my tyres for damage before every trip, torque my wheel nuts and check my pressures!" he said. "I always carry a torque wrench and air pump in my boot. I also carry a box of tools and essential items, such as bulbs, fuses etc, just in case of emergencies. I even have a yellow LED flashing beacon if I have trouble at night to warn others. I don't take any chances!"
Barry Carter is also very conscious of his motorhome tyre safety: "I check my motorhome tyres and pressures before every tour over 100 miles and around every two months," he said. "The tyres have quite high pressures around 80 psi (5.5 Bar). The motorhome is five years old, going into its sixth year and so far the tyres' pressures have lasted between its MOT / servicing, though I take them to my service garage every six months to get them checked along with the wheel nuts which are torqued."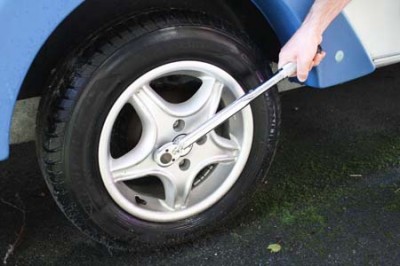 Alan Mason said it was vital that tyres and wheel nuts are checked before each journey. "I always inspect the tyres on my motorhome. I was surprised this year how suddenly cracks appeared in the sidewalls of my rear tyres, immediately replaced with Camper tyres of course."
Over to you…
What do you make of the results? Let us know in the comments box below.
Cost to insure: *
---
factfile
| | |
| --- | --- |
| Model | |
| Base vehicle | |
| Axle type | |
| Dimensions | |
| Shipping length | |
| RRP | |
---
Search our blog
---