A tracking device on your caravan will help police pinpoint its location of it's ever stolen to guide them to a speedy recovery.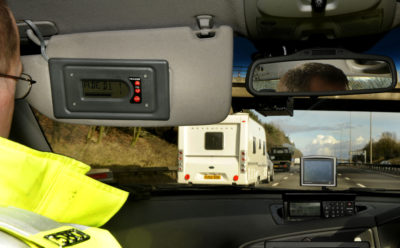 In last month's community poll we asked caravanners if their pride and joy had a tracker fitted.
With more than 300 votes, it was great to see a large number of owners have invested in a caravan tracking device to keep a track on their tourer.
Let's see how you voted…
We were pleased to see that sixty-four per cent of voters have an active tracking device on their caravan – these readers can also benefit from a healthy discount on their caravan insurance with Caravan Guard!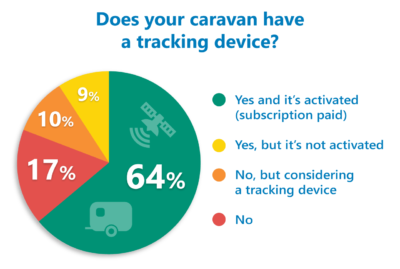 A further 10 per cent of voters were also considering a caravan tracking device for that extra peace of mind.
Nine per cent of voters have a tracking device but it wasn't activated and 17 per cent told us that they don't have one fitted at all. For some owners, the annual subscription of a caravan tracking device can be quite an expensive extra cost.
Your comments…
Peter and Mike commented that people would be more likely to get a tracking device if the subscription cost wasn't so high.
But Bernie Traynor has a Phantom tracker fitted to his caravan and said it was the best thing he's ever done.
"It connects to my laptop,"  he commented. "I can check where it is and see what the battery condition is."
Some caravanners were concerned that thieves know where tracking devices are located and that if their caravan was stolen and recovered they wouldn't want it back.
Keith Haddock has a tracker activated on his caravan but said he wouldn't want it back if it had been stolen and would look to sell it. He also commented that manufacturers should look into better installation techniques to make it difficult for thieves to locate.
Ian Sherwood agreed: "I can well understand why insurers insist on this but if my caravan were stolen and subsequently returned would I want to use a product that some thief and their family had used and slept in it. My inclination would be to sell the caravan."
Andy Culley said he would rather invest in preventing his caravan from being stolen.
Cost to insure: *
---
factfile
| | |
| --- | --- |
| Model | |
| Base vehicle | |
| Axle type | |
| Dimensions | |
| Shipping length | |
| RRP | |
---
Search our blog
---