There's no industry legislation out there to say how often you should check your caravan's noseweight, in fact in most cases, it's very much up to you to decide.
With this in mind, last month we wanted to find out more about your weighing habits; how often you measure your caravan's noseweight and whether you think it's an important part of everyday caravanning.
A few of you got in touch to explain your vote
Malcolm told us he checks his caravan's noseweight "Every time I move my caravan". 
Similarly, David said he carries out noseweight checks "whenever changing or modifying the load". 
A second David got in touch to tell us, "Because noseweight is critical to safety and stability I binned the bathroom scales and treated myself to a decent gauge which makes it so easy to check every time. I also bought a torque wrench and check nuts every journey having lost a wheel a few years ago. Well worth the expense. Be safe." 
Let's see how you voted…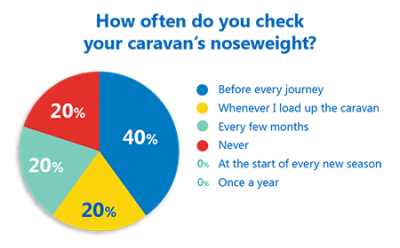 As you can see,  40% of voters told us they check their caravan's noseweight before every journey.
After that the results were evenly split; 20% voted in favour of checking noseweight whenever they load up the caravan, 20% said they check it every few months, and again 20% admitted to never measuring noseweight.
Want to find out how to measure caravan noseweight?
To learn why it's so important to measure noseweight regularly check out this complete guide.
Join the conversation!
Do you agree or disagree with the majority vote? Share your views in the comment box below.
Cost to insure: *
---
factfile
| | |
| --- | --- |
| Model | |
| Base vehicle | |
| Axle type | |
| Dimensions | |
| Shipping length | |
| RRP | |
---
Search our blog
---