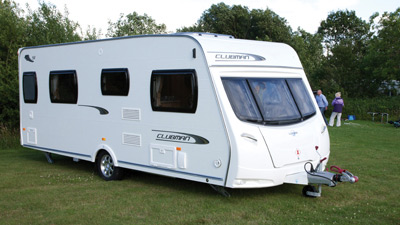 Lunar's designers have opened up a whole new trend in caravan sleeping with this new caravan.
Putting a fixed bed across, rather than down an end-washroom layout, results in a new bedroom transformation.
The 2011 SI's bed runs transversely, from the offside – and there's enough space to walk alongside the foot of the bed to the washroom.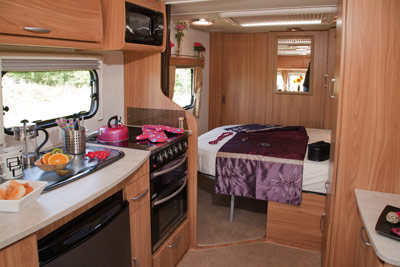 The bed base is a lightweight aluminium frame constructed to a new design. When you start to raise it, only a little effort, with one hand is needed; robust gas-filled struts take the weight.
But this is no ordinary fixed bed. Half of the base is cut away, so that the foot end stands on two legs.
The other half is of more conventional caravan bed construction, giving you a storage area, with access from an exterior locker as well as from inside.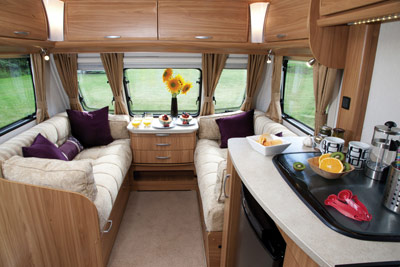 You lose half the storage area compared with a full fixed bed but you shouldn't miss it because the SI has ample storage opportunities elsewhere.
This caravan has plenty of equipment including extractor fan (the new, clear sort which doesn't keep out daylight), loads of LED lights set in pencil-slim steel strips and speakers in the bedroom.
There are many more practical factors to bear in mind in the SI. Chief among them is the convenience of having a full end washroom and fixed bed on a single axle weighing less than 1500kg.
Importantly, because the bed is set transversely, it makes less of an intrusion on the living area than would a longitudinal bed. So there's a more open aspect to the central area. And the pleated room divider disappears into a channel just behind the kitchen, neat and tidily.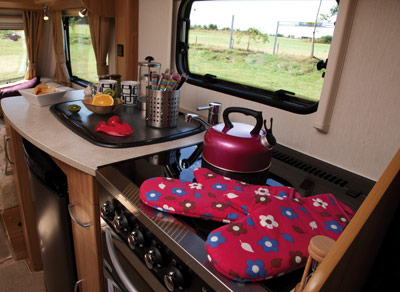 Last year Lunar was the first manufacturer in Britain to put the Alde water-based central heating system into single-axle models; this year it's in more models. The benefit to the layout of having no heater unit creates, in the SI, space for a large cupboard in the dresser by the door.
That means that, in total, kitchen storage space is transformed from very ordinary (there is only a slim cupboard in the kitchen itself) to very large, if you count the dresser cupboard as part of the kitchen.
The washroom has a sliding door – a great way of saving space. The shower is square, in the nearside corner.
There's plenty of shelving and cupboard space – and a heated rail for drying your towels; that's an added benefit of the 24-hour programmable Alde central heating system.
Important kit like the ATC stability aid, and equipment that enhances your caravanning convenience, like 24-hour programmable central heating, are reasons in themselves to choose a particular caravan.
Further peace of mind is provided by the Clubman's security features with Al-KO Secure axle wheel lock and a proactive Phantom tracking device connected to an alarm system – so buyers can expect big caravan insurance discounts!
Our verdict:
When you also find a transverse bed that gives you extra living space, and you still get a proper end washroom, you know you've found a special caravan.

Fact-file:
Price: £18,795
Lengths: Body 5.79m, overall 7.32m
Width: 2.28m
Headroom: 1.96m
Weight: 1340kg (MRO) / 1495kg (MTPLM)
Insurance cost: £210 *
*Caravan insurance cost based on 2011 Lunar Clubman SI valued at £18,795, fitted with hitchlock, AL-KO secure wheel lock, approved tracking device and alarm (all standard on this caravan). Kept on drive at HX4 0BE. Caravanners over 30 years old, claim free for 3 years and a member of a caravanning club. Premium includes insurance premium tax at 5% and is correct as of 10.11.10.
Source: outandaboutlive.co.uk
Cost to insure: *
---
factfile
| | |
| --- | --- |
| Model | |
| Base vehicle | |
| Axle type | |
| Dimensions | |
| Shipping length | |
| RRP | |
---
Search our blog
---