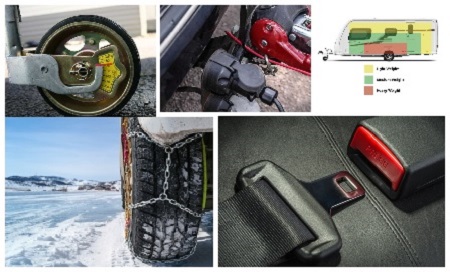 THIS POLL IS NOW CLOSED – Vist this poll results page to see how our readers voted.
Whether you own a caravan or a motorhome, you'll know how important it to be safety conscious, particularly when on the road or travelling with young children.
This month, we're interested to find out how well you rate yourself  in terms your safety awareness. Are you extremely cautious when it comes to making checks before each caravan or motorhome trip, perhaps to the point where it begins to annoy your partner or children? Do you just make a number of basic visual checks on your outfit before each journey? Or do you wait for something to go wrong before fixing the problem?
Before you cast your vote, here are a few things to get you thinking:
Do you check tyre pressure and condition before every journey?
How frequently do you check your caravan's breakaway cable for signs of wear and tear?
Do you load your caravan carefully with heaviest items over the axle?
Do you check brake lights are working before every trip?
When was the last time you checked your caravan's noseweight?
Do you always fit towing mirrors on both sides of your car when towing your caravan?
Do you always consider your motorhome's maximum payload when loading your motorhome?
Have you ever weighed your motorhome on a weighbridge to check you're not exceeding its Maximum Technically Permissable Laden Mass?
Do you have pre-departure checks for your caravan or motorhome that you stick to before every journey? (Check out our caravan checklist or motorhome checklist)
Do you check any heavy or breakable items in cupboards are secure before travel?
Do you check oil and windscreen wash levels?
Cast your vote
Use the options to the left to give yourself a safety conscious rating and remember to explain your answer or share your thoughts below. We would love to hear from you! We'll publish our favourite comments next month.
Cost to insure: *
---
factfile
| | |
| --- | --- |
| Model | |
| Base vehicle | |
| Axle type | |
| Dimensions | |
| Shipping length | |
| RRP | |
---
Search our blog
---