Where do you store all your gear when caravanning or motorhoming?
Stowage is going to be a challenge in any leisure vehicle. Here are some tips and 10 top space-saving products.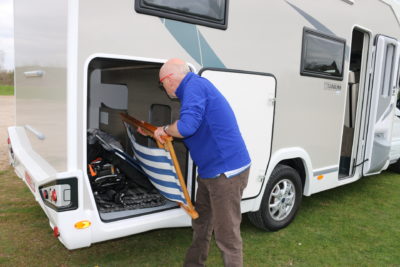 The space race
Everybody loves some space-saving gear…but are such items good enough to become essentials? Take a long, hard look at your caravan or motorhome and you'll soon be finding lots of ways of enhancing its storage capabilities – be that any simple hack, like adding shelving to existing lockers or travelling with more compact kit. Even a few hooks in the appropriate places can be a boon.
As well as some top space-saving tips, we list 10 products that should help you save in the space race.
Our space-saving tips
Most of you will already have a free-standing table on board. Why not check its suitability (or adaptability) for use outdoors rather than investing in an extra outdoors table that's only going to steal on-board space when it's not in use?
Consider adding shelves to wardrobes – even hanging ones (or extra shelves to lockers – some manufacturers offer kits). It often means you can fit in more items.
Do you take a box of tools with you whenever you go away? Consider investing in a multi-tool (Leatherman is a well-known make here) and see which full-size items you can then leave back at base.
What about those various locations around the 'van stuffed with extra cushions for bedmaking? If you don't need them, why not leave them at home – and other non-essential stuff for that matter?!
Hooks or suction pads are great for hanging all manner of things – from towels to bathroom accessories.
Look for collapsible and stacking products which take up less room in your lockers and outdoor furniture which packs up small.
Vacuum bags are great for packing bedding (and even clothes) – reducing the pack size considerably
Saving space often goes hand-in-hand with saving weight, which is always good for your caravan or motorhome.
Also, see our space-saving poll results for some of your great ideas.
Star Player #1
Robens Observer Granite Grey chair
It's not just the small pack size here – 48cm x 10cm x 13cm – it's also about the lightweight of these folding chairs. They're just 1.26kg. That's thanks to the aluminium framework as well as mesh side panels to the fabric. The mesh also allows for optimal ventilation.
Nevertheless, they'll take a maximum weight of 120kg without any compromise on backrest height.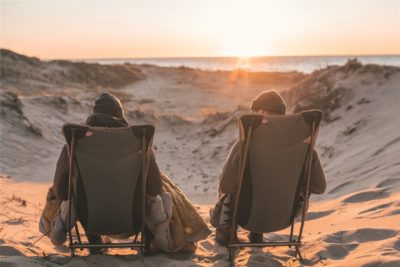 Seat height is some 39cm from the ground when they're folded out to their ready-to-use dimensions
Robens has also overcome a past criticism of chairs like this – they're often so light they get blown over when left vacant – by having a location for the carrybag under the seat itself where, if you fill it with suitable weighting, it adds ballast!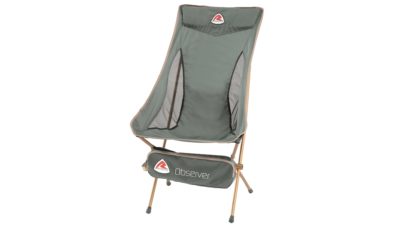 Key features Aluminium frame with shock cords, 420D polyester fabric, an attachment point for bottle holder, zipped carry bag with handle.
Expect to pay £79.99
Star Player #2
Lakeland 2 Pack-Mate large flat vacuum bags
You can always trust Lakeland to come up with great ideas for all kinds of in-'van challenges, especially for making the most of your storage. For starters, it has a range of vacuum bags like this – they're reusable bags that are ideal for storing clothes. The vacuum effect means they can pack clothing or bedding down to a quarter of its size – just attach the bag to your vacuum cleaner, turn it on, and the special valve does the rest.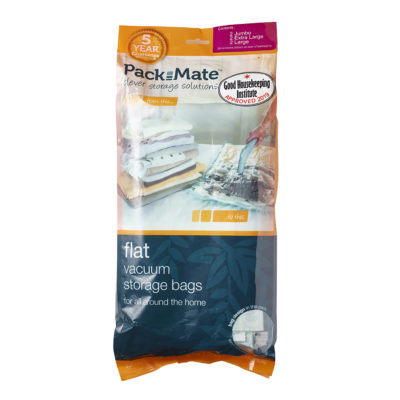 Dimensions for this example are 55cm x 80cm maximum, which means they're ideal for use in the under seat storage space of many leisure vehicles. They're also ideal for keeping out moths, moisture, dust and more. Zips are "two-tone", which means you can see instantly when the bags are properly sealed.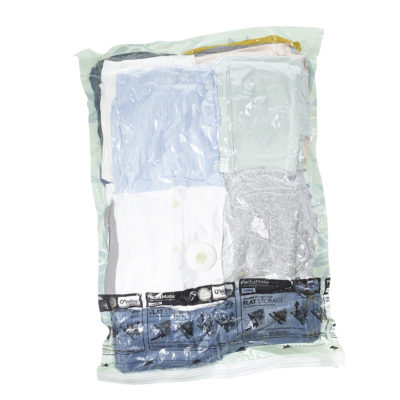 Key features Two-pack, multiple layer construction, made from recycled materials, five-year manufacturer's warranty, Good Housekeeping Institute-approved
Expect to pay £13.99
Star Player #3
Kampa Squash 0.8L collapsible electric kettle
Kampa is one of quite a few outdoor accessories brands that offers a wide range of collapsible products – from cookware to washing-up bowls, storage boxes and beyond – the nature of which means you really can save a lot of space.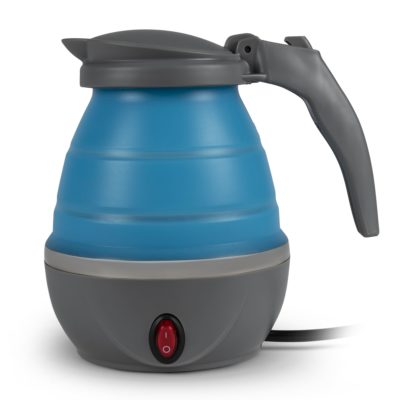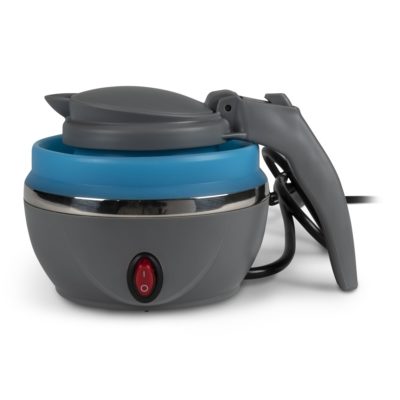 There's even this electric kettle. It has a 0.8-litre capacity (sufficient for two cups/mugs of your favourite hot drink) and packs down from 17.5cm x 13cm x 17.5cm height to a vital few inches shorter, at 13cm height.
Silicone is the magical key to the collapsibility of products like this. It has a food-grade rating and is resistant to high temperatures.
Key features Stainless steel concealed 1000Watt element, silicone body, automatic open lid, boil-dry and overheat protection, indicator light, pre-fitted plug
Expect to pay £29.99
Star Player #4
OlPro foldable laundry basket 
OlPro is another company that has a range of collapsible (foldable) gear in its accessories portfolio. The Foldable Laundry Basket here has potential uses that go way beyond just carrying clothes. It's fully waterproof, for starters, so could easily be used for holding anything liquid, even as a makeshift bath for babies or washing dirty dishes or clothes.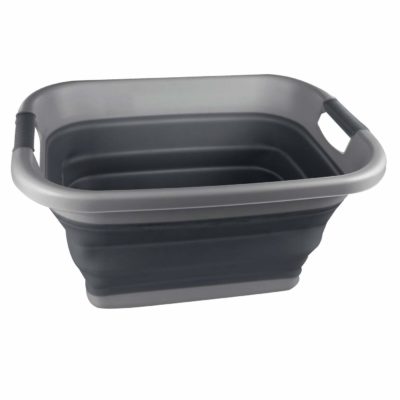 Dimensions are 37.5cm long x 48.5cm wide x 26cm high, packing down to a rather slim 8cm.
Key features Silicone, BPA-free, one-year warranty
Expect to pay £28
Star Player #5
Helinox side table
Don't take a bulky table if you can get away with something that packs down to take minimal space. The packed length of this Helinox side table is just 59cm, with a depth of 3cm.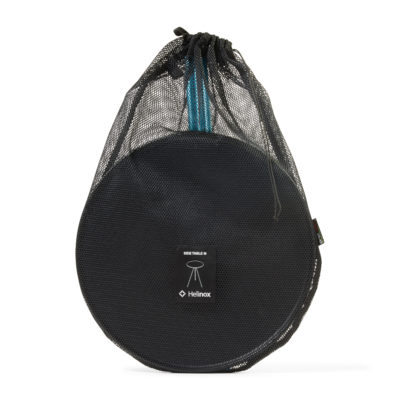 Available in small and medium tabletops – 26.5cm and 14cm in diameter respectively – then some 46cm and 39cm from the ground, i.e. perfect for most outdoor chairs. Three slot-in legs mean they're good for stability.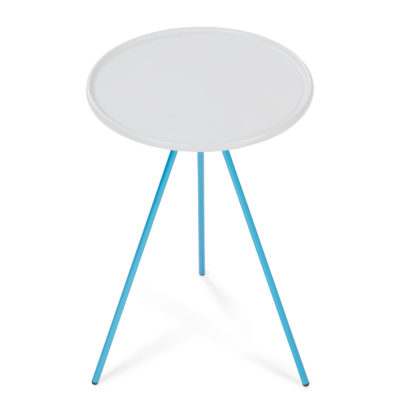 There's a choice of two colours – Black or Putty (i.e. grey). Total weight, including bag, is 560g (for the medium), 320g (small).
Key features DAC aluminium alloy poles, mesh carry bag, five-year warranty
Expect to pay £35 (small) £45 (medium)
Star Player #6
Joseph Joseph Drawerstore bamboo compact cutlery organiser
Simple, really. But, just by using a system of angled layers like here – three larger, two smaller – you can store a whole lot more cutlery in the same amount of space.
Designed for drawers with a minimum height of 8cm, actual dimensions are 40cm deep x 12.2cm wide x 6cm high.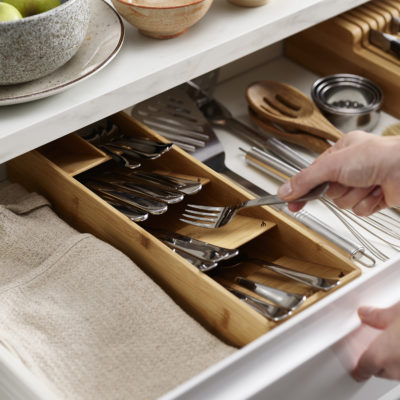 It's made from bamboo which is easy to wipe clean and just needs occasional oiling. As well as the natural finish, it's also available in blue, white or grey.
Key features Natural bamboo, non-slip feet, two-year guarantee
Expect to pay £22
Star Player #7
Easy Camp comfy sofa
Inflatable furniture could save plenty of space when it comes to storing, especially if you like to relax on larger items up to settees and the like.
It's actually pretty much a full-size settee, seating up to three (at a bit of a squeeze). When inflated (you'll need an electric pump, ideally), it's some 195cm x 85cm x 75cm high, with the seat some 30cm from ground level.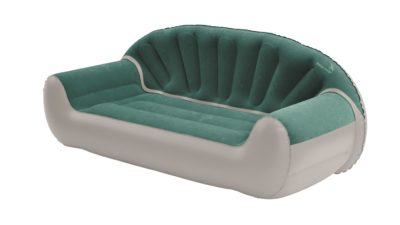 Not only does it pack down small, it also weights less than 4kg.
It's part of a range of inflatable seating from Easy Camp, which also includes individual armchairs, single and double "Movie Seats" and even a Pouf footstool.
Key features PVC material with flock facing, maximum load 200kg, weight 3.7kg, carrybag
Expect to pay £61.99
Star Player #8
Go Travel travel towel (XL)
Towels like this pack down to a fraction of the size of a normal towel. Even if you want to use a proper towel as your main one, you can consider smaller-size items like this for other uses – wiping down your pet, indoor or outdoor surfaces etc. The smaller pack size also makes it ideal for days out at the beach etc, as well as making things easier in the more restrictive confines of many a campsite shower.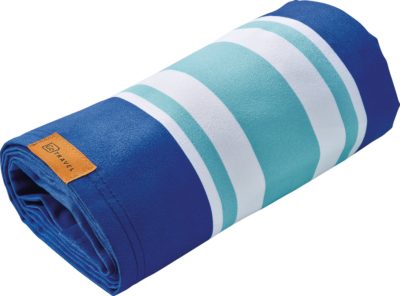 It's an all-polyester, micro-fibre fabric that's super-absorbent as well as quick drying. Open size is 160cm x 70cm. Other sizes are available
Key features All-polyester, light weight (205g), hanging loop, pack-away strap, machine-washable
Expect to pay £14.99
Star Player #9
Outwell Laze inflatable set
Three-piece suite, anyone? Here's an inflatable trio – settee, armchair, Ottoman (footstool-cum-seat) – that offers true comfort as well as great packability.
The sofa, maximum load 250kg, inflates to 175cm x 80cm x 70cm high, the chair (115kg) is 100cm x 80cm x 70cm high and the Ottoman is 73cm x 55cm x 37cm – that latter figure also the seat height for all three products. Seat height for each is 37cm.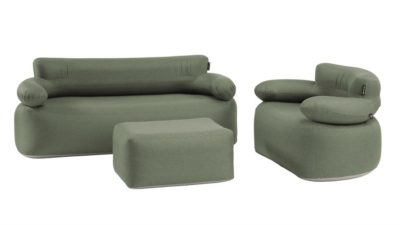 Packed size for the whole lot is 54cm x 38cm x 23cm. All-in weight is 10.7kg.
Great for chilling out in your caravan or motorhome awning?!
Key features Polyester fabric/PVC frame, tarpaulin base
Expect to pay £209.99
Star Player #10
Primus Leisure cutlery
These knife, fork and spoon sets are colourful as well as potentially space-saving. They're just 185mm high and weigh 80g. Each set also includes a silicone holder that's heat-resistant as well as keep them all together.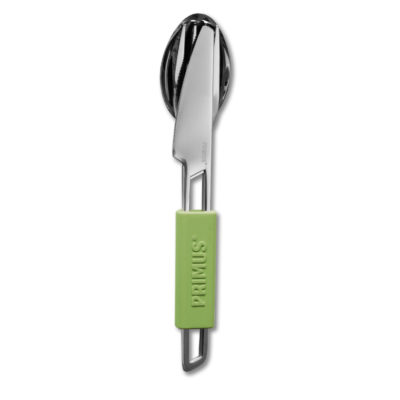 The holder comes in a choice of six different solid colours – including Deep Blue, Salmon Pink and Leaf Green – a good way of keeping track of which set belongs to whom.
Key features Stainless steel, die-cut handle, silicone holder
Expect to pay £12 (single set)
Over to you…
Got any advice on space-saving kit you'd like to pass on to fellow caravan, campervan or motorhome owners? We'd love to read your tips.
Feel free to add a comment below.
Search our blog
---