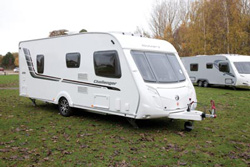 Swift Challenger 570 exterior
Swift has worked hard to cram a lot into a short length in the 570's living area in order to allow plenty of space for a super-luxury washroom. Ingenuity that you'll appreciate comes in and around the kitchen area.
Cupboard space in the kitchen is restricted to a slim, two-basket-drawer unit between fridge and oven.
Kitchen surface space is not enormous but is very workable – especially if you never use the clip-on drainer (choose campsites with washing-up facilities and this never becomes an issue anyway).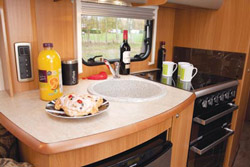 Kitchen work space in the Challenger 570
And those big, round, grey granite-look sinks that Swift now puts in all models are utterly wonderful.
They not only look classy, they're much more practical than former steel ones; if you leave a washing-up bowl in there on tow, the mock-granite sinks don't produce the fine ring of scratch marks caused by vibration that you often see in steel ones.
Sitting in the 570 assessing its merits is a pleasurable experience. Great, comfortable rounded ends ensure forward comfort of the settees.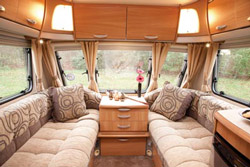 Relax in the 570's lounge
You'll notice the tall bed head that gets the plain brown fabric of the seat-back stripe, topped by some of the coffee-and-cream swirly stuff. The result is a cosy bedroom look. The mattress is deep and sprung.
One of the 570's star features is its washroom. The first thing that strikes you is the amount of space it offers. The second thing is the generous size of the shower, with a plain, clear plastic door.
The washbasin is set into a cream granite-effect surface that runs the whole width from the basin to the offside corner, giving you a large shelf area. There's another shelf above the window and large cupboards both above the toilet and below the basin.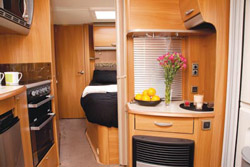 Swift Challenger 570 interior
So storage here ticks all the boxes. Storage comes in no small measure outside the washroom, too. Under the bed is a cavern, of course, and it's accessible from the exterior. Over-bed storage gives you four excellently-roportioned lockers.
Forward lockers give you a fitted drinks cabinet, a small locker beside the TV housing, one locker with a shelf, two over the front windows, one that gives you a little space above the radio/CD player – and by this time you've reached the kitchen…
One locker is fitted for plates or dishes, another for more plates and mugs. Two good deep shelves come directly over the work surface. There's a microwave, of course, directly above the hob that gives you three gas burners and a mains hotplate.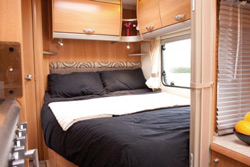 Swift Challenger 570 bedroom
Verdict
The more time you spend in this year's Challengers the more you notice small things that add up to a great looking package.
Concertina blinds to all windows, for instance, bring Challengers up to luxury grade – far better than plastic blinds.
The important stuff is all there, too. Like a fully-plastic-lined shower, alarm with tilt sensor – and the receivers for AL-KO Secure Wheel Locks.
The lock will cost you around £200 but could serve to reduce your insurance premiums. It's just one more thing that makes the 570 look like a great package.
Fact File:
Price: £16,373.37
Berths: 4
MRO: 1389kg
MTPLM: 1595kg
Insurance cost: £272*
*Caravan insurance cost based on 2010 Swift Challenger 570 valued at £16,174.13 plus optional AL-KO axle wheel lock at £199.24. Fitted with hitchlock and kept on drive behind locked gates at HX4 0BE. Caravanners over 30 years old, claim free for 3 years and a member of a caravanning club. £100 excess applies. Premium includes insurance premium tax at 5% and an online discount of 10% and is correct as of 14.04.10.
Source: outandaboutlive.co.uk
Cost to insure: *
---
factfile
| | |
| --- | --- |
| Model | |
| Base vehicle | |
| Axle type | |
| Dimensions | |
| Shipping length | |
| RRP | |
---
Search our blog
---