Has Swift just made its best caravan ever? Much is being made of Swift's very latest SMART HT bodywork construction, and rightly so.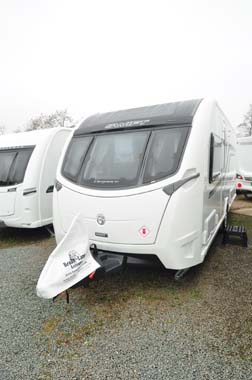 Plus, with so much that's new in bodywork construction features and techniques, it's rightly organised a whole series of workshops, explaining all to the likes of Caravan Guard…as well as dealers' service centres etc.
Some five years in the proving, it boils down to a double GRP-skin, wood-free construction with Styrofoam insulation and some neat interlinking, with particular emphasis on a floor that can stand up to the rigours of the caravanning lifestyle.
It looks all the better, too, with the slightest of curvatures to the sides and – despite a traditional enough looking three-window front  – there's quite a lot of aerodynamics going on here, too.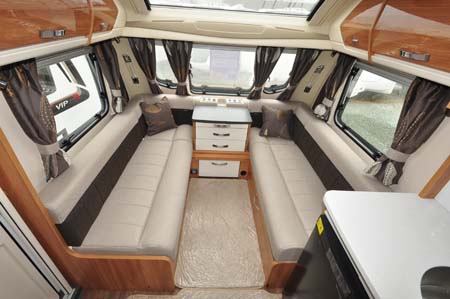 It's the new four-model Elegance range (and its Sterling Continental stablemates, if you want an even more radical interior treatment) that's the first to see the SMART HT benefits, with the 580 here offering an island bed configuration that will appeal to two who want absolute luxury on tour, with the facility to cater for four if and when necessary.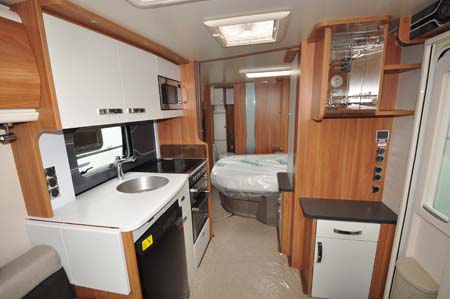 Of course, all of this SMART talk would be superfluous if the interior can't keep up. Subtle changes to the way it builds its furniture has seen an evolution in terms of lighter but stronger fixtures. Drawers and lockers have a good, solid feel to them as well as a soft-close mechanism.
Furniture finish varies throughout as you move back from lounge to kitchen to bedroom to washroom – the kitchen, for example, has a quality granite-effect worktop (plus extension) with inset stainless steel sink (there's an add-on drainer). There are also quality plastic mouldings throughout.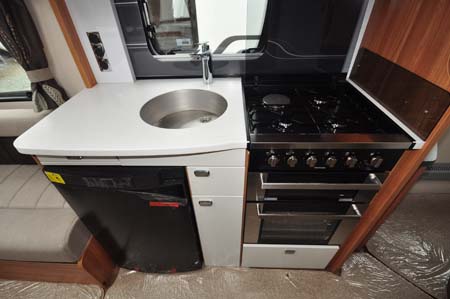 Needless to say, specification is high. There's Alde's central heating and hot water system, while cooking appliances extend to a dual-fuel hob with separate grill and oven plus microwave.
Smaller, neater touches also include the USB socket in the lounge, in addition to the usual 12V and 230V offerings.
It's the 580's sliding island bed that takes centre stage here, allowing you to create a private bedroom with full en suite facilities care of the full-width end washroom. Slightly at odds to the rest of the surroundings, it's a rather traditional concertina-style divider for the bedroom, but the bed itself – extending out to 1.82m (but still leaving space for your feet to hang over a few inches) and with a more generous, fixed 1.33m width – on a superior Duvalay mattress.
Also here are two wardrobes, not forgetting loads of storage accessed easily enough by hinging up the bed frame.
Beyond the bedroom, the rear washroom has sliding door access, although it is still slightly restrictive. It offers a swivel-bowl toilet just inside the doorway and a separate shower cubicle in the rear nearside corner, with washbasin in between and a generous amount of storage. Changing room space is OK, too.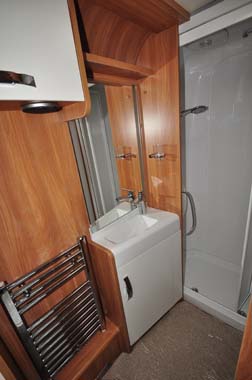 Details throughout have certainly not been forgotten. The locker door hinges have plastic covers (it prevents any hint of lubricant dropping and spoiling the rest of the decor, as well as simply looking neater). The fit of the furniture is exemplary. There's a corner vanity unit in the bedroom that will also prove perfect for watching TV from bed.
Criticism can really only be limited to questions like: Are the front grab handles set too high? Are the speakers too close together in the washroom (and would they not be better in the bedroom, anyway)?
It perhaps goes without saying that weights are not exactly low – yet. Swift has kept SMART HT to its top-line Swift and Sterling (Continental) models for now, but there's every reason to expect it will be introduced to the rest of its portfolio over the coming seasons.
It's not just about making a better caravan for the UK. With its Elegance range, Swift has sent out a warning shot across all of Europe. Meet the best, the very best.
Verdict: Seriously impressive. Welcome to the Best of British new age
Plus: Solid quality allied to serious style
Minus: Short bed, weight
In-a-nutshell: Comfort and practicality meet their futuristic match
Cost to insure: £299*
In summary:
Dimensions 7.49m L, 2.26m W, 2.67m H
Key options: Impala/leather upholstery (£395), Al-Ko secure (£255), Wraparound lounge seating (£149)
Safety and security Tracker Retrieve, infra-red alarm system, Al-Ko ATC, AKS 3004 stabiliser, smoke alarm, carbon monoxide detector, single-key lock operation
Recommended retail price from £25,995**
There's more information on the Elegance range on the Swift Group website and to find out more about our low-cost premiums visit the caravan insurance discounts page. 
Alternatives: Elddis Crusader Mistral, Lunar Clubman Saros SI
*Caravan insurance is based on Swift Elegance 580 Caravan caravan retailing at £25,995. Fitted with hitchlock, axle wheel lock (optional) or kept behind a locked barrier in storage, AL-KO ATC anti-snaking device and TRACKER Retrieve. Kept on drive at HX4 0BE. Caravanners over 30 years old, claim free for 3 years and a member of a caravanning club. £100 excess. 180 days European cover and up to £75 per day for up to 15 days emergency accommodation cover included. Legal expenses cover, extended European cover and other emergency accommodation expenses cover options are available at extra cost. Quote includes 10% online discount and 6% Insurance Premium Tax and is correct as of 30/04/2014
**On-the-road, including VAT at 20%
Search our blog
---