Germany's Caravan Salon is Europe's largest showcase for new caravans, as well as plenty of exciting future ideas. Here's our top five of some of the key new models that debuted at the Dusseldorf show and will be heading to the UK – plus other highlights.
Knaus – designs on Deseo, Travelino and more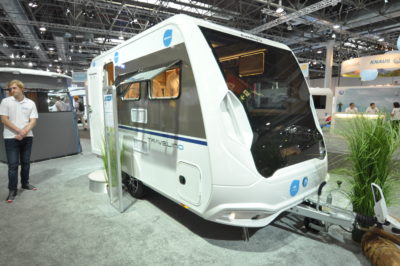 Look at this, the Knaus Deseo 400 TR – it's only 5.99m long but it's a twin axle. There's a large tailgate, too, with attachment for an awning plus – inside – a drop-down double bed.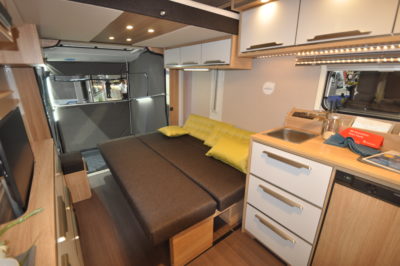 Knaus also announced at the Caravan Salon show that it's to go into full production with the Travelino, a tiny tourer concept it unveiled two years ago.
Wingamm – 40 up and a new Rookie to celebrate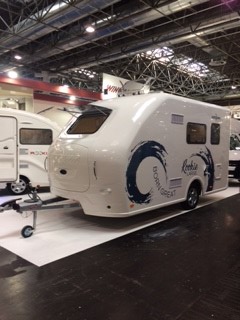 Italian manufacturer Wingamm is about to celebrate its 40th anniversary, with new model L joining its Rookie line-up. The Rookie L is 1m longer than smallest model, the 3.5, offer four berths and weighs in at 900kg, with a maximum weight of up to 1,300kg. It features a French bed and corner washroom at the back, U-shaped front lounge and central kitchen, all encased on a one-piece GRP body.
Eriba – looking great at 60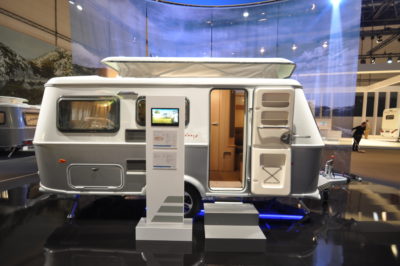 Look out for 60th Anniversary editions of the classic Eriba touring models. There will be four – the Familia 310, Triton 430, Troll 530 and Touring 542. Features include two-tone exteriors in white and silver, with front stone deflectors, alloy wheels and exterior-access lockers. Inside, the colour schemes have been lightened considerably.
There's also 60 Edition versions of the French bed 485 and 545 models in the Hymer Nova sister range.
Adria – back for more Action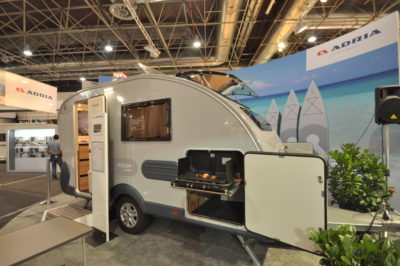 Adria's funky Action is being reintroduced to the UK for 2018. It might have the same distinctive body, now in a choice of three sizes and three colour finishes, while elsewhere there's been a bit of red-design work – with layouts to suit two, three or four people in the 391 PD, 361 LH and 391 PH respectively.
There's more, including the option of a tray that slides out from the front external locker, to house a barbecue/grill. 
Dethleffs – time for an early Coco?
UK-bound? Maybe not quite yet. Weighing just 638kg and just 4.25m long by 2.15m wide, this is the Coco from Dethleffs and it has a particularly lightweight yet strong construction. Although we're not sure if it's coming to the UK, Dethleffs has confirmed it got its name from the English, cocoon.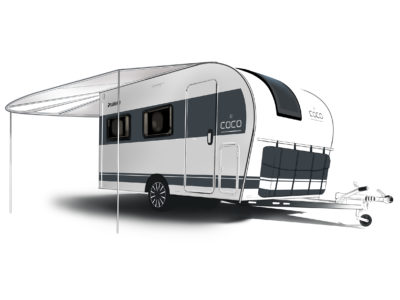 That awning is called a "sun sail" and it can be fitted to the side or rear of the vehicle to create a 25sq.m "terrace" area.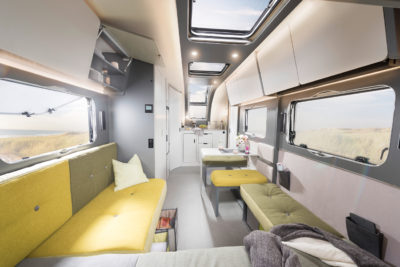 The interior features removable storage baskets, EvoPore multi-layered cushions designed also to be used outdoors, pull-out stools, a kitchen that also operates as a sideboard, full-length three-part sunroof and more.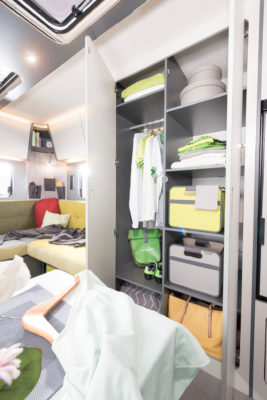 And there's more…
Knaus will be announcing a new Lifestyle model using the same lightweight bodywork construction that's being used in the Travelino and Deseo. But you'll have to wait until early next year for that… Caravelair's whole range will take on even more UK-friendly features for 2018, including doors switched for our nearside, plus they'll be National Caravan Council approved; there'll also be three new models – 406 with bunk beds; island bed 455; and French bed 485… Weinsberg's CaraOne 740 Edition Ice could be the perfect seasonal pitch 'van when it arrives in the UK. It has higher quality insulation, Alde floor and central heating, a "real" sofa, log-effect fire, 49in retractable TV, and a price expected to be around £28,000…
Let us know what you make of our top five from the Caravan Salon by sharing your views in the comments box below…
Get a tourer insurance quotation from us today by clicking here!
Cost to insure: *
---
factfile
| | |
| --- | --- |
| Model | |
| Base vehicle | |
| Axle type | |
| Dimensions | |
| Shipping length | |
| RRP | |
---
Search our blog
---