We reveal the top 10 motorhome beds voted for by our readers.
In our recent poll we asked owners to vote for their favourite motorhome beds layout, with many options to choose from.
With hundreds of votes, motorhome beds which don't have to be made up were the most popular.
Here's the motorhome bed results…
Taking the top spot was the popular island bed with 19 per cent of the votes – perfect for a good night's sleep, and meaning you don't have to climb over your partner in the middle of the night or first thing in the morning! Plus it doesn't involve any bed making, giving you more time to enjoy your holidays.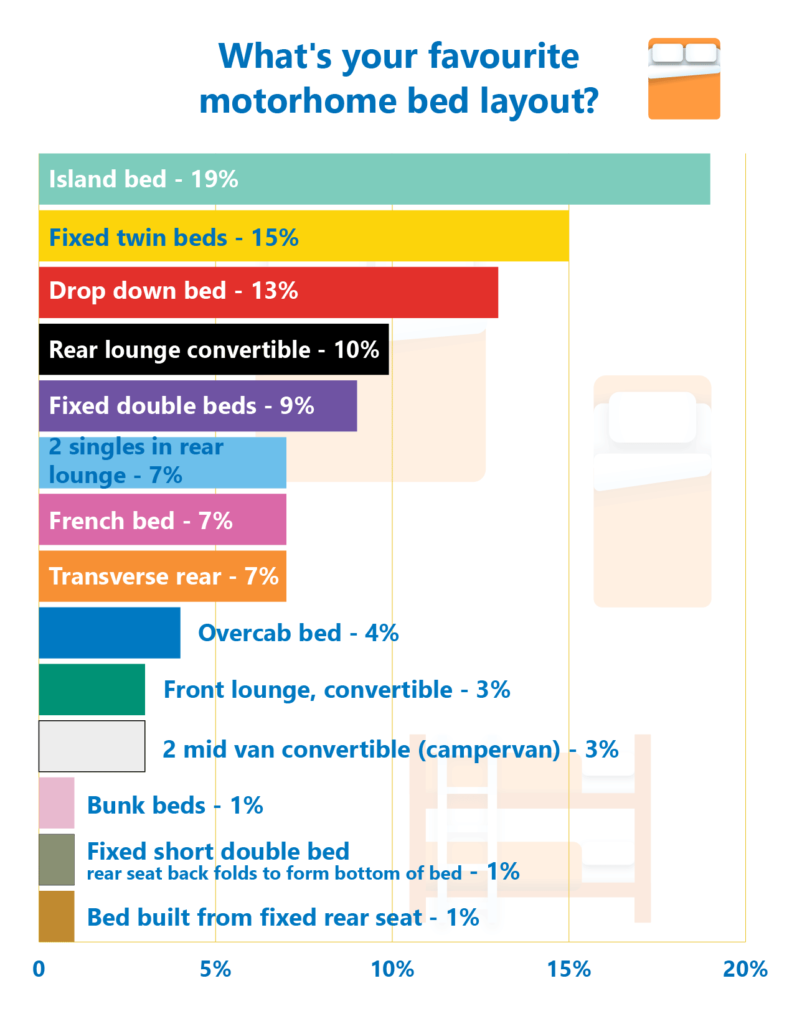 Second placed, fixed twin beds received 15 per cent of the votes – again, great for single comfort and not disturbing anyone – except for snoring of course!
The space-saving drop down bed came closely behind in third place with 13 per cent of the votes – again no bed making needed.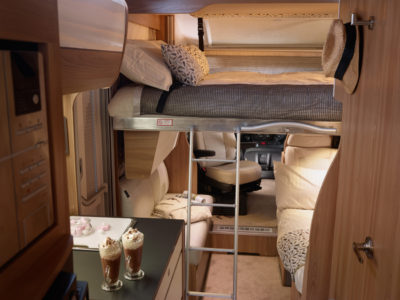 Ten per cent of voters favoured rear lounge convertible beds, followed closely by fixed double beds with nine per cent of the votes, and two singles in the rear lounge gained eight per cent of the votes.
Tied in seventh place were French beds and a transverse rear bed.
Surprisingly, overcab beds weren't very popular – with just four per cent of the votes and bunk beds gained just two votes.
Other motorhome bed options which voters opted for were mid van convertible beds in a campervan, front lounge convertible beds and beds built from the rear seats.
Your comments…
Ellen Muirhead commented that she wished she could find an affordable motorhome with an island bed.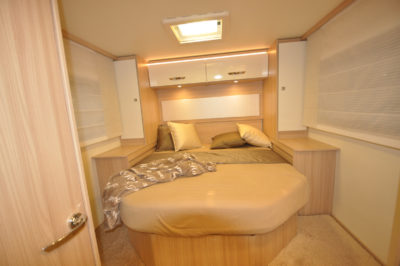 "It's quite claustrophobic to sleep on the inside of our fixed double bed," she commented. "As you say if either needs the loo…!"
So, it's clear that motorhome beds are a very important factor when choosing your motorhome type and beds which don't involve any making up are popular.
Thanks to everyone who voted and feel free to let us know what you make of the results in the comments box below.
Cost to insure: *
---
factfile
| | |
| --- | --- |
| Model | |
| Base vehicle | |
| Axle type | |
| Dimensions | |
| Shipping length | |
| RRP | |
---
Search our blog
---