Last month we wanted to find out which of you explorers were preparing for a spot of winter touring. We received some great feedback on this one and we have to admit, the results did surprise us!
Before we reveal the results, let's start by looking at what some of you had to say. Macken told us, "We love caravanning this time of year. It's quiet and the weather doesn't bother us at all. We're nice and warm and have all the things we have at home – we call it our 5 star accommodation! We enjoy meeting other nutters like us. We have been iced up in minus 14° temperatures in Scotland before with gales and heavy rain too, it will not deter us."
Tracey agrees writing, "weather permitting we will caravan all year"; while Chris tells us he'll be touring "for 4 or 5 nights over New Year to different venues in the UK with friends."
Killing two birds with one stone, Martyn enjoys a spot of retail therapy this time of year: "We are off to the Beechwood site in York for five days with some friends. We find it ideal for xmas shopping and a little 'r&r', and if the weather is fine we take a trip to the moors or coast – it's warmer in the caravan than the house!"
Also getting away this winter is Terry O'Sullivan who plans to "leave blighty via the euro-tunnel, cross France, Switzerland and down the whole coast of Italy to Brindisi before taking the ferry over to Greece and driving into Bulgaria."
'A Nomad' may cross paths with Terry, telling us "I'm spending the next six months travelling through France, Spain and Italy checking out all the local food and wine. Far fewer tourists this time of year and although the weather is mixed, it hasn't stopped me yet."
Mel and Sue have chosen to stay a little closer to home and are "Going to tour UK again, starting with the Welsh Coast, then South Coast, Norfolk and keep going for a few months whilst looking for a small cottage in Suffolk with a big enough drive for our Sundance 630L."
On to those all important results now and after looking at most of your comments, we could tell there was going to be a clear winner. A massive 76% of you voted in favour of winter touring while only 15% told us you'll wait until spring 2014 to brave the great outdoors. 9% of you are yet to decide.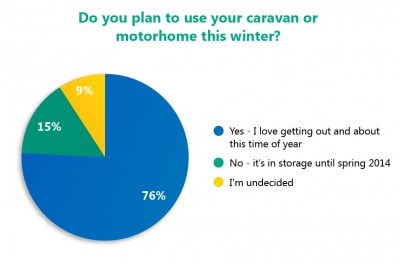 Perhaps like Ray, you're not sure of what to expect: "We have been living in our caravan since July and will be going right through the winter with it. Not sure what it's going to be like, it's been ok so far. The caravan is a brand new Lunar with fixed double which is spacious and warm."
Availability is another factor which we think may have affected the vote. George tells us, "Caravan sites up here in Scotland that are open during winter are few and far between – we would love to do it, even if they opened till the end of the year."
Scotland proves popular again as Peter Davies also told us, "We spend all winter in Scotland and the best trick I found to stop water from freezing is wrapping a 20watt heat trace cable around my direct water supply to my van simply plug into 13 pin socket cost £23 pounds the system kicks in when temp drops down to 5c simple."
Thanks for sharing your stories with us!
Vote in this month's poll 'Would you ever consider switching from a caravan to a motorhome or vice versa?' now.
Cost to insure: *
---
factfile
| | |
| --- | --- |
| Model | |
| Base vehicle | |
| Axle type | |
| Dimensions | |
| Shipping length | |
| RRP | |
---
Search our blog
---