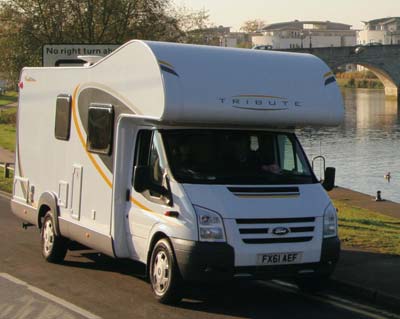 With its new, lower fixed bed and revised internal and external detailing, the facelifted T-725 in the new Tribute range, produced by Auto Trail, looks more impressive than ever.
Has the best just got better? Well, certainly the Sports Pack is good news. As with other entry-level motorhomes, you'd be wearing a jacket with your arms strapped to your back before you'd order a Tribute without this bundle of well-priced options.
And in reality, not one Tribute is ever likely to leave the factory naked of the pack – who would resist an Omnistor awning, rear spoiler moulding on the roof, TV aerial, mains and blown-air additions for the heating, a few minor bits of bling on the fascia, a pair of scatter cushions, heated and electric door mirrors, and removable carpets? Especially when the whole caboodle costs just £999.
The only other option is cab air-conditioning – another £955.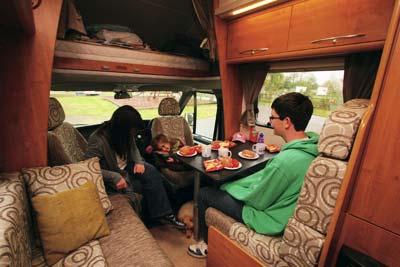 We put the Tribute through its paces on a family weekend trip, four-up (with a teenager and a nearly four-year old) for three nights and well over 300 miles.
Before we'd even started our test trip in the Tribute it scored well with all of us, swallowing every bit of kit we could throw at it.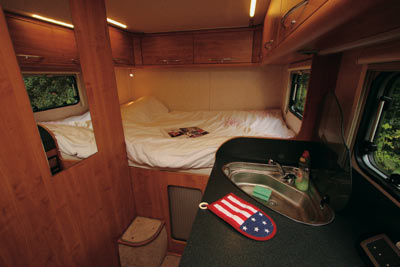 Of course, here you could argue that the 2012-season T-725 is not quite as good as its forebear as this year the fixed transverse rear bed has been lowered. But in reality, unless you absolutely must store full-sized bikes onboard, this is probably a better compromise.
One of the reasons you'll buy a T-725 over a broadly similar T-720 (which replaces the garage/bed with a rear lounge) is for the luxury of that big permanent bed. A single fixed step (around the base of which the carpet trim needed re-gluing) replaces the ladder of the old-model T-725, making access easy.
Once in bed, the split, his 'n' hers, mattresses are excellent and you get individual reading lights and an opening window at the foot end. Similarly, the overcab bed has just an opening window on the nearside and no vent.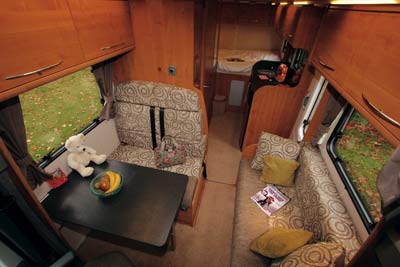 That just left the dinette bed to make – from a jigsaw of seven cushions. Its teenage occupant slept well here (waking up a teenager is more of an issue), even when joined by our pooch. Like the other two beds, it's genuinely an adult double in size.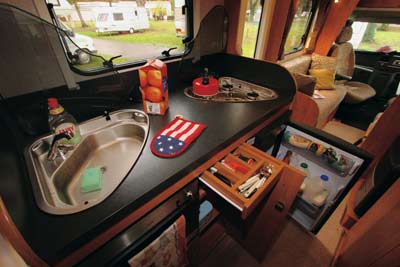 The size of the Tribute's kitchen was never an issue – not least because its virtually-triangular appliances leave a really useful area of worktop space between them. You might have had issues with the fridge size before, but the latest (Dometic 8-Series) item now fitted incorporates a removable freezer compartment.
With said shelf and door removed and left at home we had just enough food space left for a quartet of hungry campers. Having three burners on the hob and an oven/grill meant our culinary options weren't limited (even if they weren't gourmet!), while the galley also offers plenty of storage throughout.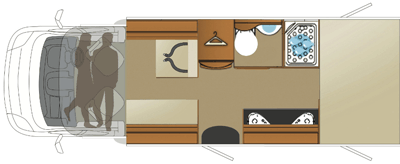 Verdict
A few very minor niggles aside, this is a fantastic family motorhome – at an equally fantastic price. That parent company Auto-Trail have equipped it with a separate shower is just one example of Tribute giving you more: more than you expect, and more than its rivals.
Price from: £37,649
Cost to insure: £244.50*
Fact-file
Travel seats (inc driver): 4
Dimensions 6.96m L, 2.23m W, 2.89m H (excluding TV aerial)
Interior height: 1.94m
Maximum weight: 3500kg
Beds: Over-garage double 2.08m x 1.35m, front lounge transverse bed 1.86m x 1.22m, overcab bed 2.08m x 1.83m
Source: outandaboutlive.co.uk
* Motorhome insurance based on 2012 Tribute T-725 valued at £37,649. Fitted with Manufacturer's Immobiliser system. Kept on driveway at home at TD9 8ED. Insured & spouse, 57 years old, professionals, with no claims, convictions or health conditions in last 3 years. 5 years transferred protected NCD, 5 years motorhome driving experience. Members of motorhome club doing less than 5000 miles annually. £300 excess applies. European cover £22.00 Extra. European Breakdown £43 extra. Premium includes Insurance Premium Tax (IPT) at 6% and is correct as of 20.01.12.
Cost to insure: *
---
factfile
| | |
| --- | --- |
| Model | |
| Base vehicle | |
| Axle type | |
| Dimensions | |
| Shipping length | |
| RRP | |
---
Search our blog
---