In an age where downsizing is king and having one vehicle makes economic and environmental sense, it's easy to see the appeal of this size of the Vantage Cub (just 5.41m long).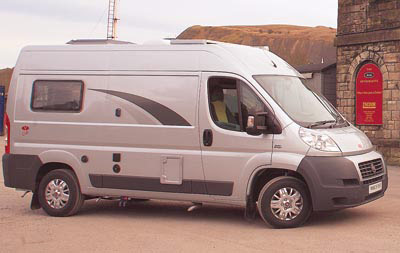 Exterior:
Like all Vantage campers it comes as standard in silver metallic, and while the options pack adds alloy wheels, the oh-so-subtle graphics and unpainted bumpers leave the vehicle looking a little plain. But not under-equipped.
Ours came with a neatly colour-coded toilet hatch, roll-out awning, awning light and external TV point for on-site cable connections or the attachment of a portable aerial that sticks to the 'van with a suction pad.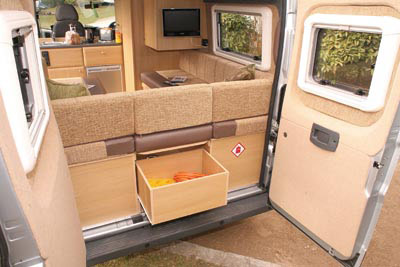 All the cupboards shut with bank vault solidity, while the doors are devoid of push-on edging, there are no visible fixings on the outside of the units, and the eye-level lockers feature top-class hinges and powerful mini gas struts.
Everything is beautifully finished and the colour scheme is restful and practical.
We doubt that anyone will buy this camper without the Excellence Package that adds £5k of options for exactly £4,000 on top of the £39,950 price tag.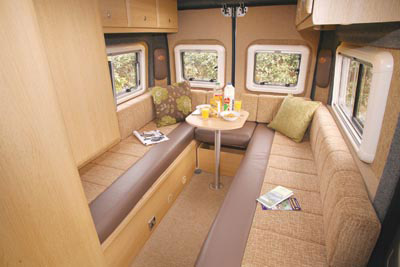 For your extra cash you get a base vehicle with alloy wheels, steering-wheel mounted radio controls, an alarm linked to the remote central locking, reversing sensors, mud flaps front and rear, electric mirrors and cruise control.
Interior :
Then on the habitation side, the pack includes a mixer showerhead, part-leather trim, 16-inch TV/DVD, the portable aerial, tripod for external table usage, external cab screens, a safe, auto-retracting electric step, draining board and awning. Phew!
You get upmarket pleated blinds on all the windows and a huge array of LED lamps, both for general illumination and for reading, though the truly picky might point out that none of them are directionally adjustable and the light in the washroom would be better placed over the basin than the toilet.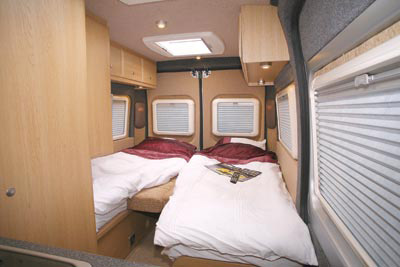 If the 6ft 3in single beds look inviting, they live up to that promise and the double bed is king-sized.
The TV is conveniently positioned for lounge or bedtime viewing and the new Whale heating did all that was asked of it.
The transverse galley has a deep sink, 80-litre fridge and decent amount of cupboard space, plus (beautifully made) drawers for cutlery and crockery.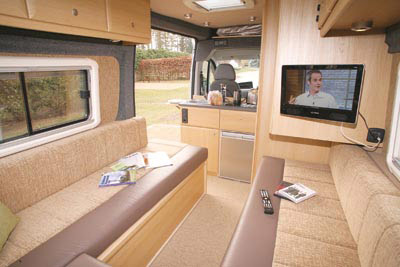 Worktop space is limited, unless you use the draining board cover over the hob or sink, or have the sliding door open and deploy the fold-up worktop. The pull-up tower of three mains sockets is a practical touch, though.
The washroom is practical too, and like the rest of the Vantage Cub, very well finished.
The shower curtain simply covers the door so you'll need to remove the loo roll and towels, but showering on board will probably be a rare event; the basin does rather limit space. It is possible though, and the trigger release showerhead is separate from the basin's mixer tap.
But this vehicle is all about that lounge, which is superb. Two of you can stretch out in full feet-up laziness, while coffee and dinner tables (slightly wobbly on island legs) are provided.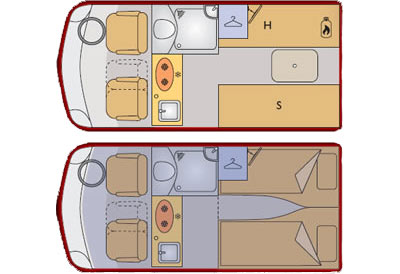 Vantage Cub Verdict:
As you unwind with space to spare you can't help wondering how Vantage have fitted it all in, and questioning why you'd need to buy a bigger (more expensive, more difficult to manoeuvre) 'van…
Fact File
Price from: £39,950 OTR
Base vehicle: Fiat Ducato
Engine: 2.3 multijet (120bhp)
Travel seats: 2
Berths: 2
Insurance cost: £229.75*
*Motorhome insurance cost based on 2010 Vantage Cub valued at £39,950. Fitted with manufacturers immobiliser, kept at home at TD9 8BD. Motorhome owners ; professionals over 50 years old with no claims, convictions or health conditions in last 3 years. 4 years no claims bonus mirrored from car policy and 2 years motorhome driving experience. Members of motorhome club doing less than 7000 miles annually. £250 excess applies. European cover included, European Breakdown £42 extra. Premium includes insurance premium tax at 5% and are correct as of 16.06.10.
Source: outandaboutlive.co.uk
Search our blog
---