In a bid to drive down tyre and wheel-related caravanning accidents, we're asking caravanners to make a PACT for caravan tyre and wheel safety.
In this video we're urging caravanners to use the word PACT to remember to carry out four simple checks on their tourer's tyres and wheels to help prevent a tyre blow-out or wheel detachment.
Each year, at Caravan Guard we deal with a number of tyre or wheel-related caravanning claims, like tyre blow-outs, which can cause significant damage to your tourer, or worse still, a serious accident. A tyre blow-out can cause damage to the caravan wheel arch and floor, both externally and internally, and around the underside of the caravan, costing hundreds of pounds to repair.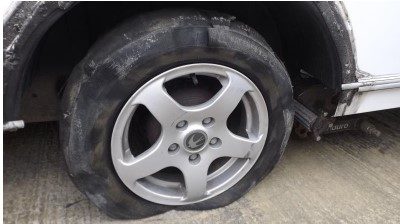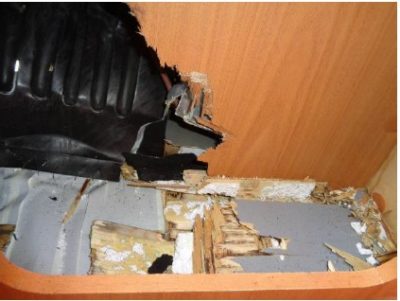 In more serious cases you could lose control of your caravan when towing, causing it to overturn or crash into something.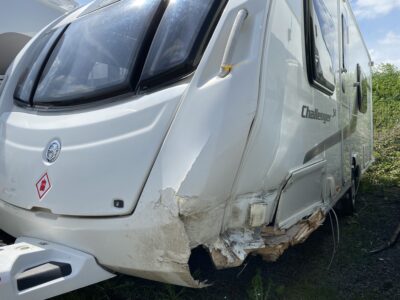 So, let's make a PACT to keep you and other motorists safe on the road.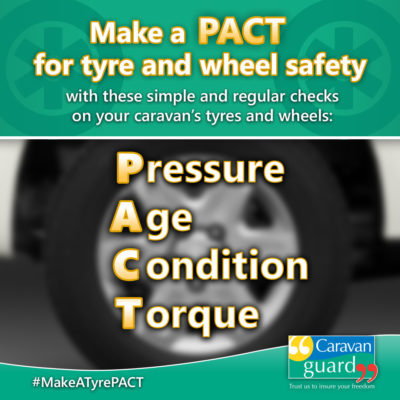 P = Pressure
Check your caravan tyre pressures regularly, ideally before each trip.
A correctly inflated tyre wears its tread evenly and gives the best grip on the road. Under inflated tyres cause uneven wear on the shoulders of the tread. Over inflation causes excessive wear in the middle of the tread pattern. In both cases, incorrect tyre pressures will cause uneven wear and shorten the lifespan of the tyre, as well as affect towing stability, braking distance, cornering and could cause a tyre blow out.
If you don't know the correct pressures of your caravan's tyres, check your caravan handbook or sometimes it's on the side of your caravan.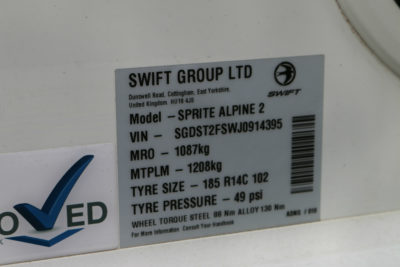 If you can't find the correct pressures visit the TyreSafe website and use their online caravan pressure calculator. All you need to know is your tyre size and load index, for example 185 R14C 102, and the MTPLM of your caravan. All this information can be found by looking at the tyres and VIN plate of your caravan.
A = Age
Old tyres can be prone to blowouts. It's a recommendation that tyres, which are five years or older should be replaced regardless of their condition.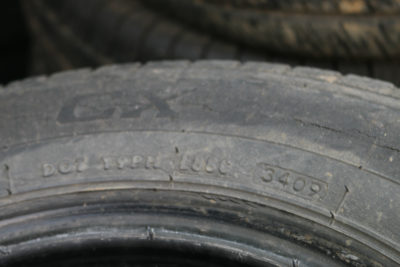 Tyres come with a date of manufacturer stamped on the sidewall. Look for D.O.T then four numbers. In this example 3409 means the tyre was manufactured on week 34 of 2009, and therefore should be replaced.
C = Condition
The condition of caravan tyres can deteriorate over time by things such as UV damage from the sun and standing still for long periods of time.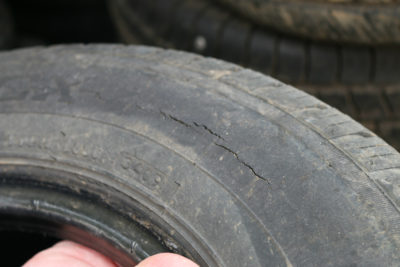 So, check the sidewalls of your caravan tyres for cracks, bulges, cuts or embedded materials. If you find any, replace them immediately.
It's a good idea to regularly move your caravan wheels if you don't use it often, or jack up your caravan and rotate the wheels, to make sure different parts of the tyres take its weight over time.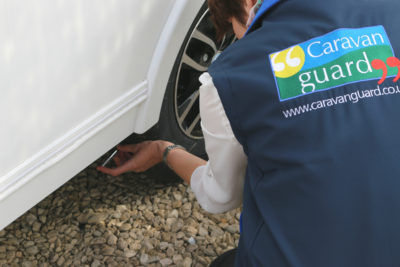 Check the tread for wear using an approved tread gauge. The tyre should have at least 1.6mm of tread over 75 per cent of the tyre surface on its entire circumference.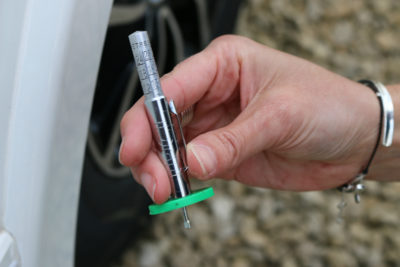 Check tread depth in several places of the tyre and look for cracks on the tread pattern. Again, if you find any cracks, replace the tyres immediately.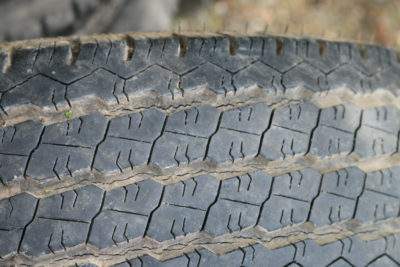 Don't forget the spare!
In all cases, don't forget to check your caravan's spare tyre for its pressure, age and condition.
T = Torque
Caravan wheel detachments do happen. This could be from the wheel nuts being too loose, or by being over-tightened and causing damage to the wheel hub.
It's important to check the wheel nut torque using a calibrated torque wrench. The correct torque value can be found on the side of your caravan.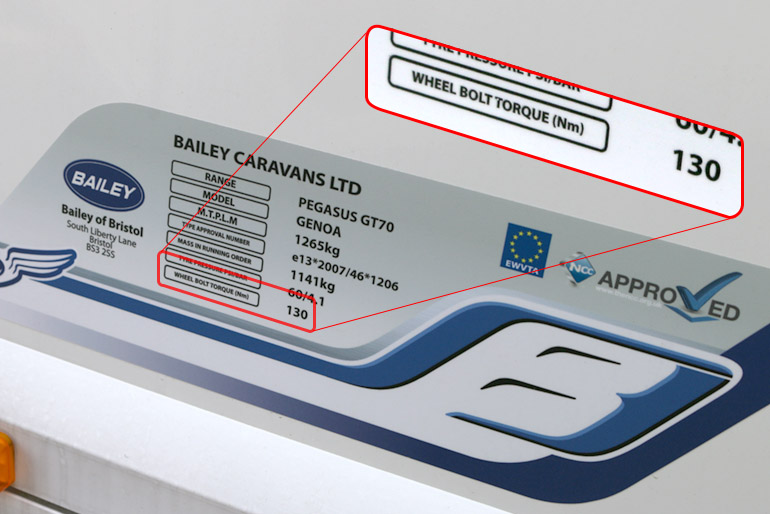 If you can't find this value, contact a local caravan dealership who should have the information to hand.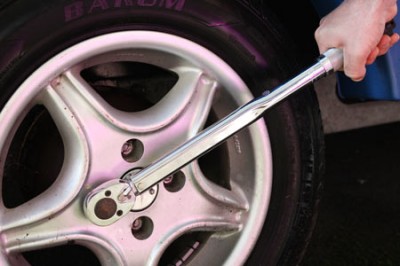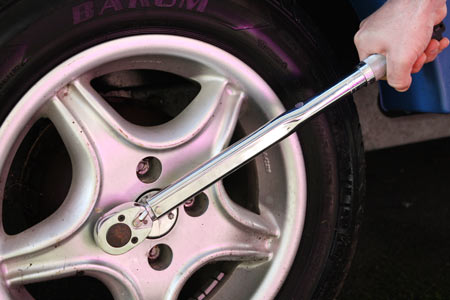 Check the torque in a star formation, and remember to loosen the torque wrench when finished.
Insurance discounts for tyre safety devices
As well as carrying out regular safety checks on your whole outfit's tyres, it's also worthwhile investing in a tyre pressure monitoring system (TPMS) for your caravan and/or Tyron safety bands to minimise the chances of a blowout.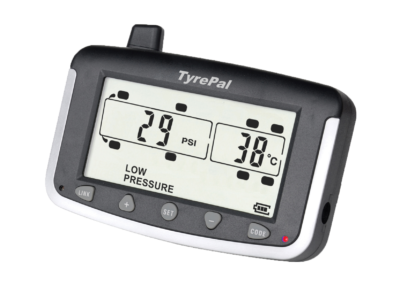 There are Tyre Pressure monitoring systems for caravan outfits which continuously monitor both the pressure and temperature of your car and caravan's tyres when you're driving – giving you an alert if things aren't right.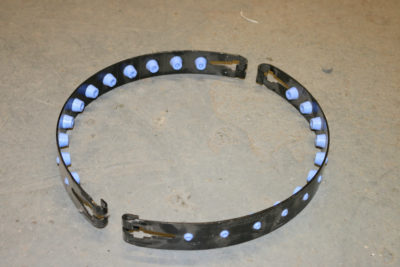 Tyron Safety bands fitted to a caravan's tyres increase the stability of a caravan outfit in the event of a blowout – allowing the driver to safely pull the vehicle over to the side of the road.
Because of their safety features, we offer a discount on our caravan insurance premiums for caravanners who fit either Tyron bands or a tyre pressure monitoring system.
Over to you…
Do you carry out these simple checks on your caravan's tyres and wheels before every trip? Are you ready to make a PACT for tyre and wheel safety? What do you make of the caravan tyre and wheel PACT?
We'd love to hear your comments in the box below. And don't forget to like and share on our Facebook and Twitter pages using the hashtag #MakeATyrePACT!
Search our blog
---