Unfortunately, accidents do happen, on and off the road, and caravan and motorhome panels can be easily damaged.
We deal with many claims for accidental damage to motorhome and caravan panels, from small dents and scratches to large holes and even torn panels.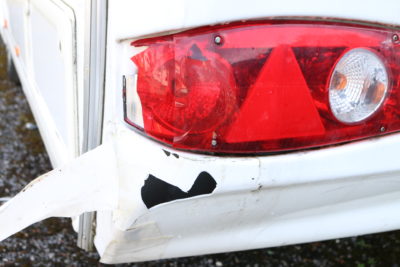 As part of your caravan insurance policy, we'll pay for this kind of damage to be repaired, and regularly work with approved repair specialists Panelworks, based in Yorkshire. They specialise in panel repairs for caravans and motorhomes and aim to get you and your vehicle back on the road and on your holidays as quickly as possible.
In this video, we ask Jon Goulden, the Chairman of Panelworks, a series of questions to understand what's involved in a motorhome or caravan repair and see the meticulous steps they take to transform a cracked front caravan panel.
What should you do if you've damaged your caravan?
If you've been in an accident the first thing you should do is make sure you're safe. If you're able to carry on then do so, otherwise if the caravan is not towable insurance policies like Caravan Guard's have an emergency recovery service included so call the helpline. If a motorhome is not driveable contact your breakdown company (Caravan Guard's motorhome policy includes UK roadside assistance as standard).
Then register your claim with your caravan or motorhome insurance company as soon as you can.
Take photos of the damage. Taking photos from about three feet away could help the insurance company and repairer to see the extent of the damage and provide an accurate quote and assessment.
In the meantime, if possible take steps to prevent any further damage by covering up the damage to stop water from getting in. Jon suggests using high tack duct tape as this will help to keep the water out.
What kind of caravan damage can be repaired?
At Panelworks, they repair all kind of motorhome and caravan damage, from simple scuffs, dents as well as splits and holes.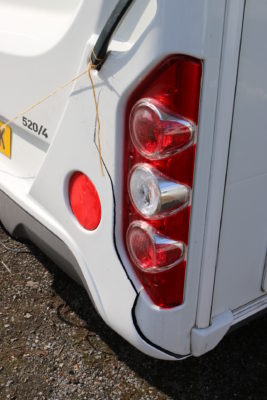 Also if you've had a tyre blowout, Panelworks can repair the scuffed alloy wheel as well as the wheel box damage, including any floor damage and wiring or plumbing damage.
What areas require specialist repair?
Panelworks specialise in repairing the damage to the caravan or motorhome panel, rather than replacing the entire panel.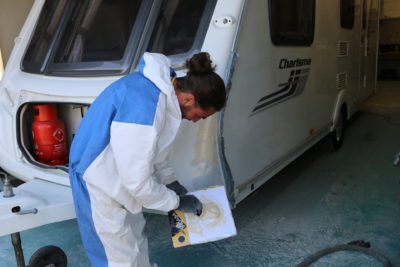 "In most cases the panel doesn't need to be removed which means you're not upsetting the caravan seals and seams," said Jon. "We deal solely with the problem on a caravan panel and can repair it without removing the panel. The other benefit of this is that it shrinks the time the caravan is going to be off the road. The biggest delay in caravan repairs is the length of time it takes to get parts, so we try to minimise that by repairing just what is damaged, with the aim of getting  you back on the road as soon as possible so you can go out and enjoy more holidays."
What happens when a caravan is being repaired?
All caravan repairs are different but in most cases, first of all they will be stripped back and any parts removed, such as gas locker doors, lights and grab handles.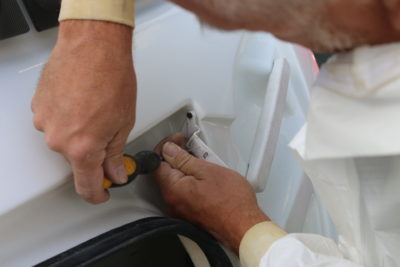 The fibreglass or panel will be pulled out and then refurbished by filling the hole or dent. In many cases, the panel will be repaired from behind and from the front, with density applied to the back give it strength. It will then be filled at the front to make it smooth and a coat of primer applied.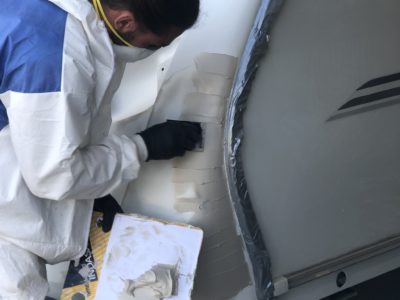 This is then baked and rubbed down before being sent through to Panelworks' state-of-the-art paint booth for refinishing to get the perfect finish. The panel is coloured matched using a spectrometer so you don't notice new and old paint.
Before the area is sprayed the whole caravan is wrapped to prevent any overspraying and the paint booth will be set up to the optimum temperature for painting.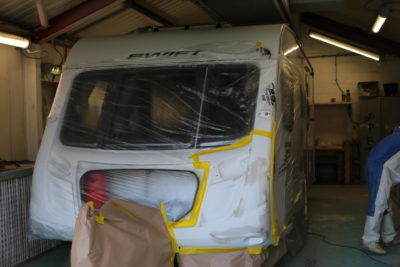 A number of coats of paint are applied to make sure there is no "ghosting" and it's a nice flat colour and in between the temperature is increased to bake the paintwork.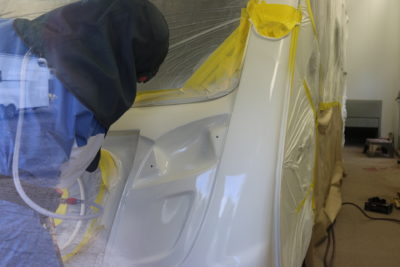 Once the painting process has been finished the caravan comes out for final buffing and polishing to get rid of any imperfections and make sure they achieve a flawless finish.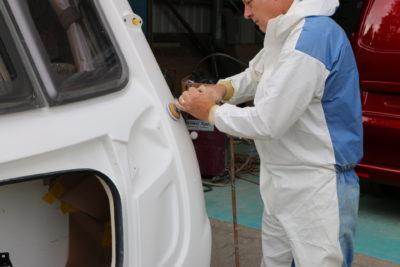 Any damaged decals can be ordered from the manufacturer or Panelworks will have them custom made.
The caravan then goes for a final valeting.
How long would a caravan repair take to complete?
Repair times vary dependant on the extent of damage to your caravan or motorhome but average repairs can take from two to four weeks (once it reaches the repairer). Again, this depends on the number of caravans that are waiting to be repaired and the availability of any parts that are needed.
"We try to cater for everybody's deadlines," said Jon. "If caravanners have holidays planned and we can meet that deadline we'll pull out all the stops out to try to meet that deadline. We always have numerous caravans on site and each one is worked on in systems. We're always busy and always have caravans being stripped, prepped, painted and being collected. "
Will a repair affect my warranty with my caravan manufacturer?
Panelworks are approved by all UK manufacturers so their repairs will not affect your caravan warranty. All panels that are repaired by Panelworks also come with a two-year, no quibble warranty.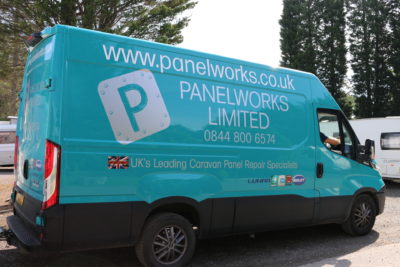 Over to you…
Have you suffered any damage to your caravan or motorhome? Got any tips for temporarily protecting damaged panels that you'd like to share with other caravanners? Feel free to add them to the comments box below.
Remember if you do have an accident or damage your caravan or motorhome make sure you're safe, protect the caravan from any more damage, such as water ingress or theft. Call our claims helpline to register the claim and take photographs of the damage.
Cost to insure: *
---
factfile
| | |
| --- | --- |
| Model | |
| Base vehicle | |
| Axle type | |
| Dimensions | |
| Shipping length | |
| RRP | |
---
Search our blog
---