A van conversion that's less than 5.5m long, yet comes with a permanent double bed? It's not exactly new, but its popularity remains diminished only by the massive influx of similar offerings on the longer, 5.99m Fiat Ducato base vehicle.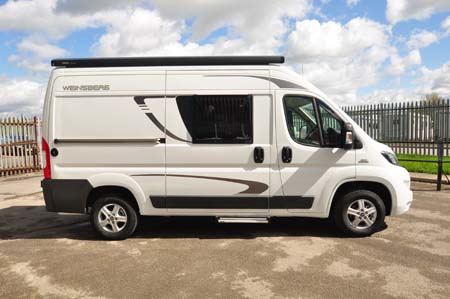 But, perhaps it's time to reconsider because, as well as a full quota of camping facilities, that 5.41m total length means it can conceivably be used as a second car, on a more daily basis.
Although Weinsberg has featured before in the UK, its latest incarnation sees it as a budget brand of parent company Knaus – and that's where it holds a genuine competitive edge.
As ever, that starting price sees it shorn of some of the features you'd expect in any motorhome these days. First, there's the Fiat Pack (cab air conditioning, electric mirrors, passenger airbag, cruise control, cab seats upgrade). Then, there's the Weinsberg Smart Package (electric step, cab blinds, radio preparation plus rear speakers, rear door blinds). And then there's a choice of Styling Package (the example reviewed here has Pack II, covering off the colour-coded front bumper, alloy wheels, front spoiler, black grille and day-running LED lights. Prices for these are £1,983, £840 and £882 respectively.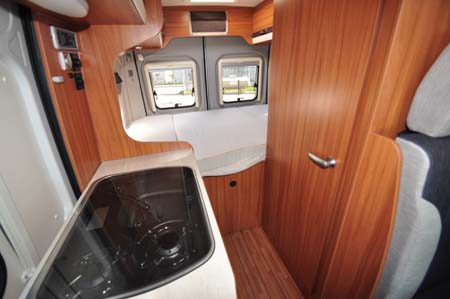 So, what we're really talking about – especially if you go on to select a few more individually priced extras from a pretty comprehensive list – is a £40,000 price tag – which still makes it seriously competitive. Even on the lighter 3,300kg chassis, there's still plenty of payload here.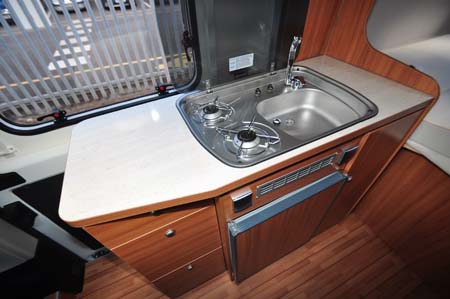 You'll have noted the sliding door – and hence the internal floorplan – stays in continental format (it saves money not having to redesign and re-tool just for the UK). Inside, it's actually a proven layout. The kitchen extends right into the side doorway, but if access is a little restricted the twin bonuses are extra storage and worktop space. There's a sink and two-gas ring hob combination unit, with the gas rings set fore and aft rather than the usual side-by-side (again, it optimises the worktop area). There's also a 65-litre compressor fridge here, with the rest of the unit given over to a good array of storage, including a set of deep drawers. The large cupboard to the right is actually the wardrobe.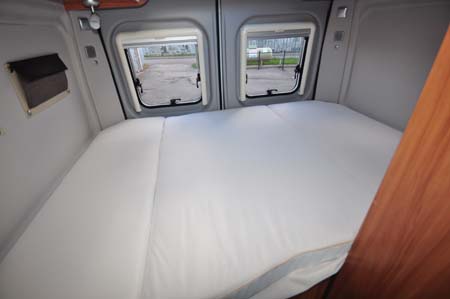 There's a compact lounge up front, featuring half-dinette seating and swivels to both cab chairs. Cosy for four, it's certainly adequate for two who like to stretch out a bit. The biggest criticism is the table – it's simply too small.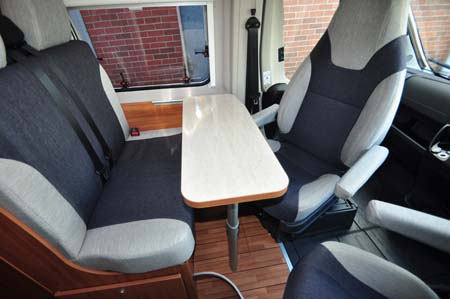 The washroom offers toilet and shower facilities, with curtaining for the latter incorporating an inflatable tube at upper waist level – the aim being to try and prevent the curtain clinging to your wet body. Despite this, in most cases the on-site showers will probably be the better option… especially as the curtain is obtrusive even when it's supposed to be tucked away.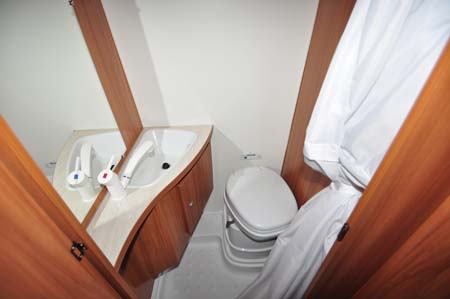 There's less controversy when it comes to sleeping, where that rear transverse bed is a decent 1.94m x 1.38m/1.25m. It can be left as a highly comfortable permanent bed, or its three sections can be tucked away to give you a large luggage-carrying area (with lashing points) for travel.
You can also make a further bed from the lounge seating, at 1.60m x 0.70m.
Sure, there are always going to be compromises in a vehicle a small as this that still offers a full complement of living, cooking, washing and sleeping. But it's the overall versatility that shines through, topped off by pricing that just might see the 541MQ at the head of the queue.
---
Verdict: Competitive pricing and German build quality... this Weinsberg could grow and grow
Plus: Attractive starting price, well constructed
Minus: You still need to budget for "essential options", small table
In-a-nutshell: German set to make its mark?
There's more information on the Carabus 541MQ on the Weinsberg website. To find out more about our great value premiums visit the motorhome insurance discounts page.
---
Alternatives: Adria Twin 540 (new for 2016), Globecar Road Scout R, Knaus BoxLife 540 (new for 2016), Westfalia Amundsen 540D
Cost to insure: £242.50*
---
Weinsberg Carabus 541MQ factfile
| | |
| --- | --- |
| Model | Weinsberg Carabus 541MQ |
| Base vehicle | Fiat Ducato, 2.3-litre, 130bhp Euro V |
| Axle type | |
| Dimensions | 5.41m L, 2.05m W, 2.58m H |
| Shipping length | |
| Maximum weight | 3,300kg |
| Payload | 650kg |
| MPG estimate | 28-32 |
| RRP | from £35,332** |
| Key options | Fiat Pack (£1,983), Truma 4E upgrade (£479), Weinsberg Smart Pack (£840), Styling Package II (£882), Active Navy upholstery (£235), leather steering wheel and gear lever (£154), Thule Omnistor awning (£800) |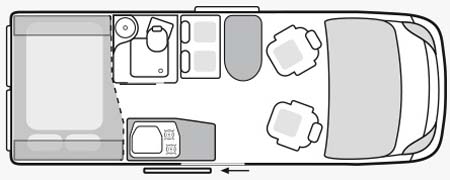 ---
Search our blog
---