A freak 80mph 'Tornado' which struck the Welsh coast has caused severe damage on a caravan site in Anglesey, flipping over a number of caravans including an aptly named 'Elddis Typhoon' insured by Caravan Guard.
Luckily nobody was hurt during the disastrous storm but as you can see from the photos taken by one of Development Managers at the site the extreme weather has caused massive damage, with many caravans hurtling into each other and one even being flung 50 feet in the air at Sandy Beach Caravan Park.
The park's owner John Seymour-Jones had this to say about the Tornado hitting,
"It was so sudden, the first we knew was when a staff member rushed in to say the caravans were being lifted in the air and bits flying all over the place. We went out and could just see a line of vans knocked over and a static van with its roof ripped off. There was a straight line where the tornado had come through, nothing either side was damaged. No staff were injured, we were very lucky."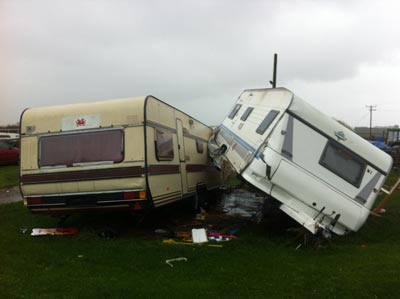 The severity of damage to the caravans affected will vary, but the Elddis Typhoon which we insure has sustained severe enough damage to be an insurance write off. Teresa Eastwood, Caravan Guard's Claims Liaison Manager, explains the extent of the damage,
"With caravans that have been flipped over on to their side the damage is not only to the side panels, but also the roof and chassis, making a repair economically unlikely. Whilst tornados are extremely rare in the UK, high winds are something which regularly hit, making the chance of a caravan being flipped over in extreme weather a very real danger. Events like this show the importance of having insurance as you never know what's round the corner."
Towing a touring caravan is also a very risky prospect in high winds, and as such Caravan Guard recently released information explaining how to remain safe should you be forced to tow your caravan in strong winds. To read this useful info read our article "Towing a touring caravan in high winds".
Cost to insure: *
---
factfile
| | |
| --- | --- |
| Model | |
| Base vehicle | |
| Axle type | |
| Dimensions | |
| Shipping length | |
| RRP | |
---
Search our blog
---