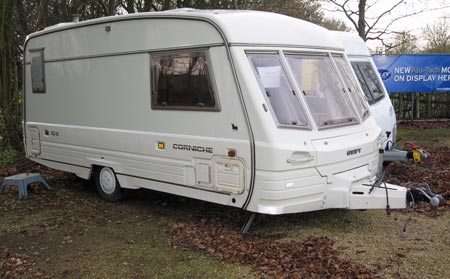 Liz King gives us her top tips for ensuring a successful and hassle free part exchange for those of you looking to change caravans.
The upcoming shows at Manchester, Glasgow and Birmingham give another opportunity to trade in, or up, and buy a new caravan, but how do you avoid an embarrassing encounter with a dealer. You may think that salesmen have it easy, but the tales they can tell would make your toes curl!
Many dealers make a big deal of the value of part exchange and that it is dependent on the condition of your caravan at the point of transaction and agreement to purchase.
Most part exchanges take place without the dealer seeing your old caravan until the day you pick up your new one.
Some dealers will ask you to mark on a diagram if there are any marks, scratches or damage inside or on the exterior and ask you to sign a 'condition' form. It is certainly worth been honest as the dealer may have to adjust the trade in value if the trade-in caravan is not as it was described originally. A dealer is not obliged to accept any caravan as part exchange.
Here's our insider's guide to making the most of the buying experience.
Top tips for readying your trade in 'van
If you are trading in your caravan, a service history is important and improves your chances of a good price.
Be honest with your dealer; declare any damage or imperfections to your caravan during your discussion to purchase, not when you turn up to collect your new one.
Choosing your new caravan
Make sure your vehicle is compatible with your new caravan.
Remember, you are buying into a lifestyle, so have a wish list of things you want a new caravan to have, and make sure that your purchase is the right one for your planned use. A good dealer will think "rights" – the right caravan, at the right price, to the right person, at the right time.
Readying your old van for exchange
Before taking your caravan to your dealer, clean it inside and out. Presentation makes a big difference at the point of transaction and if a dealer has to call in specialist cleaners that will reflect in the price on the day.
Empty the toilet and clean it. One dealer told me he levies a fee of £60.00 if the toilet hasn't been emptied. To spare your blushes, you could put the old cassette tank into your new caravan.
Check and double check that you have removed all your personal possessions and your very personal possessions, if you get the drift, from the caravan.
Return the caravan with the equipment it came with such as the microwave, TV, the clock, the radio and speakers; oh and the cooker. Yes really, I was told by a dealer that somebody took one out!
Keep the insurance on the old caravan till you pick up the new one, then cancel or transfer the insurance.
If you have an AL-KO wheel lock, then don't forget it's your responsibility to de-register and bring it with you, so that the new owner can register it.
If you have an alarm with a code, remove the code.
Remember your CRIS document, the owner's handbook, and any instruction leaflets for any appliances.
Ensuring a quick get away with your new 'van
Check what forms of identity your dealer needs to complete your purchase. You'll need your driving licence and vehicle log book if you need a new number plate.
Sort out your payment method in advance; don't rock up to collect your caravan expecting to organise finance at that point. Check if the dealer will accept a bank transfer. If you are paying by credit or debit card, check your credit limit. Cash payments are not always appreciated due to money laundering regulations.
Turn up at the time you have agreed with your dealer for collection and allow time for the handover; many dealers allocate an hour or more for this.
Book a caravan site near the dealership for one or two nights after purchase; some dealers have overnight facilities on site or know the local campsites to recommend. Some even include one or two nights as part of the purchase. It's easier to sort out any issues on site than from several miles away by phone or e-mail.
Good luck in your hunt for your next caravan and wishing you an easy and hassle free part exchange process.
Cost to insure: *
---
factfile
| | |
| --- | --- |
| Model | |
| Base vehicle | |
| Axle type | |
| Dimensions | |
| Shipping length | |
| RRP | |
---
Search our blog
---