It's not often you come across a caravan that combines modern design and clean, simple lines, with cool, retro character. If you're beginning to wonder whether such a caravan exists, then the Dub-Box may just stop you in your tracks.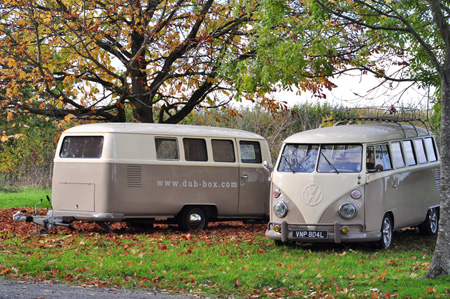 Inspired by classic American campers and vintage German models, the Dub Box epitomises the very best of the 'flower power' generation, when caravan design changed massively and consumer demand skyrocketed.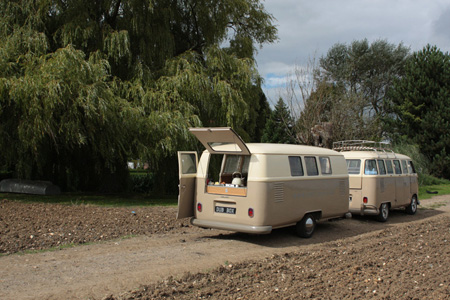 The Standard Dub-Box
But the Dub-Box should be seen as more than a throw-back, or a nod to yesteryear; it's stylish, surprising spacious and secure. Thanks to its creators, Herefordshire couple Matt and Becky Clay, it's been developed with efficiency and practicality in mind.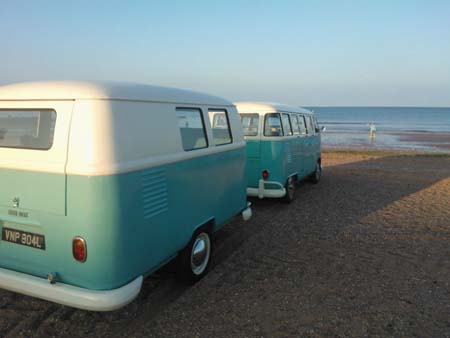 There are three models in the Dub-Box range: Standard Dub-Box, Shortie Dub-Box and recent addition, the Tuck Box designed for food retailers.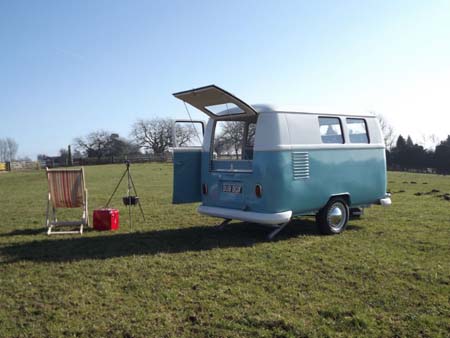 The Standard Dub-Box two-berth functions in very much the same way as most modern caravans; it has a seating area and table that when turned into a bed sleeps two people comfortably. There's a worktop across the length of the front window, a two-ring gas burner, retro-style fridge, 240-volt hook-up, smoke alarm and 12-volt power distribution board. If you fancy embracing the vintage era there's even a CD player with personal MP3 player, charger, dock and stereo speakers to listen to a few 70's classics.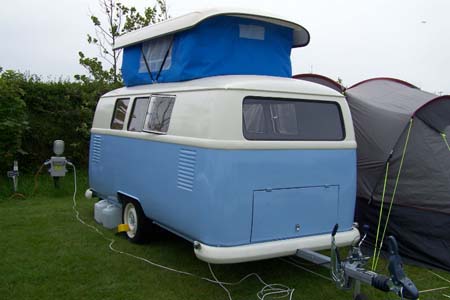 Shortie Dub-Box with pop-top and attached awning 
Caravan Guard caught up with Matt and Becky to find out how they've turned a long-term passion for vintage campers in to the business it is today.
"We have always been avid VW fans and love our classic split screen camper but with a growing family there wasn't enough room for everything we needed," Matt tells us. "We looked for caravans that would suit our style but couldn't find anything on the market."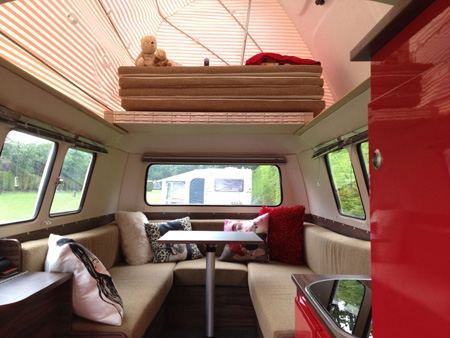 Matt, who has over ten years' experience in manufacturing luxury trailers, began thinking about ways to accommodate a young family in a practical caravan that didn't compromise on style.
Becky explains, "Matt had the initial idea, he has a vast knowledge of trailer manufacturing and design so set about building a mould with broken back ends of two campers imported from America. He then took the mould to a fibre glass company to make the shells."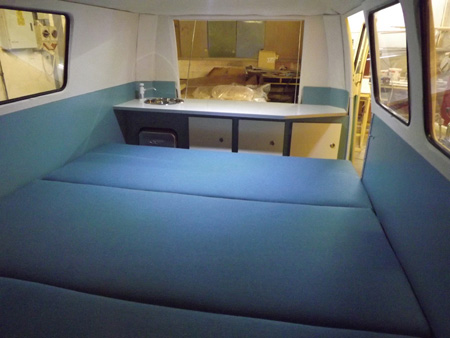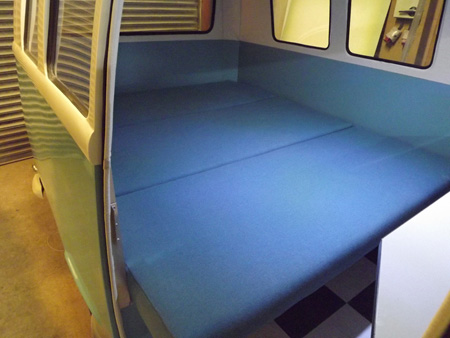 Inside the Dub-Box, Matt and Becky haven't shied too much away from standard tourer specification. The pop-top (optional extra) provides additional height in the kitchenette, shock absorbers are fitted as standard and alloy wheels and safari windows also feature. A hot-air heating system can also be installed on request.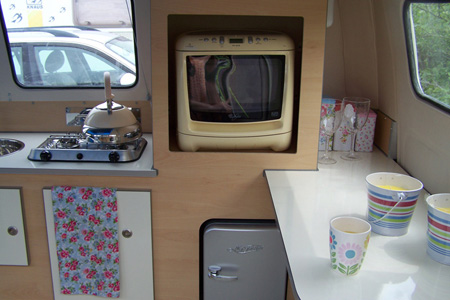 In addition to these key features, each Dub-Box is handmade to order and can be tailored to customers' exact requirements. Interior upholstery, flooring, work top design and even exterior colour and finishing are just a few things that can be decided entirely by the customer.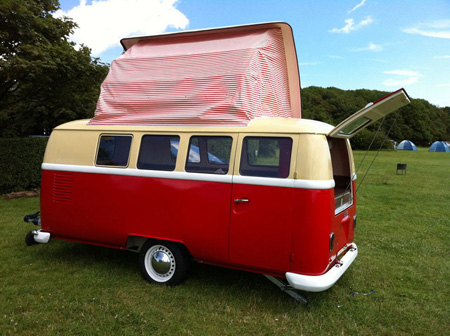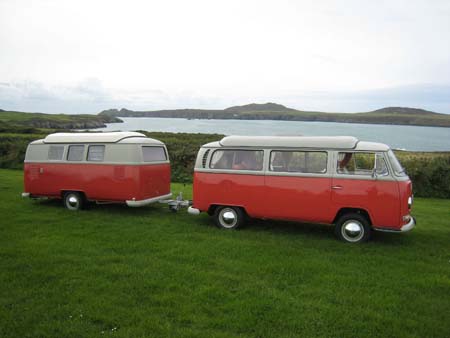 "We offer a unique product. If our customers wanted a standard touring model then they would buy one but they don't want what the masses have, they want something cool and stylish. We build what our customers want, so if they ask for specific equipment, then they get it."
Matt and Becky admit that although they had originally targeted couples and young families, the Dub-Box's unique look and retro appeal also stirred up interest (or nostalgia perhaps) amongst veteran caravanners.
"Initially it was aimed at couples or those with young children as we fell into that category ourselves; people who wanted to put their own stamp on their caravan, people who wanted something that stands out from the crowd," Matt tells us. "What we have also found though is that the Dub-Box appeals to young and older people alike. Our customers range from young families just starting out in caravanning that don't want a bog standard caravan, to those who have towed huge units for years and now want to down size to something smaller, that's easy to store and tow."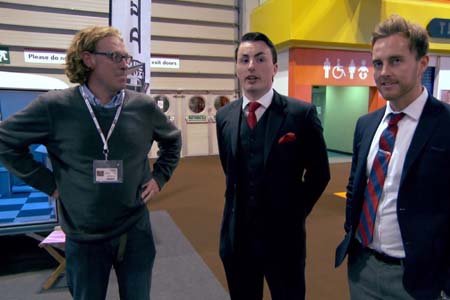 Matt with The Apprentice contestants at Motorhome and Caravan Show 
If you're scratching your head wondering why the Dub-Box looks familiar, it featured in a recent episode of the BBC's The Apprentice. In the episode candidates chose a series of products to sell at the Motorhome and Caravan Show and the Dub-Box was top of one team's list.
"The apprentice was a strange experience, however it did promote us on prime time television which was brilliant and we have been inundated with enquiries since then."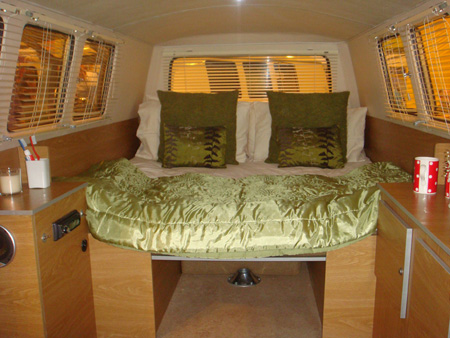 The Dub-Box on display at 2012 Motorhome and Caravan Show 
We finished our chat with Matt and Becky by asking whether they had any plans to add to the already popular Dub-Box range.
"We are always thinking of different models and have recently extended into food retail units (Tuck-Box) still using the same iconic shape but with hinged roofs and whole rising roof sections that are super cool and are proving very popular too."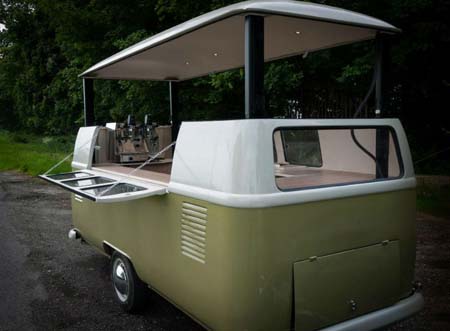 The Tuck-Box is the latest addition to the Dub-Box range
We look forward to seeing what new designs Matt and Becky have up their sleeves.
Verdict: The perfect blend of style and substance
Plus: Customised and made to order
Minus: Currently, none of the models in the Dub-Box range have a toilet or bathroom
Cost to insure: £229*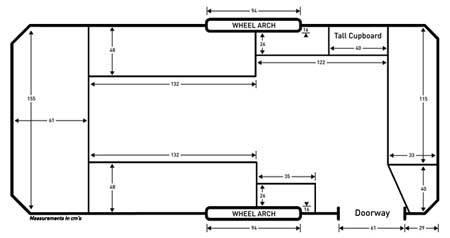 In summary:
• Standard Dub-Box
• Overall length 489cm
• Body length including bumpers 375cm
• Overall width including bumpers 172cm
• Overall height 185cm
• Weight un-laden 600kg
• Maximum technically permitted laden weight 750 kg
• Maximum loading capacity 150kg
• Tyre size 165/65 R14
• Double bed size 158cm x 188cm (5.2 x 6.2 foot)
• Number of lights 12 volt
• Number of electric sockets 240 volt
• 12 volt
• Recommended Retail Price: £13,750**
Check out the Dub-Box website for more information or catch Becky, Matt and the Dub-Box at the NEC Caravan and Motorhome Show in October.
Get an competitive insurance quote for the Dub-Box online, call us or find out more on our extensive caravan insurance policy.
*Caravan insurance cost based on 2013 Standard Dub-Box retailing for £13,750. Fitted with hitchlock and wheel clamp.  Kept on drive at HX4 0BE. Caravanners over 30 years old, claim free for 3 years and a member of a caravanning club. £100 excess. 180 days European cover and up to £75 per day for up to 15 days emergency accommodation cover included. Legal expenses cover, extended European cover and other emergency accommodation expenses cover options are available at extra cost. Quote includes 10% online discount and 6% Insurance Premium Tax and is correct as of 05/08/13
**Price for Standard Dub-Box
Search our blog
---