A lot of you got in touch with us on this and 70% did agree that it's good practice to check your caravan or motorhome tyres before every journey.
So what checks are needed and how often? It's recommended that both the tyre pressure and wheel nuts should be checked every time you travel – and most of you seem to agree with this.
Philip wrote, "I check my tyres and torque wheel nuts before every trip" and 'MyKCamper' seconded this saying, "I always check pressures before going on a long trip, I then visually inspect every time before going on the road and at every rest stop on a long journey."
Irene Dale agrees: "I check my tyres before every journey and if the caravan is standing without being moved for any length of time, I check the tyres in between as well. I am also getting a torque wrench to check the bolts too!"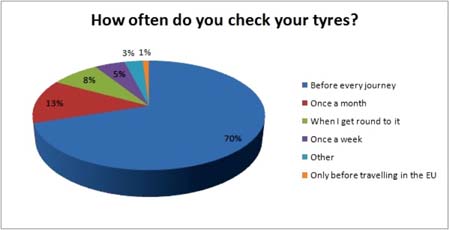 Even though the majority of you agreed with these comments, 13% of voters told us they check their tyres just once a month; 8% admitted to checking tyres only 'when I get round to it' and 5% check tyres once a week. 1% of you only check tyres before travelling around Europe.
A few of you suggested ways to make tyres checks a little easier and journeys safer; Brian Lewis uses a Tyre Pal system on his motorhome to monitor his tyres on every journey. Meanwhile Andrew Taylor recommends using an infrared thermometer that checks all your tyres (six or eight on motorhomes) in just 30 seconds – check out Amazon, Maplin or eBay for the best deals. Download your motorhome pre journey checklist for more helpful tips.
Mr Lomas – a HGV and coach driver – believes that anyone towing should have to fill in a check sheet similar to those required of HGV drivers to avoid blowouts, while John Robbins checks his tyre pressure every 3-4 weeks when his caravan is in storage – great tip!
Lawrence Phillips also rechecks his tyres when there's been a significant change in weather, telling us: "I recheck tyres before moving on or returning as the pressures will have altered. Also, before checking wheel-nuts, I slacken them off first, (just a small pinch back) otherwise one progressive stretches the threads. Although the stretch each time is minimal, it does accumulate."
Cost to insure: *
---
factfile
| | |
| --- | --- |
| Model | |
| Base vehicle | |
| Axle type | |
| Dimensions | |
| Shipping length | |
| RRP | |
---
Search our blog
---