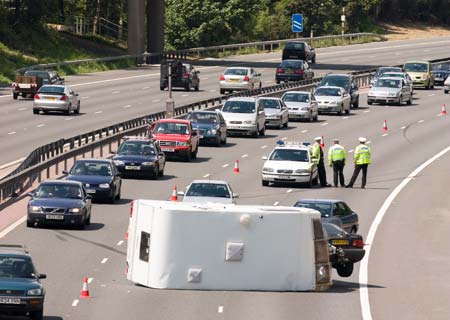 Caravan tyre blowouts…
…are a major cause of accident amongst our touring caravan customers. The biggest danger being that the blowout causes a loss of towing control and a much more serious road accident.
The average cost of a caravan tyre blowout claim was over £2000 in 2012. Thanks to more and more customers and manufacturers fitting safety devices such as Tyron bands and Al-Ko ATC anti-snaking devices, the number of incidents has actually fallen by a whopping 19.4% compared to 2011.
In order to combat the risk of a caravan blowout owners should replace their tyres regularly and maintain good tyre maintenance at all times. This will help preserve the safety and usability of the tyre and decrease its risk of failure or blowout.
However even with good tyre maintenance undertaken accidents do happen. This is why it is a great idea to have a device such as Tyron bands fitted. In the event of a blowout Tyron bands increase the stability of the towing outfit. This allow the driver to safely pull the vehicle over to the side of the road.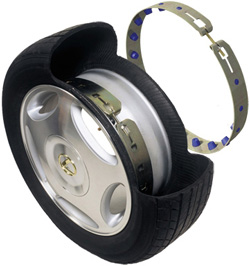 Tyron bands work…
…by filling into all modern wheel wells which is there to allow the tyre to be easily fitted. In the event of a blowout, however, this can cause the tyre to slip from the wheel hub greatly affecting steering and driving stability. It also increasing the likelihood of the wheel hub being damaged.
Caravan Guard offer a 5% discount for the fitting of Tyron bands. We believe they greatly increase a touring caravan's stability in the event of a high speed blowout. That way drivers can safely pull the vehicle over to the side of the road; thus avoid a more serious accident or incur further damage to the caravan.
For more information on Tyron bands and how they work with regards to touring caravans, visit www.tyron.co.uk
Cost to insure: *
---
factfile
| | |
| --- | --- |
| Model | |
| Base vehicle | |
| Axle type | |
| Dimensions | |
| Shipping length | |
| RRP | |
---
Search our blog
---