Despite issuing advice on maintaining caravan tyres back in June 2008, we saw a 300% increase in tyre related caravan insurance claims between the summer months of July and September 2010 when compared to the number of claims between April and June of the same year. Over 90% of those claims were due to blow outs and the average caravan repair cost in that period was £2,500.
A tyre blow out can cause even the most experienced of caravanners to lose control, and as we have all seen, this can have catastrophic consequences for your caravan as well as putting you, your passengers and other drivers at risk, particularly when it occurs on busy highways such as motorways.
Even if the driver does manage to keep their caravan under control in the event of a blow out, the shredded tyre rotating around the wheel rim can cause major damage to the caravan wheel arch and floor, resulting in hefty caravan insurance claims.
Why the sudden increase in claims when we get to summer months?
Tyres can suffer damage when a caravan is left unused and unmoved for long periods such as over the winter. The summer months for many owners represent the first time a caravan is used since the previous year. The weight of the caravan resting on tyres for long periods can cause tyres to become distorted – this damage may not be easily spotted but could lead to a blow out. UV light can also cause damage over time and weaken the tyres.
Old tyres are often prone to blow outs. Irrespective of the tread left on them, it's advisable to change tyres before they reach 5 years old. You can check the year of manufacture of your tyres. There is usually a code found on a caravan tyre – such as 'DOT A57C DEF 598' or 'DOT A87C DEF 0204' – the first code's last 3 digits signify a caravan tyre manufactured in May 1998 and the second code's last 4 digits signify that the caravan tyre was manufactured in the second week of 2004. Not all tyres have the DOT code but you should be able to find a separate group of digits such as '3805' which signifies the tyre was manufactured in the 38th week of 2005.
Under or over inflation of caravan tyres can be a huge problem.
Peter Samwell from TyrePal, a tyre pressure monitoring system manufacturer, had this to say:
"The UK Department for Transport statistics show that defective or under inflated tyres are a factor in hundreds of fatal or serious road accidents each year. The latest statistics (Road Casualties Great Britain: 2007 (Annual Report)) records 283 fatal or serious accidents where tyre condition was a factor, making this the most common vehicle defect."
But why is ensuring your caravan tyres are inflated to the correct pressure so important?
The actual contact patch of rubber with the road is very small even when tyres are correctly inflated. Correct tyre pressure gives best grip and shortest braking distance.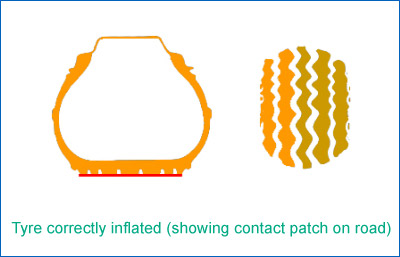 However when they are over or under inflated the contact patch becomes even smaller.
If your caravan has been stood unused over the winter it may be that your tyres have become under inflated. Under inflation is dangerous as it reduces grip and increases braking distance. Cornering is impaired as the tyre tends to roll under the wheel rim. Excess flexing of the sidewall can cause delamination and overheating, leading to a blowout. Note also that under inflated tyres wear faster and can increase fuel consumption by 10% or more.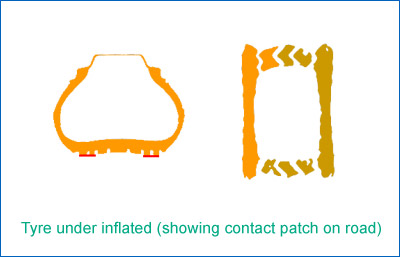 Over inflation reduces contact and leads to uneven tyre wear.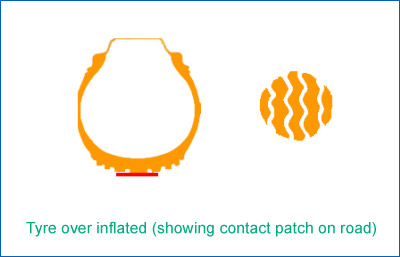 Peter Samwell added the following advice for inflating caravan tyres,
"Recommended tyre pressures in caravan handbooks are specified for cold tyres, but the tyres warm up when driving, and in normal service pressure increases by about 10%, although caravan tyres often increase by up to 15% because of the extra pressure. Tyres should always be inflated to the recommended level while they are cold."
TyrePal (www.tyrepal.co.uk) has introduced a system which will enable you to keep an eye on tyre pressures and temperatures of both your car and caravan from your driving seat via a wireless LCD monitor that you can stick to your car windscreen via a suction base. Their system uses valve-cap sensors to transmit accurate pressure and temperature data from up to 22 tyres – so can cater for both single and twin axle caravans. You program your recommended tyre pressures for each tyre and the system will then sound an alarm for any abnormality.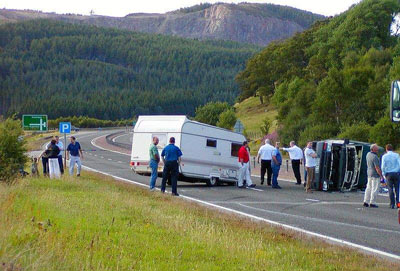 Photo by kind permission of www.transportcafe.co.uk
Caravan Guard's top tips to avoid tyre related claims are:
Check your caravan tyre pressures on a regular basis. Check pressures when cold and then make sure the valve is not leaking and valve caps are replaced.
You could also consider investing in a tyre pressure monitoring system (such as TyrePal) that can monitor car and caravan tyre pressures and temperatures on the go and can warn you in advance of any problems.
Examine all tyres for sidewall cracks, cuts, impact damage or embedded material at both sides.
Check the age of your caravan tyres and replace any over 5 years old irrespective of remaining tread.
When replacing tyres, Tyresafe recommend that "only tyres of equal size and service description (load index/speed symbol) and identical wheels should be fitted across an axle and carried as a spare. Tyre pressures across an axle should be equal." To see their full advice on fitting the correct caravan tyres, visit http://www.tyresafe.org/data/files/caravan%2008.pdf
As an extra safety measure we also suggest that caravanners fit Tyron wheel-safety-bands . This product has been proven to reduce the risk of accident or damage following tyre deflation. The caravanner remains in control, allowing the opportunity to tow the van to a place where they can safely change the tyre. We offer a 5% caravan insurance discount for fitment of Tyron bands.
When not using your caravan for several months, if possible try each month to move your caravan or jack up your caravan and rotate the wheels, to ensure that a different part of the tyres take the weight of the caravan.
If travelling in hot temperatures such as abroad, take regular breaks to stop your tyres getting too hot.
Cost to insure: *
---
factfile
| | |
| --- | --- |
| Model | |
| Base vehicle | |
| Axle type | |
| Dimensions | |
| Shipping length | |
| RRP | |
---
Search our blog
---