We at Caravan Guard are advising caravanners to check their caravan tyres before setting out on their journeys this year.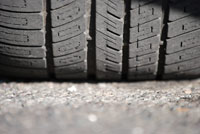 Tyres are particularly vulnerable if left on the caravan whilst it's not in use. The weight of the caravan resting on its tyres can cause them to become misshapen. The damage may not seem severe enough to worry about but it can lead to untold damage to the 'van at a later date.
The caravan's tyres remain at risk during the summer months too. Exposure to UV light can also cause accumulative damage over a period of time.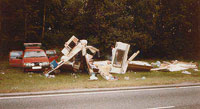 Once the tyres are damaged, they become more prone to punctures, which are not only inconvenient, they can be dangerous too.
Suffering a 'blow out' whilst in transit can cause even the most competent caravanner to lose control. If the van is turned over as a result of the 'blow out' it will almost certainly be an insurance write off.
Our claims department report that there are a significant number of caravanning accidents reported each year as a result of burst tyres.
Caravan Guard's top tips to avoid tyre related claims are:
Regularly check tyre pressures even throughout the winter when the caravan isn't in use
Examine all tyres for sidewall cracks, cuts, impact damage or embedded material at both sides
Check the manufacture date of the tyres (further information found on this website) and replace any that are 5 years old or more regardless of remaining tread.
As an extra safety measure we also suggest that caravanners fit Tyron wheel-safety-bands. This product has been proven to reduce the risk of accident or damage following tyre deflation. The caravanner remains in control, allowing the opportunity to tow the van to a place where they can safely change the tyre.
Caravan Guard insurance also are big supporters of the AL-KO ATC which can improve caravan stability and reduce the affects of snaking. For further information visit our AL-KO ATC information page.
Cost to insure: *
---
factfile
| | |
| --- | --- |
| Model | |
| Base vehicle | |
| Axle type | |
| Dimensions | |
| Shipping length | |
| RRP | |
---
Search our blog
---