Roller Team's great value Auto-Roller reviewed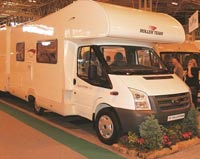 Roller Team has been treading this devilishly tricky fine line between bargain and barren for years.
And the latest model is better than ever, not least as the smart new base vehicle has finally been joined by a conversion that looks
equally contemporary.
Admittedly, these changes extend little beyond the replacement of the old ancient-looking horizontally-positioned tail lights by one that sports bang up-to-date vertically stacked clear lens units, but it's enough to give the 500 the chunkiness its previously rather saggy-looking rear elevation sorely lacked.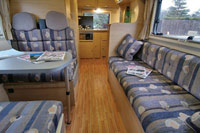 And there was never really anything wrong with those sturdy GRP sidewalls anyway.
To drive, the 500 was always going to feel just a little second-division compared to the Premier League Fiat Ducato, and certainly its soft ride, allied to the substantial overcab moulding, did make the Auto-Roller feel just a little roly-poly in the bends compared to the more responsive Fiat equivalent.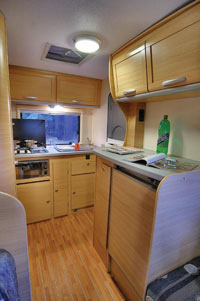 The resolutely fixed steering wheel can make it feel as though it's sitting in taller drivers' laps, too.
But this is the sum total of the bad news. The standard Ford cab seats are among the most comfortable and supportive in the business. The sweet-revving 110bhp 2.2-litre engine is noticeably smoother and quieter than anything Fiat currently offers, and its gearshift quality is, if anything, even slicker.
Remarkably, it's exactly the same length overall and in the wheelbase as the cheaper-still Auto-Roller 200, so it doesn't even feel particularly big and unwieldy in urban environments.
So, the young families that will almost certainly be chief among those buying this motorhome will enjoy the drive to wherever it is they're going, but what about once on site?
Potential buyers looking for cabinetry to rival the solidity demonstrated by Moovéos might be initially disappointed by the 500's framed locker doors and flimsy plastic catches, but Roller Team are unique among motorhome manufacturers in being able to make cheap feel cheerful.
The upholstery is fairly plain and chilly in hue, but it's all perfectly comfortable and supportive.
Although the lounge might be able to accommodate a five-a-side football team and two substitutes, only four of them will be able to sit down at mealtimes, because the table doesn't extend out towards the settee.
There's no dedicated light over the dinette or settee, either. All the while, though, your mind keeps coming back to that astonishing price, especially when you come to the kitchen area. Granted, worktop space appears to be at a premium therein, but take a look at the amount of space on offer on top of the adjacent dresser.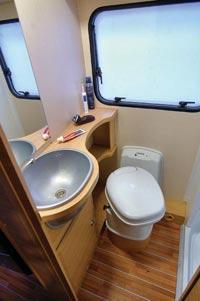 In the washroom there's worktop space enough to embarrass some motorhomes costing £10,000 more, the washbasin is of a good size, and the electric flush swivel loo has a dedicated blown-air vent behind it to help keep the room warm and dry.
Come bedtime, mum and dad can deposit the little ones in the spacious overcab bedroom and continue with their gin rummy and gin and tonics, or bag it for themselves and leave the children to make up the downstairs beds.
Verdict:
When it comes to the Auto-Roller 500 as an overall package, anyone looking for a fault-free motorhome that oozes style and luxury should look elsewhere.
But anyone looking for a motorhome that's honestly designed, built to last and belies its giveaway asking price should have one right at the top of their shortlist.
Fact File:
Price: £27,996 OTR
Base vehicle: Ford Transit
Engine: 2.2-litre 110bhp
Travel seats: 6
Berths: 5
Insurance cost: £255.25*
*Motorhome Insurance quotation is based on Roller Team Auto Roller 500, kept on the road at SN4 7DP and fitted with Thatcham Category 1 Alarm. Based on an annual mileage of 7000 miles. Motorhome owners – professionals aged over 50, with no claims in the last 4 years, convictions or health conditions, 2 years motorhome driving experience and a member of a motorhome owners club. EU Travel costs an additional £22, EU breakdown costs an additional £42. Prices quoted include Insurance Premium Tax at 5% and are correct as of 13/06/2008
Cost to insure: *
---
factfile
| | |
| --- | --- |
| Model | |
| Base vehicle | |
| Axle type | |
| Dimensions | |
| Shipping length | |
| RRP | |
---
Search our blog
---