ATC stands for Automatic Trailer Control. It's an electronic anti-snaking system for touring caravans.
The device was developed in Germany by the AL-KO Kober Group, which is best known in the UK caravan industry for making caravan chassis.
In this "Frequently asked questions video" we look at how the electronic AL-KO ATC trailer control system helps to prevent caravan snaking and bring your tourer under control when towing.
How ATC works…
The anti-snaking device helps the driver of a towing vehicle handle unexpected driving hazards such as braking traffic and crosswinds from overtaking vehicles.
ATC detects lateral or snaking movements – and will automatically apply all caravan brakes simultaneously when oscillations become severe enough to matter. It's described as a passive system – AL-KO compare it to ABS on a car and how it's used only in rare situations.
Different versions of ATC are available for different caravan weights to make sure the right brake pressure is applied through the unit.
The system is designed to react to any severe sideways movements and apply the caravan's brakes, keeping the caravan under control.
Which caravans are fitted with AL-KO ATC?
Launched in 2007, many British caravan manufacturers now have AL-KO ATC fitted as standard, or as an option across their vehicle ranges.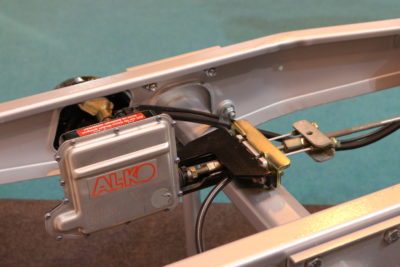 It can also be retrofitted to caravans which have an AL-KO chassis, with a number of fitting services available across the UK. Ask your dealer for more information.
Insurance benefits
We offer a small caravan insurance discount for caravans fitted with the AL-KO ATC anti-snaking device as well as other discounts for the safety and security conscious caravanner.
For more information about AL-KO and their safety and security products visit www.alko-tech.com.
Cost to insure: *
---
factfile
| | |
| --- | --- |
| Model | |
| Base vehicle | |
| Axle type | |
| Dimensions | |
| Shipping length | |
| RRP | |
---
Search our blog
---