New for 2016, we're launching a fantastic range of new discounts for security marking and other safety products so the careful caravanner can save even more on their insurance.
For caravan owners who invest in extra safety and security devices or products to reduce the risk of theft, road accidents or reversing damage, Caravan Guard are offering up to 15% in new discounts.
This is on top of generous safety and security discounts to policyholders who use axle wheel locks, have a fixed alarm, an anti-snaking device, approved tracking devices, which together could already save up to 35% on an insurance policy.
We've long supported the fitting of tyron bands with a 5% discount but caravan owners can now get the same discount by fitting other tyre safety devices, which include tyre pressure monitors or tyre sealant.
Reversing cameras and sensors for new customers get a 5% discount as does the new VIN Chip Plus kit.
Other property marking products will also benefit from a 2.5% discount.
We take a look at these products in more detail: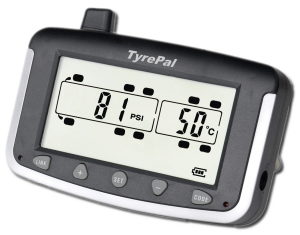 Tyre Pressure Monitoring Systems (TPMS)* can help to prevent blowouts and other accidents caused by over or under inflated tyres. They continually checks both the pressure and temperature of your tyres while you are driving and give you an alert if things aren't right. Sensors are fitted to the caravan tyre valves or inside the caravan wheels and information is transmitted wirelessly to a monitor inside the tow car. Popular makes include TyrePal or Snooper's Tyre Pilot.
Tyre Sealant is a liquid that is inserted into a caravan's tyres and in the event of a puncture, the liquid fills the hole or gap and then solidifies, stopping the tyre from deflating. We offer this discount for the likes of Phantom Tyre Protector and Ultra Seal. Please note the discount does not apply for post-puncture tyre sealant kits which are only used to temporarily repair tyres following a puncture.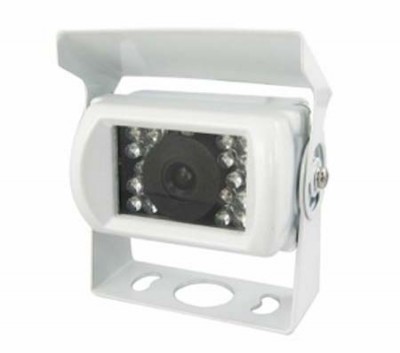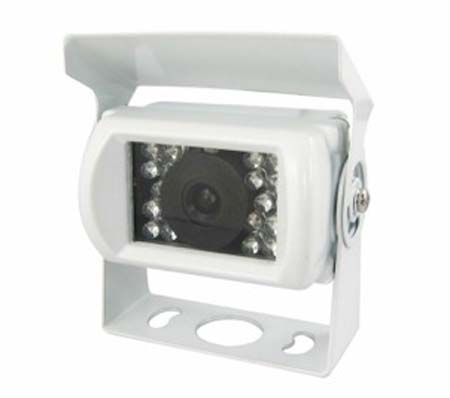 Reversing aids, such as rear view cameras or reversing sensors can help to prevent those accidental bumps and scrapes when manoeuvring your caravan. Caravan reversing cameras are designed to give drivers a complete view of what's behind their caravan. Mounted on the back of the caravan, the camera transmits images to a monitor secured to the towcar's dashboard or windscreen. Reversing sensors are often slightly cheaper and are usually inserted or stuck onto a caravan's rear panel. They use ultrasonic technology to emit a series of audible beeps inside the towcar, which get closer together as the caravan moves towards to an object.
VIN Chip Plus is an upgrade to VIN Chip – the latest theft deterrent and identification system fitted as standard to all 2016 touring caravans. It makes life even harder for criminals as your tourer's identification number, also known as a CRiS number or VIN, is "hidden" within your touring caravan, via visible and invisible markings.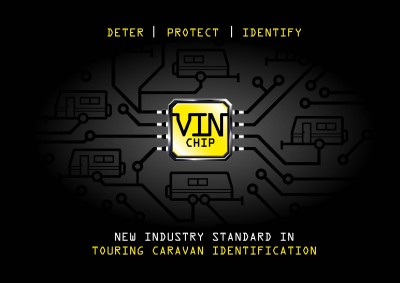 The VIN Chip Plus security marking kit includes an additional RFID chip, which can be read from outside the caravan by law enforcement agencies to quickly identify a stolen tourer. Place it where you want it. There's also a microdot solution which also contains your caravan's VIN and can be used on any internal surface; a UV pen to mark any items within your caravan; a UV torch; tamper resistant labels all coded with your caravan's VIN, which you place out of sight around your caravan; and window warning labels which warn potential thieves that your caravan is protected and should be left alone.
The kit makes it harder for thieves to hide a caravan's true identity or helps police make contact with its legal owner following theft.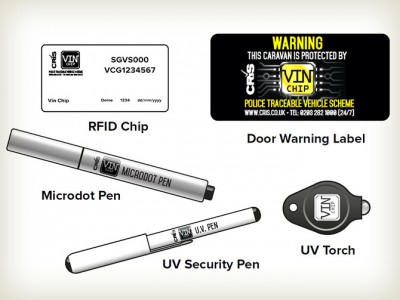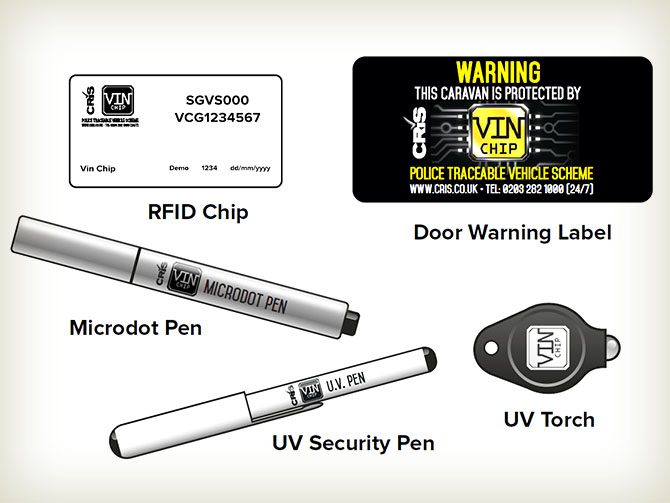 Sean Bailey, Managing Director of NCC CRiS, said he was delighted that Caravan Guard recognised the benefits of VIN Chip Plus and its ongoing efforts to reduce crime and better deter criminals.
"As both Caravan Guard and VIN Chip are in the business of helping touring caravan owners safely and securely enjoy their investment and freedom, this can only be a step in the right direction," he added.
Other property marking products will receive a 2.5% discount. These products have their own unique forensic code or microdot solution and help owners trace their caravan if it is stolen. It can be used to mark your caravan, but also your belongings, and expensive items.
Products eligible for this discount include:
Thiefbeaters
CRiS Xtra (superseded by VIN Chip Plus)
Stop Theft
DNA+
MicroTag
Stickers usually come with these products and can be placed on your caravan to warn thieves that the caravan has this unique security marking.
"We feel these new discounts will reward the safety conscious caravanner and give those customers a better deal on their touring caravan insurance policy," said Caravan Guard's Director of  Relations, Neil Menzies. "Many of these products can help to make touring safer, give customers that extra peace of mind and reduce claims, therefore keeping our prices competitive."
*We don't give caravan insurance discounts for TPMS systems fitted to the tyres of tow vehicles. Discounts for tyre safety products can only be applied once. For example if you have Tyron Bands fitted you would not get a further discount for also installing a tyre pressure monitoring system. Also the maximum discount for security marking systems is 5% – the 5% VIN Chip Plus discount cannot be combined with the 2.5% discount for other security marking products.
All discounts are subject to underwriting terms and conditions. Minimum premiums apply.
Cost to insure: *
---
factfile
| | |
| --- | --- |
| Model | |
| Base vehicle | |
| Axle type | |
| Dimensions | |
| Shipping length | |
| RRP | |
---
Search our blog
---