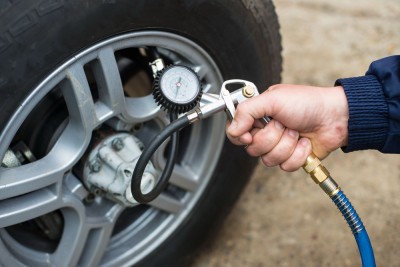 October is designated Tyre Safety Month and with a spike in claims for blow-outs recently we're turning our attention to the importance of checking your tyre pressure.
In a recent poll most of you have already told us that you regularly check tyre pressures on your caravan or motorhome before you hit the road. But this year's TyreSafe campaign is highlighting the importance of checking your tyre's air pressures, condition, and tread depth MONTHLY.
Many factors are involved with safe towing; the correct caravan and car match, weight distribution within the caravan, wheel balancing, the quality of the tyres and tyre pressures. A correctly inflated tyre wears its tread evenly whilst low tyre pressure reduces grip on the road, reduces the ability to corner safely, increases braking distance and increases fuel consumption. Tread depth also has a significant influence on the way your vehicle accelerates, brakes and corners.
There are just as many safety factors to consider when touring in your motorhome. Loading your motorhome within safe weight limits is as vital as correct tyre maintenance.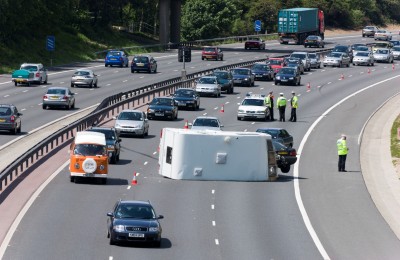 In one month alone, the Caravan Guard Claims Liaison Team dealt with 10 road accident claims – all of which were due to tyre blow-outs. There were six accidents involving touring caravans and four road involving motorhomes, many on the motorway.
In most incidents, the blow-out causes damage to the underside of the caravan or motorhome and will cost hundreds of pounds to repair. But, in more serious cases you can lose control of your caravan or motorhome, causing it to overturn – with more serious road safety implications as well as significant damage to your caravan or motorhome, internally and externally.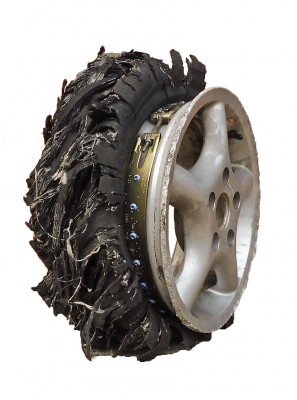 What causes a blow out?
In the vast majority of cases, a blow-out is caused by an earlier incident like a simple puncture from a nail or a screw, causing the tyre to deflate. The increased friction on the road causes the tyre temperature to rise, the tyre wall weakens and the outcome is the dreaded blow-out which can lead to loss of control of the vehicle.
As well as carrying out regular safety checks on your whole outfit's tyres, it's also worth while investing in a tyre pressure monitoring system (TPMS) for your caravan or motorhome to keep those dreaded accidents to a minimum.
Top tips for choosing the right tyre pressure monitoring system for your caravan or motorhome
A TPMS continually checks both pressure and temperature of your tyres while you are driving and gives you an alert if things aren't right.
It's such a valuable safety aid that all new cars in Europe must now be fitted with a TPMS.
You can get retrofit systems for caravans or motorhomes and, if your towcar is already equipped with a TPMS, you can get a kit just for your trailer.
Here are our top tips for selecting a TPMS for your caravan or motorhome:
Choose a reliable brand approved by your insurer and with support for replacement sensors.
Decide how many tyres to monitor – now and in the future.
Make sure the system monitors both pressure and temperature and that you can set pressure alert levels separately for the car and trailer.
If you're a caravanner, think about what happens when you aren't towing. On some systems, you just press a button to stop monitoring the trailer.
For large motorhomes or long towing outfits, check if a signal booster is available to extend the transmission range from the sensors.
We looked at the TyrePal system, which like many other tyre pressure monitoring systems, continuously monitors the pressure and temperature of all your tyres while you are driving – and warns you when the following things are about to go wrong:
        Low pressure causing excessive tyre wear and fuel consumption
        High pressure affecting road holding, braking distance and tyre wear
        Overheating – a potential fire or blowout
        Puncture
How it works
Sensors on each tyre continuously measure the pressure and temperature of the tyres and transmit the information wirelessly to a monitor that displays information and sounds an alarm if there is any abnormality.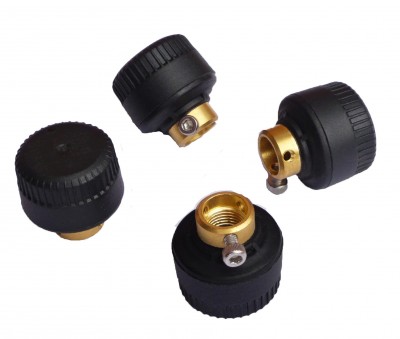 What TyrePal systems are out there?
TB99 – Suitable for cars, caravans, motorhomes and any vehicle with up to four wheels (you can monitor thespare tyre by adding an extra sensor, sold separately).
TC215B – Suitable for cars, caravans and motorhomes.
TPMS Ready – Monitor kit for TyrePal TPMS-ready caravans and trailers (i.e.those which already come equipped with factory fitted internal sensors such as the 2015 Bailey Unicorn).
For more information visit www.tyrepal.co.uk or speak to a specialist tyre company. A TPMS is also available from supplier Snooper.
TyrePal offer
TyrePal will give our readers FREE DELIVERY when you use the promo code CG1510 at the checkout on orders over £75. Offer ends 30th December 2015. (Delivery may be delayed over the Christmas period).
Cost to insure: *
---
factfile
| | |
| --- | --- |
| Model | |
| Base vehicle | |
| Axle type | |
| Dimensions | |
| Shipping length | |
| RRP | |
---
Search our blog
---